Last Minute Stocking Stuffers for Musicians, Holiday 2008 Gift Guide
COLUMN: Inevitably there are those of us who seem perpetually busy and end up finding gifts at the last minute, regardless of any plan to start early. The holiday just creeps up, and time flies when least wanted. So, what do you get your friend(s) for that last minute gift, or perhaps a stocking stuffer for your significant musician other? Here are some things we found which simply scream cool, cute, must-have, or downright nifty, and which should provide a smile on the face of anyone who gets any of these suggested holiday gifts.
Little red keyboard
For Keyboard players on the go a neat little controller is the bright red (matching Santa's coat) Behringer U-CONTROL UMA25S USB MIDI Controller ($129 street). If you can remember how to spell the company name when you do a search online, this is one really cool little keyboard controller. Designed for the mobile musician, educator, or anybody who travels a lot and needs something small, but with full size keys.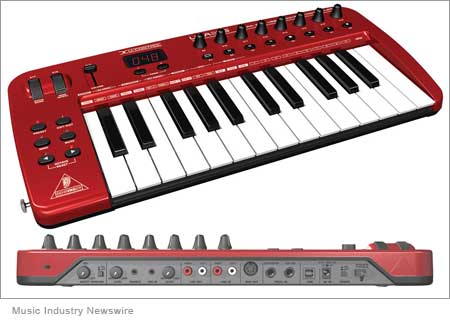 This is one cool kit, and contains a bright red MIDI keyboard with 25 full size (but half-throw) velocity sensitive keys, plus 8 knobs and 8 buttons one might need for a virtual instrument or looping application. Volume slider, pitch bend, mod wheels, pedal inputs, too. What makes this even cooler for the price is a carry case, audio in (mic in, and RCA), line out, headphone out, MIDI out and USB or external power. It's not as high quality as some of the other short width, full depth mini-keyboard controllers out there, but at roughly half the price of the better ones, and complete with everything you need including a headset mic, audio recording software (energyXT), and podcasting apps, this is a great little multi-purpose unit.
And at this price you won't shed a tear if the airplane rolls back over your luggage and it's lost forever. The overall presentation when you take it out of the box is quite amazing, and the keyboard is quite usable, even though the keys only depress about half the distance of a full size keyboard like you might find on your Triton or Fantom. I love this little keyboard, and it works great with my MacBook Pro.
If you need something more robust with full-depth key travel, and without the audio I/O, and slightly less portable, the M-Audio Axiom 25 is a great little unit ($179 street) for those finicky about the keyboard action.
More information on the UMA25S: http://www.behringer.com/UMA25S/index.cfm?lang=ENG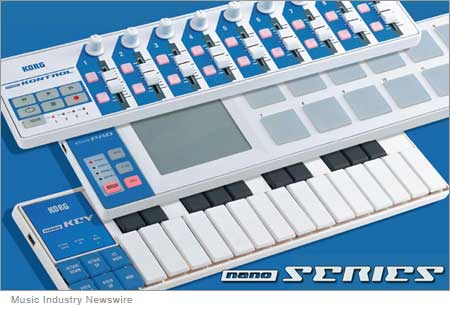 Best fit for over the fireplace
The cutest MIDI gear in years: Korg nano series USB controllers ($50-$60 street) simply are too cute to resist. Affordably priced, in three control versions, these little units are about as wide as a typical 15-inch PC notebook, and come in keyboard (nanoKEY), mini drumpad (nanoPAD), and slider/knobs (nanoKONTROL) flavors.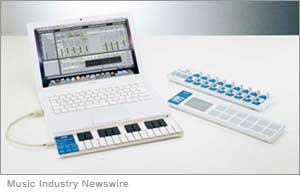 These little fellows are great for mobile musicians, but also for those who have keyboard workstations or controllers and want more knobs for virtual instruments, or drum pads. For example, two of these fit just perfectly on my Open Labs NeKo workstation. The nanoKEY is for those who aren't obsessed with "real keys" but still want to make music on the road in the smallest possible footprint.
If you can afford it, the Behringer unit above makes a better gift and the carry case can even hold many notebooks, for a travel-ready kit. Still, if you want something that actually fits into a stocking, these little controllers certainly do. Very cool, very cute.
More info on the nano series: http://korg.com/gear/info.asp?a_prod_no=NanoSeries&category_id=8 .
Woo woo for Ewoo
Relatively hard to find, but a product I like quite a bit, is the Ewoo HandMusic iPod dock and remote controller. Some folks seem to have had some issues with these due to interference with the wireless remote, but mine works great. Made in France, designed in Switzerland, the overall presentation out of the box is very Apple-like and is packaged to look nice at an Apple Store versus K-Mart. This is a neat item because so many musicians have stopped throwing away CDR discs simply to listen to a song project in their car or living room stereo; by simply putting the track onto their iPod, savvy musicians now take their compositions wherever they want. And, the iPod can import works in progress as either Apple lossless or MP3, so it allows another way to test how a mixed track will play in the real world.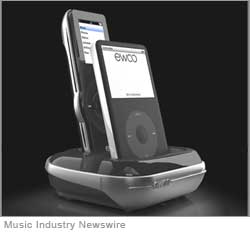 The Ewoo HandMusic is basically a dock you can attach to your stereo at home or to a PC (USB cable included) and has a color LCD remote for you to control your iPod from across the room. The package includes a set of iPod adapter plates for most every model (except old FireWire iPods). What's more the dock has video out (S-Video) to connect to your TV.
I think these are about $150, but seem to be sold out already most places; but if you see one, they are very cool! A cheaper version seems to be out there for under $90, but hasn't been well reviewed, so make sure you seek out the "HandMusic" model. If this isn't available, you might look for a matching "iPod dock" for most major modern stereo systems (Onkyo, Denon, Sony, etc.). I had one for my Onkyo, but I like the Ewoo better.
Also, about the same price, the Ewoo eFizz travel dock, is a little speaker system which runs on a cellphone type battery, and lets you dock your iPod for playback in a very small footprint with Cabasse speaker technology (sounds very good for its size).
More info: http://www.ewoo.com/products/handmusic.html .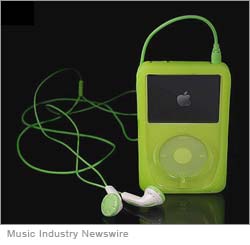 Second skin for iPod and iPhone
Something every music user can appreciate is a highly functional cover for an iPod; something to keep it from getting scratched, help protect if you drop it off the treadmill at the gym, and can help "holding on" to the music player easier since fingers don't exactly stick to stainless steel. My favorite cover for the iPod and iTouch has been my friends at iSkin who I discovered way back in 2002 for my white click-wheel iPod.
iSkin has models that fit most any model of iPod, iTouch, iPhone, and come in cool colors, with removable belt clip, and rub-on screen protector.
I particularly like the iSkin eVo3 for modern iPod video models (less than $25), which has integrated click wheel protection, port covers for dock and earphones easily move aside for use. Grippy, and has saved me dropping mine numerous times.
More info: http://www.iskin.com/products_ipod.tpl .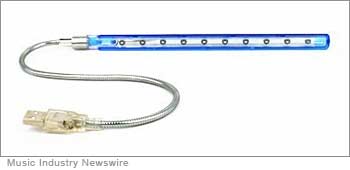 Shine a light on the action
One of my favorite, and very cool little items is the USB powered LED lightbar. This is an extension of the idea that started with the little USB powered single LED gooseneck lamps which would plug-in to a notebook, and provide some light on the keyboard while working in a dark space. The newest versions of these lamps are particularly useful to anybody with a modern keyboard workstation, drum box, or similar that has a powered USB port on the back. For instance, my Korg Triton Extreme, my former Korg Oasys, and my Open Labs NeKo all have USB ports on back, and I can put one of these lamps and position the gooseneck to provide light over my workspace, which is useful for all-black keyboards with little white text (which button is the arpeggiator stop again?… doh!).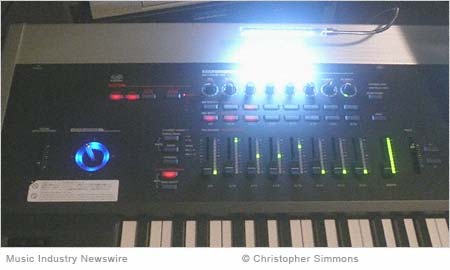 These little lamps have from 5 to 10 white LEDs, and produce almost no heat and use almost no power (won't burn out your keyboard or anything using one of them). These can be used on stage, in a dim studio, or simply in a home studio where the one bedroom overhead light might always put your working area in shadow. They can even plug-in to a modern computer monitor with a USB hub, and (of course) any notebook PC. These cost as little as $5 and can be found at computer stores, on Amazon.com, and eBay (try searching for "LED notebook lamp" or similar).
That's a Wrap!
Well, time for me to head out and finish MY last minute holiday shopping, so hopefully these selections have provided some assistance in finding something to give to your musician friends at the last minute. And, of course, there's always that iTunes gift card, if nothing else! Happy holidays!
Disclosure: a free unit of the Behringer U-CONTROL, and iSkin case, were provided to the author of this article.