Interview: The Saga of Sheena Metal
INTERVIEW: Managing at least 5 interlocking careers, Los Angeles-based Sheena Metal maintains a wickedly funny view of her life on the radio, on stage, and behind-the-scenes in the swirling worlds of music, movies and TV.
The first time I saw Sheena Metal perform was in a real dive. Let's call it Magee's. It was popular (at least it was that night) but it was the kind of scummy place that openly defied health regulations. Thus, it was an ideal venue for the visual and aural onslaught of Ms. Metal's band, Beer Bong.
Their set was moving along at a nice clip. Mixed with a KISS cover song or two were original rockers with lyrics that were alternately profane and more profane, but laced with acerbic social commentary that was as funny as it was shocking.
Between each song, one of the drunks at the crowded bar would yell out something in that booming piercing thunderous annoying voice that you often hear at sporting events. He was berating the band, the songs, the costumes, and Sheena herself.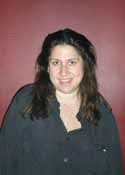 Unlike the rest of the drunks in the place, he seemed able to stand up, move about, and even dance a bit. But his physical size and wild-eyed glare made many of us hope he maintained his place at the bar.
Trouble was, Sheena was answering him with put-downs that were too clever by half. Each comeback of hers zoomed right over his head but caused titters from those who got her jokes.
About halfway through the gig, he began to get threatening. Without skipping a beat, Sheena shushed the crowd and said she had an announcement to make about "our vociferous friend at the bar."
I shuddered, imagining the brawl that was about to ensue, so you can imagine how surprised I was to hear Sheena proclaim him "King of Magee's." She bowed in his direction and asked for a round of applause, then went right back to the songs.
The idiot was quiet for the rest of the show and came up to congratulate the band afterwards. Now that's crowd control. When I asked her about it later, she said "Most people like that just want some attention. I tried verbally battling him, but that made him madder. So I tried flattering him, and that worked."
"What if that hadn't worked?" I asked.
"See those extra guitars at the side of the amps? Those are the ones we don't mind using on people if we have to."
I knew right then I was going to like Sheena Metal. The following interview took place recently, several years after the Incident with the King of Magee's.
Scott G: You host a late night radio show. Tell us about that.
Sheena Metal: Actually, this is the first time that my show hasn't been only late night. As a Los Angeles radio personality, I made a name doing both talk and music radio in the middle of the night. Music Highway is my first syndicated show and it's so odd for me to be airing at six and seven a.m. in some markets. It sure makes me think twice before getting too raunchy…which is my natural inclination. But the show is on 2,400 affiliates in four countries at nearly every hour of the day and night, so each week we create a show that will be as suitable for a housewife in the American Bible Belt as it is for a porn star in Australia.
You're also the lead singer of Beer Bong. That band is a visual and aural outrage. The music was well-done yet the experience for the audience was often right on the edge of comedy. That was primarily your influence, I think.
Absolutely. I wanted to create a band where people could rock out and laugh their butts off concurrently. The tunes are musically hooky and catchy and the lyrics so irreverent that if not for our Beer Bong Song Books (provided at each show) the average audience member might not believe they actually heard what they heard. And as for the visual outrage…I am as God made me. [laughs] Seriously, it's the same as the songs. I want people to leave the show first thinking, "What the Hell was that?!?" and then, "I loved it!!!"
Another one of your careers is booking bands into clubs. What's that job like?
Sometimes I feel like I'm running a daycare for psychotic divas…and those are the good days. [laughs] Truthfully, I love putting on shows, seeing the bands live, and enjoying the entire process. It's the music business and nobody said it was easy. Weather, holidays, current events, world disasters, traffic…these are all factors that affect the ultimate success or failure of a show. It's like walking into a Las Vegas casino and popping $10,000 on the roulette wheel. There is never a dull moment…that's for sure and when you add in the delicate personality of the creative genius, it's an E-Ticket ride for sure.
As a journalist, you have written seriously about many aspects of show business, but often with a humorous point of view. As a musician, your lyrics are almost always funny or satirical. Is that your view of life?
It's funny because my mom is hysterical. She makes me seem dull and humorless, but she's very shy. I spent a lot of my childhood alone with her and she would satirize everything…life, humanity, the earth. She's very smart and very, very deep and I think it was how she stopped herself from going nuts. So, I grew up thinking of things in terms of humor. Don't get me wrong, I can be very serious and I love intense dramatic music, films, literature, etc. but I can always see the sideshow…the twisted carnival that lies just under the surface of life. I'm also a tad macabre. Did I mention that? [laughs]
Oh, we get the macabre side all right! Often mixed in with the humor is a social-political undertone to your work. Which is your primary goal?
Well, the laugh is always a goal. Laughter is more healing and cathartic than even a high colonic, but I do have a socio-political side. I think that art should come in layers so that anyone of any level of intelligence, emotionality or depth can take from it what it speaks to them. So, if I scratch my behind, someone in more of a banal mood will giggle because my rear-end itches while a deep thinker will realize that I'm scratching my butt in protest of the inhumanity of dictatorships in third world countries. Not the best example, but it works.
On a daily basis, how difficult is it keeping on top of your various careers?
It's unreal the schedule I keep. I get around 300 pieces of e-mail every day, I promote 10-12 shows monthly (including a new weekly residency at the Knitting Factory Hollywood), I write 3-4 freelance pieces a week (music reviews, film reviews, celebrity interviews, etc.), I have two syndicated music columns (the former has over 80 affiliates; the latter has just become syndicated), I host and produce a weekly syndicated radio show, I'm involved in a live theatre group that does charity productions of the "Vagina Monologues," I have a film coming out next year, I front a band and am starting a second band in 2008, I run a musicians assistance program with over 10,000 members, I was just this week named president of Sea Hag Ent. that is developing a myriad of television and film projects, and next summer I'll return to performing/promoting comedy. It amazes me that I even have time to brush my teeth and feed my cats. Luckily, the cats yell at me if I forget…which I do sometimes…and I'm embarrassed to say, my teeth are kind of scuzzy at the moment. But aside from that, I just sit around on my couch in my underpants eating cheese puffs and watching "Judge Judy."
Who first dubbed you "the queen of observation"? What about the other phrase, "the queen of the nighttime world"?
In 1998, I co-hosted "The Nastyman Show" on KLSX (97.1 FM) in Los Angeles. That station was the Howard Stern affiliate at the time and our show was driven by sex, strippers and rock music. Nasty ran the show like an outrageous ringmaster and my job was to add insightfully sardonic commentary on the crazy guests and bizarre topics. It was Nasty that dubbed me the "Queen of Observation." He was a great guy, my favorite co-host and the most fun I ever had in radio was on his show. "Queen of the Nighttime World" was a name I picked up on my first radio show on KIEV (870 AM) "Sheena Metal After Midnite." It's a pun on the KISS song "King of the Nighttime World." A listener referred to me that way and I loved it and started repeating it. Nastyman didn't like it and never used it. Maybe he was worried Gene Simmons would sue him.
Your media material says you're developing a mockumentary reality TV series. What can you reveal about that?
It's all very hush-hush or I'd spill it all. I hate secrets! I will say that I'm co-writing it and that my new entertainment corporation, Sea Hag Ent., will be producing it. Oooooh, I want to tell you all about it. I really do!
Tell me on "deep background."
[Pause for feverish whispering]
Cool! Okay, we'll have to reveal that when the time comes. Last question. Your Web site is www.sheena-metal.com but have you ever visited www.sheenametal.com?
Not lately. A fan bought it to give it to me as a present and then never gave it to me. Every once in awhile I send him an email, still looking in vain for my cyber-domain love gift, but it never arrives. Why? Is it a porn site? Fat chicks and dwarves in rubber masks depicting ex-presidents? That would be a hoot!
[tags]Sheena Metal, radio personalities, satire, social commentary, music, radio programs, singer songwriter, rock, live music[/tags]