Haken Audio ContinuuMini MPE Electronic Music Instrument Fully Funded First Day on Kickstarter
The all-new Haken Audio ContinuuMini electronic music instrument, first previewed at the 2018 ContinuuCon event, launched this week on Kickstarter, and was fully funded its first day. The ContinuuMini has been designed to be a portable and more affordable version of Haken Audio's larger Continuum Fingerboards.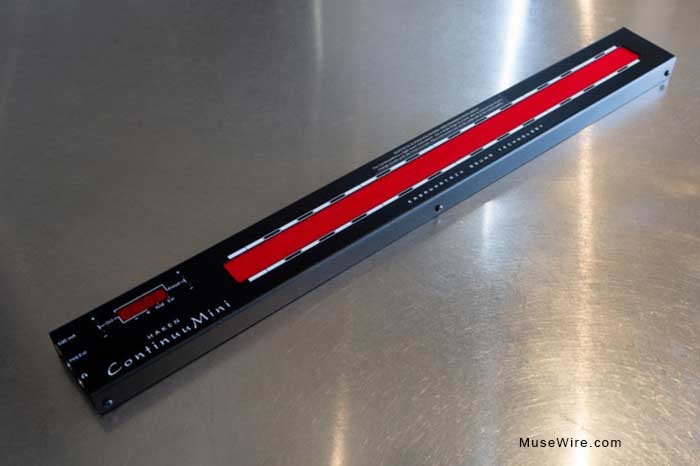 According to the company, "The ContinuuMini is fun to play, has the same sound engine as the larger Continuums, and delivers it's own unique and rewarding musical performance experience. Due to it's robust bidirectional implementation of MPE and MPE+, the ContinuuMini can control external synths or be played by external Midi controllers. "
The Kickstarter page describes the product as so: "Besides being a versatile controller with the ability to connect to the external world via Midi and analog control voltage, the Continuum excels as a complete musical instrument, thanks to it's internal sound engine, the EaganMatrix. The EaganMatrix is the brainchild of Canadian sound designer and Continuum performer Edmund Eagan."
The EaganMatrix creates an exceptional connection between playing surface and sound engine. It's novel matrix design and deep modulation structure allows for unprecedented integration with the Continuum playing surface. These two major components come together to form the most expressive digital musical instrument ever made.
The ContinuuMini has exactly the same sound engine as the full-sized Continuum Fingerboard, delivering the same level of sound quality that Continuum owners have come to enjoy.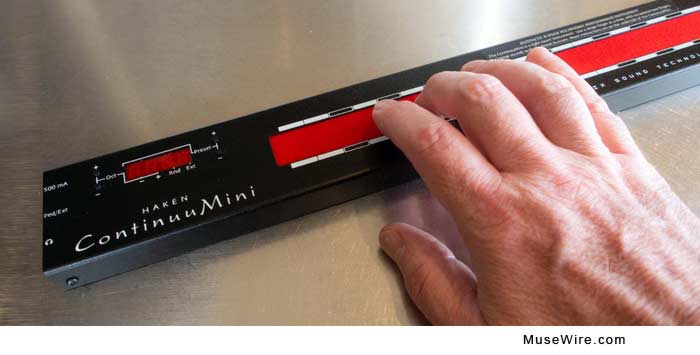 The ContinuuMini is complete and self-contained, requiring only USB power and an audio output. Preset changes, octave switching, and system menu operations are all available directly from the ContinuuMini without the need for a computer connection.
Every nuance of finger movement is captured and translated into sound through interaction with this highly-optimized playing surface. And complete control of the fully programmable EaganMatrix sound engine opens up a world of sonic possibilities.
"We are very proud of how we have been able to leverage our decades of hardware and software expertise into the ContinuuMini," says inventor Lippold Haken. "The ContinuumMini fulfills a need for a small portable musical instrument that is intimate and expressive. This is truly a unique instrument, and with your support we'd like to make this new ContinuuMini a reality."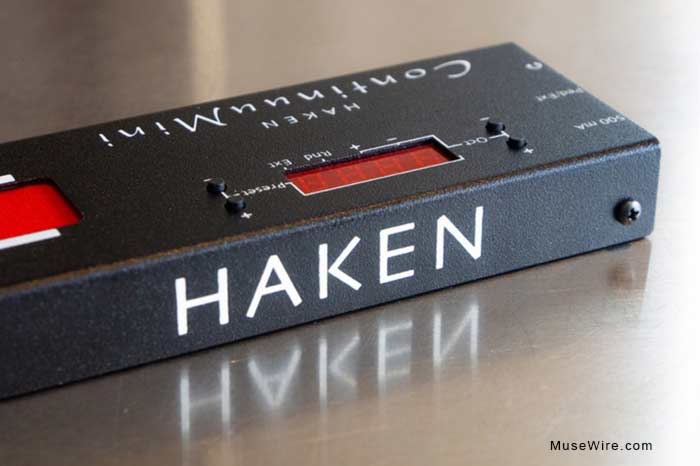 Learn more about the product and pre-order options here (note: the first two early backer levels are sold out): https://www.kickstarter.com/projects/1605483632/continuumini
Learn more about Haken Audio at: https://www.hakenaudio.com/
Official example video (YouTube): "A performance on the Haken Audio ContinuuMini connected to La Voix du Luthier's Onde resonator."

This original article was created first on MuseWire.com by Christopher Simmons. No fee or other consideration was provided in publication of this content. Copr. © 2018 Christopher Simmons. All other rights reserved including original images and video Copr. © Haken Audio.