Guitar Shorty: Long on Talent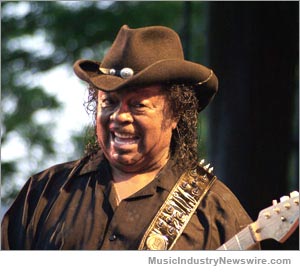 MuseWire COLUMN: David William Kearney is a guitar slinger who will happily do axe-battle with you using blues, R&B, or rock. He'll take on all comers with sweet toned ballads or psychedelic frenzy. And as this long-lost nineteen-ninety-eight article shows, the man has incredible roots. Oh, and he's still gigging.
From the band's first few notes, it was clear that the packed house at Cozy's blues club was in for a treat. We just didn't know how big a treat.
The opening numbers featured nifty solos from Terry DuRouen on electric guitar and James Davis on electric keyboards, plus tight rhythm from Howard Deere on bass and Danny Pucillo on drums.
Deere, Davis, and DuRouen each took a vocal, and they were smoothly soulful. If these guys had kept going on their own, it would have been a fine night of entertainment because of their tasty chops and a background that is steeped in the blues. But there was Something Else on the way to totally take over the evening.
Heavenly Hell
DuRouen stepped to the mic and introduced a nitro-powered force-field called Guitar Shorty and all hell broke loose. At first, Shorty stood stock still while playing at the very back of the club. His axe plugged into a wireless system, he wailed, and the club seemed to start spinning.
His pyrotechnics were hypnotic as he leisurely made his way through the audience. Stretching out a snaky and delightfully evil blues, he regarded us with a smile on his lips and a twinkle in his eye. Every section of the club got to see a few moments of rockin' blues performed in an up-close-and-personal manner. Shorty played for people at the bar, and for folks seated at their tables, and for those who were lined up against the wall.
Excitement kept building as more and more people spotted him moving through the club. When he climbed up on stage, the tension broke and he received the first of dozens of rounds of strong applause.
Sonic Stratosphere
For the next 90 minutes, the very concept of what can be done on an electric guitar was altered in the mind of every listener. It seemed as if no one else in the world plays like this. It may be safe to say no one else in the world has ever played like this.
Think of the most amazing blues-rock performance you can imagine. Think about Bluesbreakers-era Eric Clapton. Think about Albert Collins. Think about Albert King, T-Bone Walker, Buddy Guy. Hell, go ahead and think Hendrix. You probably won't believe me until you experience it for yourself, but Guitar Shorty in person can be that powerful.
What's more amazing, after a half-hour break, he climbed back on stage and cranked things up for another truly superlative 90-minute set. Let's do the simple math: that's three hours of stinging, soaring, vibrant blues-rock numbers that shook hips, turned heads, and drained the club's beer kegs.
Historic
Guitar Shorty knows how to work a room, having started performing at age 14. In his career, he has toured or played with Ray Charles, Otis Rush, Sam Cooke, Guitar Slim, B.B. King, Little Milton, Johnny Copeland, Lowell Fulson, and the aforementioned T-Bone Walker. He traded licks with Jimi Hendrix, and historians have noted that some riffs on "Are You Experienced" were first developed by Guitar Shorty back when he was in Seattle dating and eventually marrying Jimi's half-sister, Marcia.
Sounds
The tone Shorty gets from his equipment is phenomenal. The sound seems to start somewhere down inside his bone marrow. Coupled with this furious playing is a superior sense of dynamics. Some people can make a guitar speak. Guitar Shorty makes his axe shout, orate, pontificate, sing, and nibble on your ear.
Shorty's original tunes are skillful, but what's most impressive is his ability to explore so many lovely nuances of each song's chords. His improvisational skills are such that you believe he could take any three-note progression and turn it into a superlative hell-bent-for-leather solo.
From where is he getting all these blistering licks? "I hear so much music coming in my ears," he told me. "When my eyes are closed, I'm seeing music. And I'm seeing the frets on my guitar." There are magnificent melodies inside this man, and it takes a live show for him to let them all out.
Guitar Shorty (born David William Kearney) should be a household name for his spotlight-grabbing stage presence alone. In concert, he takes the axe and strums it, flat-picks it, finger-picks it; he plays his guitar with two hands, one hand, a foot, his teeth, even his rump. He bends notes on both sides of the nut, and I swear he sometimes was bending entire chords without touching the whammy bar.
Whether strutting his stuff or just delivering a song with his big-throated blues wail of a voice, Guitar Shorty puts on the kind of show you never forget.
Addendum: The All Music site lists Guitar Shorty's activity as being in the 50s, 60s, 70s, 80s, 90s, and 00s. However, his website and the Alligator Records site both feature listings of upcoming gigs, so I guess that "10s" should be added to that list. Okay, about the headline of this article . . . well look, we just couldn't resist. Could you? For more information: www.guitarshorty.com

Article is Copr. © 2012 by John Scott G – all commercial and reprint rights reserved. Originally published on MusicIndustryNewswire.com.