DiscWatcher REVIEW: A Good Day to Die Hard proves it's time to let McClane 'Die Easy'
REVIEW: It's safe to say that "A Good Day to Die Hard" was on my "most wanted to see" list for films headed to Blu-ray for Spring 2013. However, to get to the heart of this review in the second sentence: this movie totally sucks.
There are so many flubs, continuity problems, poor filmmaking, terrible script, and Willis obviously showed up just for the paycheck on this one – which is too bad after the surprisingly good "Live Free or Die Hard" – that it's an unforgivable mess that feels like a Hungarian film unrelated to the John McClane character, "featuring" Bruce Willis.
The original "Die Hard" with Bruce Willis playing Officer John McClane was a semi-classic of action and wry pigeonholing of the 80s lifestyle, Asian purchase of U.S. business and property, and the over-the-top Los Angeles law enforcement branches. It also had a hackneyed villain, played beautifully by Alan Rickman, did a new take on the cop "buddy picture" with the beat cop on the radio, and Willis got to mix both his dramatic and comedy acting chops in one feature, well managed by director John McTiernan.
The sequels are a mixed bag, with the second film, imaginatively named "Die Hard 2" being pretty forgettable, directed by Renny Harlin. The third film, "Die Hard with A Vengeance" brought back a quirky European crime team, an adversarial side-kick in Samuel L. Jackson, and best of all director McTiernan. It had a number of plot levels including a revenge picture, bomb threat, robbery caper, and Jackson plays an "angry black man" right on the edge of stereotype but also gets to chew the scenery several times.
The fourth outing, "Live Free or Die Hard," which came out in 2007 (has it REALLY been six years?), was a great revamp of the franchise and had both action and humor, but had a younger "hacker" sidekick this time (Justin Long) which has become part of the successful formula. Willis needs somebody to yell at, commiserate with, or expound on the situation with. When McClane takes out a bad guy, the sidekick says "Did you see that?" and McClane replies, "See it? I DID it!" Director Len Wiseman, who had done the wonderful "Underworld" and "Underworld Evolution" films, brought a great deal of action including some crazy stuff with a helicopter and the over the top stuff with the fighter jet. Much of the elements of "hacking the grid" are more relevant today than even back in 2007. (Wiseman was a big fan of the original film, and his "love" of this subject really shown through, in my opinion.)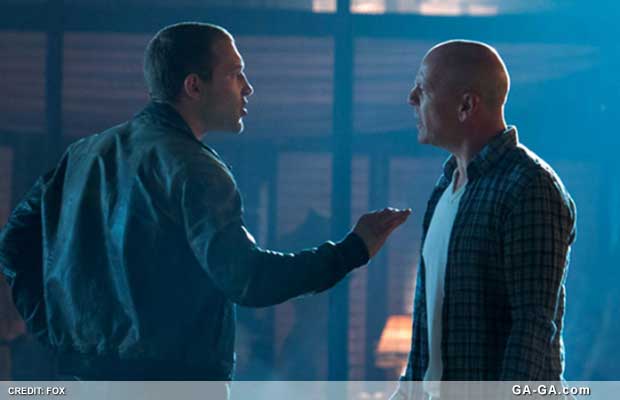 Fast forward to the newest sequel and you have a pale imitation of the original films and characters, with nothing clever, imaginative or engaging in the story, clunky directing, and you can start a new drinking game the number of times Willis' characters yells "jesus!" in lieu of anything else coherent to say.
I was going to warn about "spoilers," but fact is this film was birthed fully spoiled, and so I'm not going to dwell too much on the lack of plot points, because they are almost non-existant.
In this crap fest, Officer John McClane travels to Russia to help out his son, Jack (Jai Courtney), and then finds out that Jack is actually a CIA operative working to prevent a nuclear-weapons heist. Um yeah. McClane heads to Russia after visiting with his daughter (Mary Elizabeth Winstead), and plans to mend fences with his "wayward son." Upon arrival he sees his son being carted off to jail, and when Jack breaks out a criminal, John tries to stop his son, but then the gun fights and car chases ensue. And it goes downhill from there.
One of the initial issues with the film is the quite obvious second unit scenes (apparently shot in Hungary) where all the car chases were staged, and then the American actors were intercut with shots done separately, sometimes in obviously different locations. How obvious is it? You can actually see the person driving the Mercedes SUV is clearly a younger European man, bald, but obviously not Willis. Most of the other shots the windshield is either over-reflective to not show the driver, or shot at angles to hide that entirely.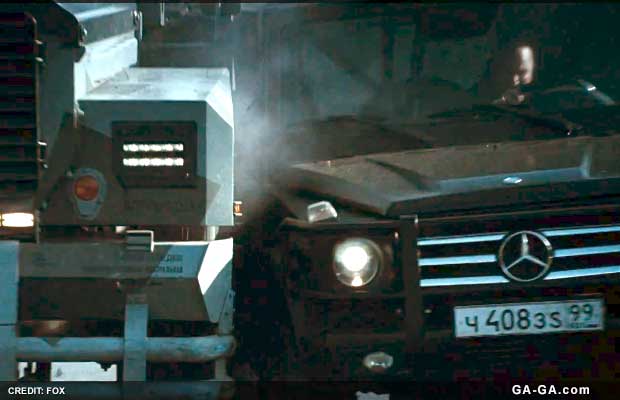 In another scene where McClane is supposed to be driving a vehicle which crashes on a street into other vehicles, it cuts to a close-up of Willis getting out of a car, but no long shot to establish him on the street with the other film elements. Clearly shot at different times, in different places. In various scenes flags, and signage clearly show it's Hungary, not Russia, and license plates are not Russian, and in one scene the baddie Komarov is talking on a smart phone but the dial screen is visible, which means he's not actually speaking to anyone.
Director John Moore, who in my opinion has made only one passable film in his career, "Behind Enemy Lines," doesn't seem able to get much out of the script, and Willis seems disinterested and distracted in almost every scene. Moore's prior films like "Max Payne" and lackluster remakes of "The Omen" and "Flight of the Phoenix" might give you an idea. The remake of "Flight" lost all of the dynamics between the characters of the original film, and the big reveal was totally botched emotionally.
There is zero chemistry between Jai Courtney (likely best known for the "Spartacus" cable series) and Willis, and Willis' version of McClane in this outing is primarily following his son along for the action and has little personal investment in anything happening. The villain is not convincing, and it seems like a really low-rent take on the last "Mission Impossible" film.
The film looks grainy and colors look muted, and many of the later FX shots look very video-gamey (helicopter blasting through side of building).
For $92 million (!) this is one of the biggest money and time wasters in quite awhile. All of the money is on the action scenes with buildings exploding, vehicles destroying freeways and dozens of cars, and other property, and all of that is so far removed from the actual actors it feels like it's a different movie pasted in.
And they made a video game out of this mess? WTF? Somebody was truly delusional at FOX when they green-lit this piece of shit.
If you have nothing better to do but be disappointed it might be worth one watch, but it's definitely not a film to own, or re-watch, or recommend to others. The sappy ending with McClane back in the states wrapping his son and daughter in his arms, side by side, implies a happy ending to the whole film franchise, and if this is how it ends, Willis should just retire now. Really truly a terrible film. I could go on, but hopefully you get the point that this film is proof that the franchise should now "die easy."
Agree? Disagree? Share your opinion in the comments/share box below!
Article is Copr. © 2013 by Christopher L. Simmons and originally published on Ga-Ga, now merged with MuseWire.com – all commercial and reprint rights reserved.