Dave Smith Instruments Unveils Mopho Keyboard at Winter NAMM – so What's Next?
COLUMN: — When the word went out that Dave Smith was going to introduce something "new" at NAMM in January, many of us immediately presumed it would be a keyboard version of the highly popular Mopho. And, lo and behold that's what was revealed. Due to the economy, demand, and other factors, it's clear we won't see the niche Linn drum anytime soon — and perhaps this is also due to the explosion of the Ableton Live generation, Open Labs Dbeat, etc.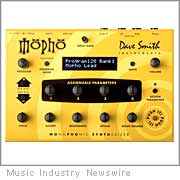 But the Mopho brings all the juicy goodness of the little yellow box to a more playable keyboard, and is perhaps the full circle back to the Sequential Circuits Pro One (I was one of the first in Los Angeles to own one, the day they got them in at Guitar Center, back in the day). Since the Mopho is (mostly) a one-voice version of the Prophet 08, it brings an affordable keyboard monophonic analog synth to market with the Dave Smith pedigree. I had to laugh when I heard a couple of folks ask if it were polyphonic … no, the Mopho box isn't either. The Tetra is the polyphonic version. And, it doesn't make much sense to do a Tetra keyboard since the jump up in price puts you in the Prophet 08 price point anyway.
It's also an ideal upgrade for those already owning a Mopho box, as you can chain it together with the keyboard (which has potentiometer pots), to make a 2-voice, or chain with the Tetra box to make a 5-voice instrument.
Also worth nothing, in case anybody missed it, is that Dave decided to bring back the rack mount version of the PolyEvolver (I have both the keyboard and rack). This is essential since the keyboard is technically a 4-voice synth, and begs to have the rack unit chained for 8-voice playability (for you non players out there, it means if you play a 4-note chord and while it's decaying, if you play any other note, it steals from the first chord, which can sound odd). I was hoping to see a full 8-voice version of the PolyEvolver in one keyboard at some point, but it doesn't look like that will happen.
What else can Dave come up with at this point? He's got the analog/digital hybrid with the Evolver line, and the one, four, and 8-voice analog covered with the Prophet 08, Mopho and Tetra. While I'd love to have the next generation LinnDrum, I don't know that makes much economic sense until the world economy improves.
One thing he could do, in my opinion, is build a "rack" for Tom Oberheim's new SEM modules, a special keyboard plus case to hold up to four of the SEM modules, and basically recreate the old Oberheim 4-voice set-up. Dave is better set-up to do such a thing than Tom is right now, and I don't know it would really throw a competitive wrench into his own business, as the SEM module is a real niche thing by comparison. Just my two cents.
Of course, ahem, I'd love to see a resurrection of the old Prophet T8, perhaps an 88 key hammer-action (Fatar) board, with two Prophet 08 boards inside, or perhaps three of the Tetra, to make a Prophet 12? Just thoughts. But again, most folks can just hook up their existing 88-key controller to a Prophet 08 module to do the same thing.
Keep bringing the gear to market, Dave. I'll keep buying!