Clubbing: Rakit, Soul Friction, Organik, EYE
Crunching waves of sonic splendor. Or as my son once put it: the fine art of noisemaking.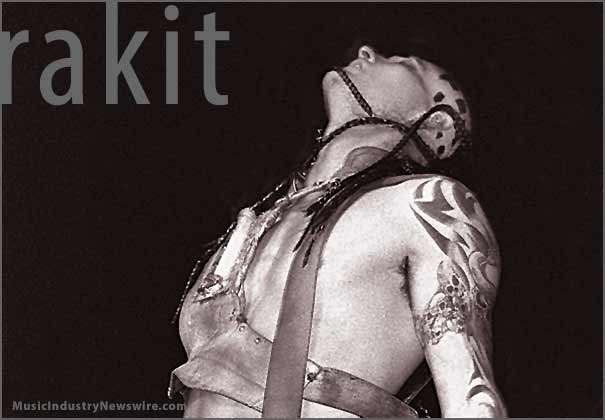 ARTICLE: Okay, who's making this incredible racket? Oh wait, it's Rakit, a three-piece group that never saw a volume-boosting device it didn't like. The music they create is dark, mysterious, pounding, tortuous, arduous, twisted, hazardous, risky, treacherous, freaky, and full of danger. In other words, it's great fun.
BOOK SERIAL: Ambient Deviant Speedmetal Polka / Chapter 16
To call Rakit "edgy" is to take understatement to new depths. Their stage presentation is as ugly as a nuclear reactor, as perfect as a volcanic eruption, and as beautiful as a comet against the background of an empty black sky.
Welcome to the world of industrial techno rock overkill, where it's always way past the police curfew and your car is on fire but it doesn't really matter because the end of civilization is just around the next corner.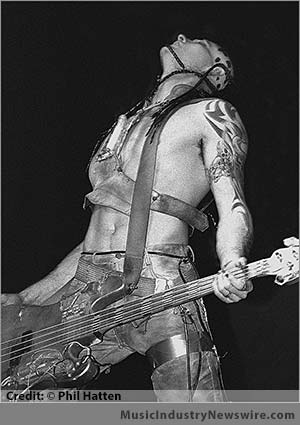 Here, where organized noise is both the exception and the rule, this power trio is the musical equivalent of spontaneous combustion. In a too-brief set at The Key Club on the Sunset Strip, the boys of Rakit established new parameters for doom-smash music.
Theirs is a rich sonic brew that is repulsively attractive and caressingly assaultive. "They are anti-everything soft!" says a voice inside my shock-wobbled noggin during one song. "They make keyboard-and-sequencer bands sound like wind-up toys!" says that voice during the next number.
What's the birds-eye lowdown on this caper called Rakit? Well, they're like a sledgehammer knocking on a dollhouse door. Like watching an avalanche during a moonlight stroll. Like lovers locked in a dance of death.
As I said: fun!
SOUL FRICTION:
Passionate and pumped full of musical steroids, the quartet known as Soul Friction is also loud to the point of disturbing the peace even when measured inside the buildings across the street. If someone from another planet dropped by and asked "What is rock music?" this is what you might show them. Fronted by the unsafe-at-any-speed vocals of GHouse and funked by guitarist Tommy V, the group is also turbocharged by the maniacal drumming of Kron and the god-of-thunder bass work of TJ Racer. These guys are a double-ka-pow frenzy that relentlessly claws at the audience, the walls, the air, everything.
ORGANIK:
With a name befitting an ambient group and a look that's a cross between a Vegas revue and the crew at your local Jiffy Lube, the band called Organik roars straight at you with a full-throttle assault on your sense and sensibility. Moralists will be outraged, sermons will be preached against them, and pundits will shake their heads in dismay. Audiences, however, are in for an unforgettable experience.
A quick glance at the full house at The Gig revealed an audience divided into two camps. On the one hand there were those who were thinking "What in the HELL is going on up there on that stage?" But an equal number of people were obviously digging it. "Far fucking out!" was one of the most-repeated comments. But everyone was transfixed. Nobody ignores Organik.
Jon Mack fronts the band with a strong voice, stronger attitude, and a celebrity model's good looks. She (yes, Jon is a girl, as her costume clearly displays) is a demon on stage, literally throwing herself into the performance. "Is she insane?" was another frequent comment. Let me just say this: If what Jon Mack does is an act, it's very very good; if it's not an act, it's very very frightening.
Noah Clark and Erik Hill have a ton of fun on bass and drums, keeping things pumping while never letting you forget that this is rock and roll, baby. Nora Snow's backing vocals add flavor, color, and some extra punch to the mix; she's singing what might be the keyboard and horn parts in a more traditional group and the effect is quite exciting. Gregg Orenstein plays wildly distorted but wildly beautiful guitar. Well, that doesn't go far enough: Orenstein plays stomp boxes — every stomp box known to human kind — he simply utilizes a guitar to control them. The result is all the scandalous sounds you've ever imagined, and then some.
The chorus of "First Bitten" contains the line "the devil's got his dick in me" so they probably won't get much network TV exposure with that number, but it sure kickstarts the crowd. The chorus of "Your Attention" includes this line: "I'll lay down on my back just for your attention," and when Mack delivers on the promise, the crowd goes wild. "Doing it Anyway" and "Piece of Meat" also stunned and/or amused the by-this-time overwhelmed audience.
Organik is shock rock performance art with fuzztone distortion cranked to alarming levels. They delightfully combine power chords with Indian music motifs, twisted tunes, and lyrics that consistently outrage. Organik is an amiable mixture of beauty and pain.
EYE:
There is potent improvisation in the air as EYE slides through the multicolored hole of psychedelia and abducts audiences with them. This is wigged-out stuff, and often beautiful in an acid-flashback sort of way. And since most of their numbers take off from a well-crafted song structure, there are comfortable places for your ears at many points during the journey.
Pat Byars plays guitar with the same joy of discovery as a kid in a candy store. There is absolutely nothing he won't try as he paints an aural mural that glows and shimmers with exhilaration. Their music is rock, of course, but also contains twisted blues, some experimental touches, a taste of bluegrass, and even carnival calliope music. In short, it has all of the sounds a human can possibly conjure. He also keeps a small keyboard nearby and frequently utilizes it with his right hand while still playing guitar chords with his left.
Scott Ward interjects shifting bass lines that caress, stroke, push, pull, and pummel the listener in many different directions. He took a solo that was as powerful and lyrical as the glory days of fusion bass giant Stanley Clarke. In Walt Phelan's hands, the drum kit becomes an instrument of hue and shape as well as delivering the normal percussion aspect. They provide the deep, rich, and throbbing power beneath the surface of the group.
There are obvious influences at work here, from such great bands as Quicksilver Messenger Service and Soft Machine to the kaleidoscopic wonder of the best moments of the legendary "Live/Dead" double album from the seventies. The true measure of this extraordinary band is in the way they pay homage to Frank Zappa's rock-jazz while extending it into frightening new places.
"Once I heard Frank Zappa's playing, music changed for me," Byars said after the set. "The sound, the form, the improvisation — everything was suddenly new and different. And the best part of it," he added, "is that music itself has remained new and different ever since. We love creating songs, but taking the experience of the performance into new areas every time you play is what generates the true excitement for us."
In a show at Callahan's, EYE was joined for a couple numbers by Marc Mylar on saxophone, adding an inventive beatnik jazz sensibility that was delightful. When the four of them jammed on the Mac Rebennack (Dr. John) song, "Right Place Wrong Time," the sound was both funky and intense.
EYE is a mind game where you're the winner. They are a grin-producing dizzy spell. These guys pour out music that lets you put one hand in a cosmic light socket while the other hangs on a rainbow. I wish more people would look into taking the trip.
• "Ambient Deviant Speedmetal Polka" … to be continued next chapter. You can subscribe to John's articles and column via RSS (click this link), or read more from JSG here. You can also keep up with all our content on Facebook at: https://www.facebook.com/musewire .
This original article is Copy. © 2013 by John Scott G, and originally published on MusicIndustryNewswire-dot-com before the site was revamped as MuseWire.com in March 2015 – all commercial and reprint rights reserved. Photo of Rakit © by Phil Hatten, used by permission.