Clubbing: Allan Holdsworth, Daniel Cartier, Burgandy, Marcel, Docter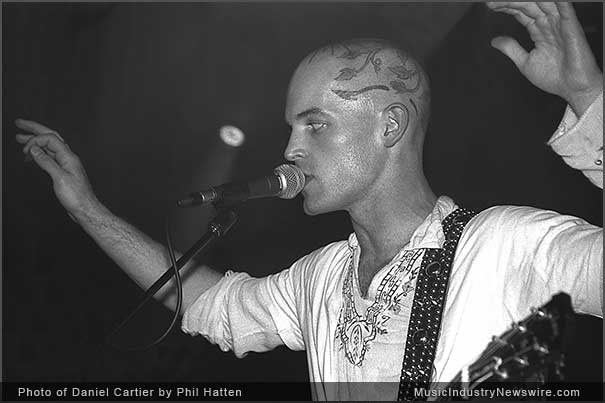 Hitting the clubs and hearing the sounds may be fun for you once in a while but I did it unselfishly three or four nights a week for years in order to bring you info on a few of the artists who were making noises that were cool, interesting, swinging, or fun. And even maybe a little bit groovy.
BOOK SERIAL: Ambient Deviant Speedmetal Polka / Chapter 12
"I try to make the guitar sound like a keyboard when playing rhythm," Allan Holdsworth states, "and on lead I try to make it sound like a horn." Then, in an eye-brow-raising admission, he said he tuned some of his strings slightly sharp or flat. Maddeningly, he refused to provide any more details.
His approach to his instrument, coupled with his inventive chord selection and tremendously fluid fingers, results in making him unique among guitarists in the late 20th and early 21st centuries. With the power of rock, the friendliness of fusion, and the melodic inventiveness of jazz, Holdsworth's music is striking in its beauty and an inspiration to players and composers alike.
Performing recent favorites as well as selections from his forthcoming album, "Sixteen Men of Tain," Holdsworth consistently astonished the standing-room-only crowd. The ethereal loveliness of numbers like "Above and Below" and the propulsive drive of compositions like "Looking Glass" and "Water on the Brain" were handled with ease by AH and his superb trio. Dave Carpenter utilized his six-string bass to create a storm of notes that wove around the leader's incredible textures. Joel Taylor laid down a barrage of beats from his drum kit, and he consistently drew ahhs from the audience with his rhythmic invention and subtlety within a hard-charging style.
The occasion for this miniature concert was the presentation of a new guitar from Carvin. Called the Holdsworth Fatboy, it is a 3-inch-thick hollow-body electric axe without f-holes but with a top and back that are allowed to "float" or resonate freely, creating a unique tone. In Holdsworth's hands, it is a tool for artistic creation beyond compare.
DANIEL CARTIER:
This guy hushed the posers and preeners who had packed the Viper Room and he did it with his first three a cappella notes. Very impressive. He then proceeded to lead a crack four-piece band in a set that was notable for a unique melodic approach to pop, rock, folk, and rhythmic music. Daniel Cartier has a compelling voice and stunning stage presence. Mr. Cartier appears to be a potential star. Will the world discover him?
BURGANDY:
Once you get past the spelling, here is a band that can be bewitching, which is how best to describe their set at Bar Sinister. Jangle meets fuzztone meets synth swirl meets jazzy bass meets sultry vocals. They offered up a dark, rich and surging mixture of sounds that were able to affect one's body like a powerful narcotic. Or perhaps it was the absinthe cocktails that are one of the devilish attractions of the bacchanal that Tricia LaBelle conducts each Saturday evening. Either way, Burgandy makes music that is moody yet exciting and listening to them seems to be a way to let your brain expand and contract much like your chest does while breathing. If this be goth, count me in.
MARCEL:
With a husky-smooth voice and a personality that draws people closer to the stage, Marcel has the potential to reach alt-rock fans as well as a country audience, and that is a strange and wondrous combination. He has a strong and engaging voice plus heartfelt material to sing. It was exciting to watch him grab hold of the not-always-attentive audience at The Gig and not relinquish his grip until the conclusion of his set. Kind of fun to enjoy his song, "Erin the Sky," in two formats: as a video and in his very powerful live rendition.
DOCTER:
Yipes! Another twisted take on spelling. Who began the "let's get our band name wrong" thing? Most Boomers probably first noticed this with The Beatles. (Which doesn't look wrong, does it! Repetition will do that for ya.) I remember looking at my dad's swing music collection and chuckling at some of the crazy spellings of artists and song titles. Makes you wonder if musicians from earlier eras tried this stunt. Could it be that composer Joe Hiding decided he would stand out by calling himself Franz Joseph Haydn? Or that Joe Bock adopted the moniker Johann Sebastian Bach just because he thought it looked better on a poster?
Anyway, the misspelled Docter specializes in soulful rock 'n' roll. This is a band that makes you smile at their music even as the dance floor fills up with flailing bodies. Docter is propelled by terrific vocal harmonies and in-the-pocket rhythms that are virtually impossible to resist. Each of their songs is beautifully crafted, played with passion, and sung with joy.
Tommy Gladders is a sleek lead guitarist and his work nicely augments Matt Docter's rhythm guitar and Jason Docter's keyboards. The two brothers share the vocal lines to superb effect, while Todd Beeson and Matty Tecu, on bass and drums, shake you right down to your tailbone.
And a gud tym wuz enjoyed by all.

Video of Allan Holdsworth playing "Red Alert"
http://youtu.be/zMi2mCe7CKg
• "Ambient Deviant Speedmetal Polka" … to be continued next chapter. You can subscribe to John's articles and column via RSS (click this link), or read more from JSG here.
Excerpt of book serial is Copr. © 2012 by John Scott G – all commercial and reprint rights reserved. Originally published on MusicIndustryNewswire-dot-com before the site was re-branded in March 2015 as MuseWire.com, a publication of Neotrope®. Photo by and © Phil Hatten (www.PhilHatten.com). Used by permission.