Unearthly Frequencies: Debby Holiday
MuseWire BOOK SERIAL – Ambient Deviant Speedmetal Polka: Chapter SEVEN – Unearthly Frequencies: Debby Holiday — Debby Holiday can use her voice with both precision and abandon in such a way that it reverberates inside your noggin. And even better, she touches your soul.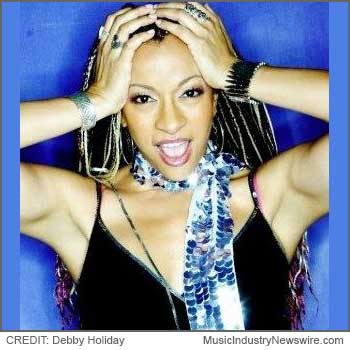 Time sped up. The stars stood still. Inside Luna Park's downstairs room, a spell was cast by Debby Holiday. Her voice is a marvel in that it appears to resonate at some unearthly frequency. There's power in the lower register, although she doesn't spend a lot of time there, and there's clarity in the upper reaches of her vocal range. In the middle, she displays extraordinary flexibility and authority. A powerful presence, she seems to be constructed of coiled steel springs. Best of all, she is possessed of a voice that can cut through granite and cause echoes inside your noggin.
Holiday's music is vibrant, shadowy, and shivery, full of shattering images and conflicting emotions. You know, just like life itself, only in her case it's much more organized and smart. Her band can groove while playing tough. Their sound is slathered with blues-based barbecue sauce but in a very urban-modern context. Again with the contradictions, yet it all amalgamates itself in a pleasing, if blistering, manner.
Up Close or Up On Stage
Off-stage, you notice a piercing quality in Holiday's eyes, but when she strides to the microphone, the look turns to a dare and a prayer. She appears driven by forces beyond human control and perhaps outside mortal comprehension. Even without the strong pipes, there is such fire and energy here, she would command attention just through sheer force of will. That she has the chops to back up this fierce attitude is apparent after one verse. Hers is a rare talent.
The songs "Sacrifice" and "Angels in Exile" are just two creations that can break your heart even while you feel like pounding your fists on the table to the insistent beat. There is an incredible rush from "Peculiar" and "Whatever Comes," so much in fact that the Department of Energy should be made aware of this phenomenon. All her tunes are models of cunning melody wedded to powerful riff and the result is a lava flow of irresistible force.
Using her thick, rich, expressive voice, Holiday can caress or hammer notes with elan. Pushing the envelope of sonic overload is a band that can kill. Bryan Corbett plays fuzz-drenched leads that drill into you. Jeff Fedak adds crunch on a Gibson Les Paul, always helping the tune's forward progress. Chris Cardenas and Antelo Barbara are terrific on drums and bass, a foundation that cannot be resisted. The electric keyboard textures and flavors from Rick Feuer are simply outstanding. Together, this is an act that can rock you, roll you, make you move, and move you to cry. Their first-rate material, mostly by Holiday, Corbett and Fedak, should be pouring out of speakers and earbuds everywhere.
Second Time
On another occasion, this time at The Gig in Hollywood, she and her magnificent band grabbed our ears and our hearts and didn't let go during an hour of rhythmic pleasure. While she seems to be a rocker at heart, Holiday is open to including smooth melodies and subtle phrasing of other genres. The result was a set that delivers the punch of a hard-driving band and the expressiveness of a slow-jam crooner. It's a combination you cannot help but love. It rattles your brainpan while touching your soul.
VIDEO: Debby Holiday sings "Key to Your Soul"
http://youtu.be/pmK3hj842WI
• "Ambient Deviant Speedmetal Polka" … to be continued next chapter. You can subscribe to John's articles and column via RSS (click this link), or read more from JSG here.
Excerpt of book serial is Copr. © 2012 by John Scott G – all commercial and reprint rights reserved. Originally published on MusicIndustryNewswire-dot-com before the site was re-branded in March 2015 as MuseWire.com, a publication of Neotrope®. Photo from Debby Holiday.