Book Review: 'Norman Granz' by Tad Hershorn
MuseWire COLUMN: Not a musician, yet a giant of jazz. Undiplomatic, but an ambassador of American culture. Often impolite, but always truthful. Unequaled, yet a champion of equality. And that just touches the surface of Norman Granz, producer of more music than one might think humanly possible.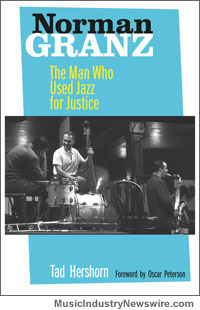 Social justice made great strides in the United States during the twentieth century because of a great many people, and one of them was the irascible, intriguing and often infuriating music producer Norman Granz.
Oscar Peterson, a universally revered pianist who was on-again/off-again about Granz throughout his lifetime, put it this way, "His dedication to and belief in equality caused him many moments of confrontation. He never wavered in standing up for his strong beliefs, even in the face of danger to himself."
Almost from the start of his professional career, and despite a great many threats and many more obstacles, Granz was using jazz in ways that would influence society:
Born in 1918, the first-generation American son of impoverished Russian Jewish immigrant parents, he held his country accountable to its basic creed of equality. The first JATP [Jazz at the Philharmonic] concert in 1944, a fund-raiser for the Latino defendants in the notorious Sleepy Lagoon murder case, was a preview of Granz's dedication of jazz to the cause of racial justice. . .
Author Tad Hershorn, currently an archivist at Rutgers University, was afforded unusual access to Granz and his papers, resulting in a wealth of detail that otherwise would have remained hidden from public view. Hershorn doesn't pull any punches, but he obviously has tremendous respect for the accomplishments of his subject:
The intellectual and artistic currents that coursed through his life made Norman Granz not just an instrumental figure in jazz history but also a person who engaged the great social issues and high culture of his times. His effort to present and record jazz's reigning talents on a global scale remains one of the best breaks jazz ever had, and his commitment to the cause of civil rights ultimately takes his story to a higher plane.
Writing in a 1954 Saturday Review article, Whitney Balliett pointed out some amazing feats of Granz in that he was "pulling in some five hundred thousand people annually for his shows and putting out approximately half the jazz records in the United States."
Democratic Art
Early in his life, Granz was introduced to jam sessions and "cutting sessions" (where the goal was to out-perform other players while still contributing to the flow of the song). Right from the start, he saw that jazz was "profoundly democratic in its openness to anyone who could prove his talent. . ."
Being exposed to inequality at home and in the army furthered his resolve in combating it; the sections on his dealings with the unequal treatment of blacks and whites in the armed forces and on the concert circuit never fail to raise your blood pressure, although humor sometimes resulted, as in this lovely phrase from a Los Angeles Sentinel write-up of his activities while "stationed at Fort Sam Houston, deep in the bowels of Texas (we refuse to subscribe to the libel that Texas has a heart)…."
Granz fought racism in many ways. Starting with his 1946 tours, he insisted on nondiscrimination clauses in all contracts. He also regularly pre-booked, pre-paid and demanded confirmation of lodging so he had legally binding agreements with which to battle hotels that refused to offer rooms to all the musicians on his tours.
Larger Than Life Characters
The book is jam-packed with figures who took on life with gusto, starting with Granz himself but including such titans of jazz as Charlie Parker, Duke Ellington, Billie Holliday, Lester Young, Coleman Hawkins, and more. Equally compelling stories abound involving quieter (although certainly no less talented) individuals such as Ella Fitzgerald, Count Basie, Fred Astaire, Nat "King" Cole, and others.
One could spend quite some time recounting the zesty and entertaining mini-feuds, testy conversations, and eyebrow-raising interactions Granz had with Miles Davis, Benny Goodman, and Frank Sinatra, to name a few. Yet an equal amount of time could be spent detailing the touching acts of kindness Granz displayed toward many musicians, some of whom may have needed help, but also to others for whom he just felt generous.
As a side note, Granz enjoyed a long friendship with Picasso (Pablo Records was named after him) and there is a hint that a book about Granz' interaction with the art world might be forthcoming from another author in the future.
Fun Amidst the Fuss
The book contains many stories of jazz giants, sold-out concert tours on several continents, star-studded recording sessions, and numerous personal confrontations full of pitched verbal battles full of emotion, invective, and bombast galore. And yet, a lot of fun is found in these pages, such as: Granz being able to join the Musicians Union in Los Angeles by stating that he was a triangle player; Les Paul stepping into a JATP gig despite contractual obligations forbidding his participation simply by changing clothes and billing himself as Paul Leslie; the troupe deplaning in a city where their shows were sold-out but, as Granz recounted it. . .
"Unfortunately, there were but two small boys who met us. One thought Oscar Peterson was Joe Louis, and the other was there to meet his mother. We rapidly surrounded them and made them take our autographs."
Sometimes humor resulted from alarming situations, such as when the scurrilous and disgusting right-wing wacko (okay, that's a tautology) Westbrook Pegler published an article accusing Granz of fleeing to Russia in an all-out embrace of communism. Hearing about it by phone while he was in Europe, Granz responded, "When am I supposed to flee to Russia? I've got a concert tonight in Rome."
For me, the biggest laugh in the book came from an exchange between musicians during one of the JATP concerts. Oscar Peterson asked Lester Young what key he wanted for the next number and Young replied nonchalantly just before walking up to the mic, "Well, you know, the right key."
JATP
"Jazz at the Philharmonic," noted Peterson, "was like having your record collection come to town." From 1944 to 1983, Granz took the leading players in jazz on national and international tours in which musicians performed under stellar conditions and traveled with top-notch treatment all the way. That it was often a tremendous fight to maintain these conditions just seemed to strengthen his resolve to consistently offer the best treatment to his artists.
Certainly, lovers of jazz will dig all the stories of the gigs, the "battle of the saxes," the controlled pandemonium, and the good-natured interplay (not to mention the attempts to blow one another off the stage). And everyone can get a kick out of the backstage conversations and the shenanigans on the trains, busses and planes.
Who's Who
As founder of several record labels, including Verve, Clef, Norgran, and Pablo, it is crystal clear that Granz was a jazz man. The hundreds of JATP concerts are another testament to his love of the jazz arts. And what incredible line-ups! One program featured Ella Fitzgerald, Charlie Parker, Coleman Hawkins, Roy Eldridge, Lester Young, and Oscar Peterson. The thousands of hours of live and studio recordings included all of those musicians plus Basie, Benny Carter, Holiday, Stan Getz, Johnny Hodges, Ben Webster, Anita O'Day, Charlie Barnet, Teddy Wilson, Barney Kessel, Illinois Jacquet, Bill Harris, Flip Phillips, Gene Krupa, and many more.
Yet Verve also released spoken-word records by such important figures as Jack Kerouac, Evelyn Waugh, Dorothy Parker, Alice B. Toklas, and Mort Sahl. As a concert promoter, Granz put on shows by Frank Zappa, Leonard Cohen, the Supremes, Barbra Streisand, Carlos Santana, and Ray Charles, who once said to Granz, "We don't have to have a contract anymore. I trust you. You're the only cat I would ever do it with. You just tell me when and where and what I'm going to be paid, and that's fine with me."
John McDonough, looking back at Granz's business practices during this time, proclaimed in the Wall Street Journal that Granz's accomplishment was comparable to that of Charlie Parker, the great genius of modern jazz. "Two mavericks changed the face of jazz in the 1940s. Parker changed the way it was played. Norman Granz changed the way it was sold."
Coda
While there may be a few too many paragraphs that simply list the amazing performers in this concert or that recording session (not unlike some of my paragraphs in this review, come to think of it), overall the book is a pleasure to read. In the final chapters, where one might expect there to be a lessening of the excitement of this man's extraordinary career, you find writing that is full of glory and even poetry. Granz, as it turned out, had a life that resembled one of Charlie Parker's great sax solos: full of beauty, truth, pain, reflection, anger, love, and joy-through-jive.
Granz once commented about hearing music where "the more I listened, the more I found, which is really I think the mark of good jazz: that you keep finding things." Also the mark of a good biography. In Hershorn's book, you keep finding things.
Book Summary
"Norman Granz: The Man Who Used Jazz for Justice" by Tad Hershorn
University of California Press, Hardcover, 488 pages, 24 photographs, ISBN: 9780520267824, $34.95, £24.95.
www.ucpress.edu
http://www.ucpress.edu/book.php?isbn=9780520267824
Article Copr. © 2011 by John Scott G, and originally published on MusicIndustryNewswire-dot-com before the site was revamped as MuseWire.com in March 2015 – all rights reserved. Disclosure: No fee or other consideration was provided to the author of this original article, or this site/publisher by the book author or its publisher/agents.