BOOK REVIEW: New Songwriter's Guide to Music Publishing
REVIEW: Back in the early 1990s, Randy Poe authored a book entitled "Music Publishing: A Songwriter's Guide." Several revisions, editions and rewrites later, Poe returned with "The New Songwriter's Guide to Music Publishing" (Writer's Digest Books, 157 pages, ISBN-13: 978-1582978048, $18.99) and I am here to tell you that it's terrific, informative, helpful, and friendly.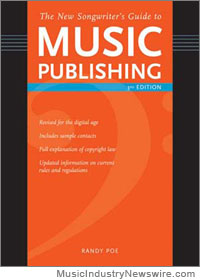 Which is to say it is an important reference work that is enjoyable to read because of the clarity of his prose and the nature of his wit; additionally, it is filled with excellent advice for anyone who has anything to do with songs and songwriting. Invariably, Poe offers well-thought-out observations, and occasionally, he seems to be clairvoyant; consider this paragraph he put into the 1990 edition:
I believe we are not too far away from a time when the industry will become tied into the personal computer . . . with the capability of creating our own personalized compilations . . . .
That's right, back at a time when Q-Link had barely morphed into AOL, Poe already saw the dawning of a new form of interactive business via the 'Net. So when this guy begins a sentence with the words "I believe," it behooves you to pay attention.
A Peek Inside
The pleasure of reading "The New Songwriter's Guide to Music Publishing" (from now on: TNSGTMP) begins with an upbeat single-page foreword by Sammy Cahn, the lyricist who created such standards as "All the Way," "The Second Time Around," "Call Me Irresponsible," and "My Kind of Town." When a guy with 30 Oscar nominations (and 4 wins) says you've got a nice book, that's a pretty good recommendation.
Poe then takes just 15 pages to give you the gist of the hundred year history of music publishing before launching into the importance of copyright. While reams of words are being bandied about by uncreative academics who spout faux revolutionary slogans about how music should be free, Poe distills the argument down to just 35 words:
If you create something original, you should be protected from unauthorized copying of your original work. Long before there were copyright laws, there was a commandment that made the same point: Thou shalt not steal.
On the next few pages, Poe deftly covers the evolution of copyright, the six exclusive rights of a copyright holder, various limits on copyright, certain definitions of copyright (including several points that the "everything should be free" crowd refuses to understand or is incapable of comprehending), and then flows right into a step-by-step guide on how to copyright your songs. He even presents the semi-secret method of copyrighting multiple songs at one time at a reduced rate.
Forms, too
Throughout the book, there are numerous sidebars with useful and interesting information. In addition, forms and sample contracts are included along with brief but complete explanations of the language and the reasoning behind the process. If you've ever been hesitant about registering copyrights, this is the book for you.
Can you find books that explain music publishing in a less personal style and with a lot less humor than TNSGTMP? Sure, if that's what you want. Are there books that go into greater detail than TNSGTMP? Certainly. (Check out my review of "Kohn on Music Licensing," as that book overwhelms you with detail in its 1,800 pages.) But this is an excellent choice for the first-timer or even a current music publisher who wants some entertaining anecdotes while sneaking in a refresher course. And it's great for quickly verifying something without dragging out the heavy reference tomes.