Bob Moog Foundation launches charity benefit raffle for three iconic Moog Synthesizers to support music education
The Bob Moog Foundation has announced a new 2018 charity benefit raffle for three iconic Moog Synthesizers to benefit music education including Dr. Bob's SoundSchool, and the long-awaited Moogseum. The raffle includes three winners for a vintage Memorymoog, Moog Source, and Moog Rogue keyboard.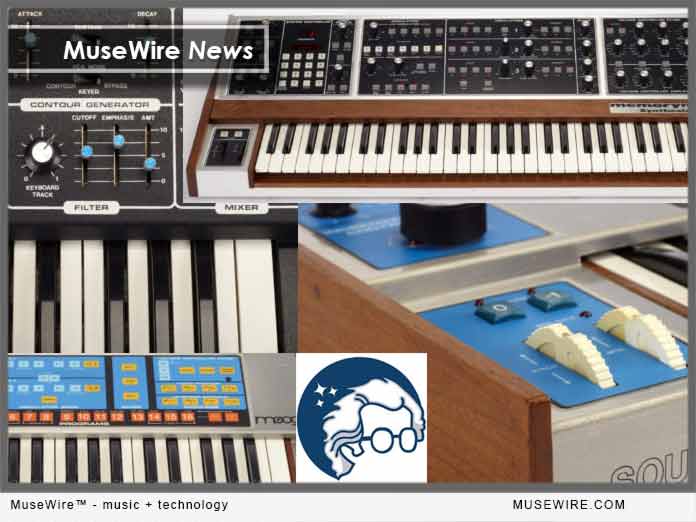 According to the charity, "In raffles past, we have featured one beautiful vintage Moog synthesizer. This time we are offering a Memorymoog, a Moog Source and a Moog Rogue, first, second, and third prizes, respectively. The raffle ends on September 24, 2018 or until all 5,500 tickets are sold."
The Moogseum, a planned interactive, immersive storefront museum bringing Bob Moog's legacy and the science of sound and synthesis alive for people of all ages, will be located in downtown Asheville, NC. It is expected to open in April 2019, with an online Moogseum to follow later that year.
All three synthesizers being offered are in excellent technical and cosmetic condition and have been fully restored by noteable technicians who specialize in vintage synth restoration.
Tickets are $25 each, five for $100, or 10 for $200.
Learn more, review the terms and conditions, and purchase raffle tickets here: https://bobmoogfoundation.myshopify.com/products/2018-moog-trifecta-raffle
Ticket purchase will be confirmed via email. No physical tickets will be sent.
The Memorymoog, serial number 1460, has an estimated value of $7,500. It combines six voice polyphony to create a unique polysynth with three voltage controlled, articulated oscillators. Each voice has its own 24dB voltage controlled filter. It is often referred to architecturally as six Minimoogs, and is renowned for its rich sound.
The Memorymoog being offered has been retrofitted with a sequencer and MIDI capabilities, normally found only in Memorymoog Plus models. It has been meticulously serviced by vintage synth specialist Wes Taggart, a lauded technician for Memorymoog restoration.
The Moog Source is a 37 key, two oscillator synthesizer with unique features such as patch memory storage, flat-panel membrane buttons, single data wheel assignment, and more. It has two voltage controlled analog oscillators and the legendary 24 dB Moog filter. The unit being offered is serial number 2221 and has an estimated value of $2,400. The Source has been used by such legends as Tangerine Dream, Jan Hammer, Depeche Mode, Devo, and Vince Clarke.
The Moog Rogue is a compact, two oscillator monophonic synthesizer often referred to as "small but mighty" for its legendary powerful bass sounds. Versatile and user-friendly enough to be used as the Taurus II Bass Pedal synth, the Rogue has been used by Will Butler of Arcade Fire, Vince Clarke, Peter Gabriel, Jonny Greenwood of Radiohead, Howard Jones, and more. The unit being offered, serial number 4462, has been restored by acclaimed restoration house Tone Tweakers, and is valued at $2,000.
VIDEO – official raffle promotional video (YouTube):

This version of news is Copr. © 2018 Christopher Simmons – no fee or other consideration was provided in publication of this news item on MuseWire.com