Bob Moog Foundation announces charity raffle for rare Moog Liberation Synthesizer Keytar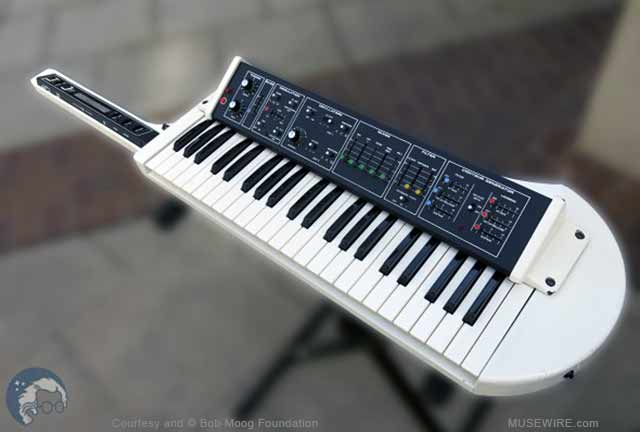 The non-profit Bob Moog Foundation in North Carolina today announced a new charity fund-raising raffle for a rare white Moog Liberation Synthesizer "keytar." The raffle will run from March 16 through April 20, 2015, and tickets are $20 each.
According to the foundation's announcement today, "The Moog Liberation is distinctive in its form and function as a 'keytar,' a guitar-shaped synthesizer that can be played horizontally or worn with a strap. It was the first of its kind when released in 1980, and gave keyboardists the freedom to move around the stage while playing."
The Liberation was quickly adopted by artists including Devo, The Human League, Jean-Michel Jarre, Herbie Hancock, and more. The company's ads of the day lauded the independence gained by the instrument's portability with the slogan "Treat yourself to freedom."
"The Moog Liberation has a special significance to the Bob Moog Foundation. Through the Foundation's archives, we are the proud stewards of the Liberation prototype, a host of fascinating schematics, and a variety of conceptual drawings," says Michelle Moog-Koussa, Bob Moog Foundation executive director.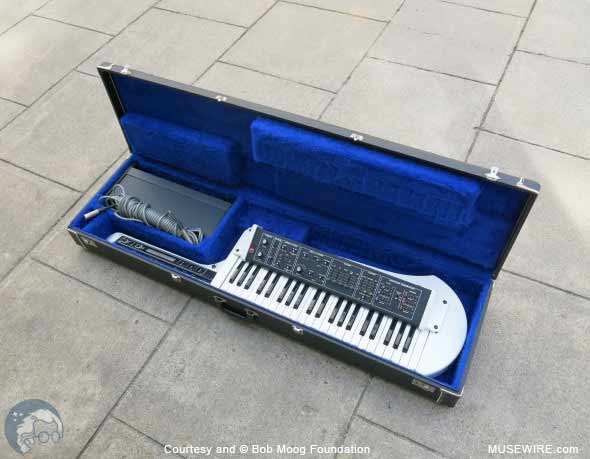 The instrument is in excellent technical condition. It has been meticulously restored by highly regarded restoration studio, Tone Tweakers (www.tonetweakers.com). There are minor exterior flaws comprised mostly of small chips in the paint, a badge of its vintage status. Serial number 1858. The instrument comes in it original case, which is also in excellent condition with only light wear on the exterior. Also included are the power supply/interface and a 40-foot cable, both in excellent condition.
Raffle Supports Efforts of the Bob Moog Foundation:
Your raffle purchase supports BMF projects like:
• Dr. Bob's SoundSchool, our custom sound-science curriculum sharing Bob's legacy with a new generation.
• Our archive preservation initiative: protecting, preserving and SHARING items of historical and technical importance, like our recent schematics release.
One raffle ticket pays for:
• Four SoundSchool lessons OR
• Custom science education materials for a SoundSchool student;
Six tickets ($100) pay for two students to experience an entire semester of sound science in Dr. Bob's SoundSchool.
Tickets for the raffle may be purchased at:
http://bobmoogfoundation.myshopify.com/products/liberation-raffle-2015-tickets .
About the Bob Moog Foundation:
Bob Moog's innovations in music synthesis revolutionized almost every genre of music. The Bob Moog Foundation, a small 501(c) (3) non-profit organization, carries his pioneering legacy forward to future generations. Our mission, to ignite creativity at the intersection of music, science, history and innovation, is accomplished through three programs. Learn more at: http://moogfoundation.org/