Ambient Deviant Speedmetal Polka Chapter 5 – Sin, Sex & Cigarettes: The Toledo Show
MuseWire BOOK SERIAL – Chapter FIVE – Sin, Sex & Cigarettes: The Toledo Show — When you enter the dark fantasy that is The Toledo Show, you have only two choices: One, use all your will power to try resisting the delicious swirl of sin, sex and cigarettes that is unfolding before you; or Two: surrender to Toledo's mixture of theatrical excitement and rhythm-heavy magic.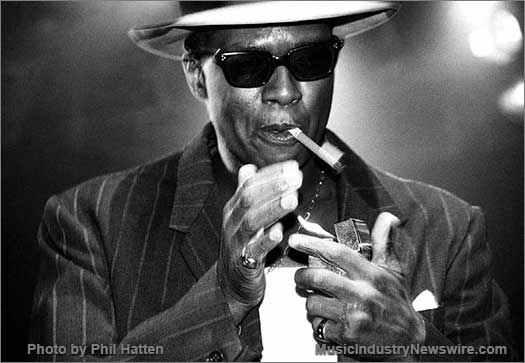 The singularly-named singer called Toledo has a saxophone in his lungs and charisma in his soul. With a boatload of swagger and the heart of a hunter, he uses his aura to coerce, convince, and conspire with the audience.
His band creates a maelstrom of beats while playing at a fever pitch that starts where most other bands leave off. The result is music with mythological powers which can cloud the minds of Jesuits and subvert legions of the holy. In a performance at the Key Club, The Toledo Show demonstrated their patented style of tension-and-release, tension-and-release, and still more tension until the room became charged with carnal desire.
While tobacco companies are loathsome, here's admitting they should be sponsoring this act considering that the band members do more with cigarettes than Bogart and more with cigars than Bill and Monica. But quite apart from the inventive use of personal clouds of blue smoke amidst the dazzling stage moves of Toledo and his dancers, the music is as bewitching and subversive as anything you've ever heard.
Delightful Danger
Let me go on record right now and say that this music is dangerous. These people are making the types of sounds that would have created riots in the nineteen fifties. This is music that is railed against by empty-headed conservatives and prudes. Here are rhythms and melodies that would send hypocritical preachers into fits of apoplexy were they exposed to it. When the band for The Toledo Show cranks it up into high gear, their phenomenal sonic structures truly do have the power to corrupt youth, encourage animalistic behavior, send children crying into the streets, paralyze small animals, and topple governments. This. Is. Hot. Stuff.
In a 90-minute performance at The Mint, the band and Toledo himself conjured up the spirit of every streetwise jive-talking R&B singer who has ever lived. Toledo doesn't merely walk, he glides. Toledo doesn't just find the spotlight, he becomes the spotlight. No need to go looking for a party with him on the scene 'cause if this cat is around, so is the celebration.
He sings, he growls, he purrs. He dances, he prances, he romances. Some of his lyrics are wonderful, suggestive, colorful, and wicked; the rest are even better. And the band is one amazing conglomeration of superlative talent. They are a bad-ass, jump-swing, funk-beat unit that can get your body moving in one direction while your head is turning in another.
The management of the MuseWire, acting on orders from the legal department of Neotrope, our esteemed parent company, insists on my issuing this statement of non-responsibility:
WARNING TO NIGHTCLUB PATRONS: Use extreme caution when approaching The Toledo Show, where you will be subjected to the following:
* pulsating, pounding, heart-palpitating music
* hypnotic cadences whose very vibrations have the power to enslave the minds of listeners
* resplendent vocals from the supremely gifted Toledo, whose sandpaper-and-velvet outpourings contain supernatural properties that cause ladies to remove articles of clothing
* throbbing bass lines that entice attendees to touch themselves in hedonistic fervor
* horn section wails and honks that punch you upside the head
* a bevy of beautiful dancers who perform the kind of suggestive movements you normally see only in the very finest of gentlemen's clubs
* drumming so powerful that people begin panting in anticipation of climax
* percussion that spins your eyeballs
* guitar work so fluid and furious and funky that sections of your mind start to act like you've been drinking a bit too much, y'know, like that time in Reno when, oh wait, I digress
Adults Only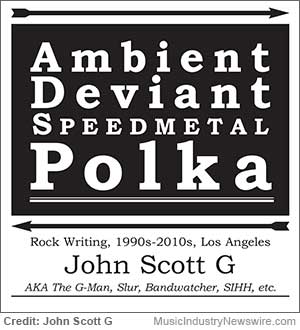 Attending a performance of The Toledo Show will put you in front of dirty dancing, flirty prancing, and unabashed, unfettered and unrepentant lasciviousness. They create an air of divine decadence not seen since the fall of the Holy Roman Empire.
When the Toledo Show dancers shimmy through the audience, it is visually exciting. When one of the backing singers takes his dynamic performance out into the house, it is an interactive treat. And when Toledo himself strides into the crowd, it is like Moses parting the Red Sea. This man has palpable magnetism and an air of majesty that creates visceral waves of excitement.
Prescription
There are forces in nature that cannot be denied. Wind. Rain. Fire. Flood. Earthquake. And Toledo. My recommendation to adults: Go see The Toledo Show. And when you do, here's what to bring: the current object of your desire, money for libations, and protection. All are gonna get used.
• "Ambient Deviant Speedmetal Polka" … to be continued next chapter. You can subscribe to John's articles and column via RSS (click this link), or read more from JSG here.
Excerpt of book serial is Copr. © 2012 by John Scott G – all commercial and reprint rights reserved. Originally published on MusicIndustryNewswire-dot-com before the site was re-branded in March 2015 as MuseWire.com, a publication of Neotrope®. Photo by Phil Hatten. Used by permission.