Alkex Instruments introduces Ball Beats MIDI Step Sequencer
NEW GEAR: Inventor and iOS app developer Alex Smith, of Alkex Instruments, is back with his latest foray into MIDI controllers: his "Ball Beats" MIDI step sequencer product. Unlike his somewhat failed stab at creating a wood and knobs controller for virtual instruments earlier this year (some manufacturing quality control problems), this new product looks polished, and has a boutique coolness certain to appeal to those musicians looking for something different, and perhaps more fun, than the now somewhat commonplace grid controllers.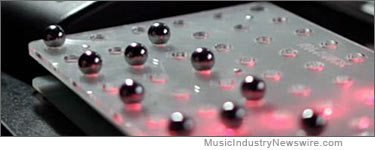 So what is it? Unlike normal sequencers and grid button controllers, Ball Beats has a surface with small holes in it, and you place a metal ball into the hole to trigger a MIDI event (play note, etc.). The ball is easily moved from each spot to another, since it's only partially "submerged" into the slot. While likely not appropriate for touring, or sitting on a couch in your tour bus, it's a neat item "just in time for Christmas," that might appeal to those using circuit-bent analog synths, or who like the "steam punk" coolness of it.
Maybe he'll make a larger one and call it "A Sea of Holes" (with a nod to The Beatles and Sgt. Pepper).
The feature list is as follows, according to Alex: 8 Step Sequencer; 6 Multimode Channels; Built in USB i/o interface; Sync to MIDI Timecode; Includes 50 1/2-inch Steel Balls; Compact size (6-inch x 8-inch x 1-inch). Included configuration software (PC/Mac/Linux). His little tag line is amusing: "It takes balls of steel to compose beats!"
Each of the 6 tracks has 3 modes: Note Trigger Mode: Plays a note when a ball is scanned; Reset Mode: Resets to step 1 when a ball is scanned; Reverse Mode: Set the loop in the opposite direction (ping pong); You can also set the note duration and shuffle the steps by activating random mode.
Pricing is $199 US, and ordered via the Alkex.com website. Or, for those who might want to try out the device virtually, Alex has added a version to his clutch of iOS apps for iPad/iPhone (search iTunes store for "ball beats electro").
VIDEO: