Wide Blue Sound adding NKS Support for ORBIT and ECLIPSE Virtual Synth Instruments
Wide Blue Sound, a creator of cutting-edge instruments for KONTAKT, has announced a partnership with Native Instruments that allows its ORBIT and ECLIPSE virtual synths to be used with NI's Native Kontrol Standard (NKS) hardware — namely, KOMPLETE KONTROL S- Series keyboards and MASCHINE workstations.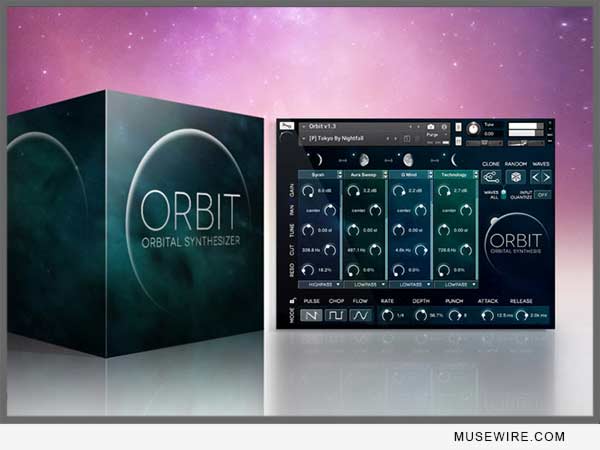 "NKS is an important first step in harnessing the natural experience of hardware with the infinite creative potential of software," says Wide Blue Sound co-founder and CEO Nathan Rightnour. "We'll always be working to 'bridge the gap' in ways that bring usability and a visceral excitement to our software."
ORBIT and ECLIPSE are the perfect powerhouses for creating stunning synth sounds, driving pulses, and atmospheric worlds, thanks to their critically-acclaimed interface and world-class sound design. With well-thought-through, creative mappings and tags for ORBIT and ECLIPSE, KOMPLETE KONTROL S-Series keyboards and MASCHINE workstations react with the feel of a custom hardware instrument.
The latest NKS-supporting ORBIT and ECLIPSE updates bring with them the best of both worlds — intuitive interfaces and seamless interaction with intuitive tactility, thanks to Native Instruments' innovative hardware. Hardened users and novices alike will be amazed at how fast they can come up with something stunning to fit any musical mood or emotion, whether wanting to tweak the dreamy, mysterious, or dark universe of sound in ORBIT or enter ECLIPSE's pioneering heavy, forceful, and aggressive sonic vistas. The choice is out there — quite literally at the fingertips of KOMPLETE KONTROL S-Series keyboards and MASCHINE owners.
Thanks to NKS support, sound-shaping nirvana with Wide Blue Sound's updated ORBIT and ECLIPSE is as simple as the turn of a knob. Each innovative instrument includes 250 track-starting presets. Put it this way: whatever way users choose to intuitively interact with them, the results are always out of this world!
NKS-supporting versions of ORBIT and ECLIPSE can be respectively purchased and digitally downloaded directly from Wide Blue Sound for $199 USD and $149 USD from here: www.widebluesound.com (Note that both products are also available as the PLANETARY BUNDLE, including beta access to SKYPAD Remote, for $298 USD, representing a substantial saving of $50 USD.)
Note Native Instruments' KONTAKT — full or free KONTAKT PLAYER (5.5.2 or higher) version — powers Wide Blue Sound products. For more in-depth information, please visit the dedicated ORBIT and ECLIPSE webpage here: www.widebluesound.com
Watch Wide Blue Sound Founder & CEO Nathan Rightnour's 'Quick Drive' ORBIT overview video here:
Watch Wide Blue Sound's engaging ECLIPSE trailer video here: