Western Digital now Shipping My Book Thunderbolt Duo Dual-Drive Storage System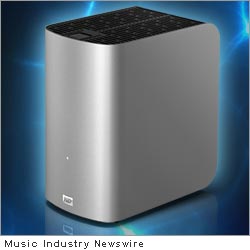 IRVINE, Calif. (MuseWire) – Western Digital (WD) is now shipping their Thunderbolt-compatible My Book storage product, perfect for Apple Mac users that own systems sporting the new high-speed interface. Available through resellers and WD's online store, the devices come in 4TB and 6TB models.
The 4TB unit starts at $599, or 6TB for $699. Presumably the former houses twin 2TB drives, while the latter holds two 3TB drives. User-configurable for speed or double-safe data protection. Customize this dual-drive storage system to your needs – RAID 0 (striped) for speed, RAID 1 (mirrored) for data protection, JBOD to use the drives individually.
In "striped" mode, you get one large drive, while in "mirrored" mode you would get only the capacity of a single drive, but saved to both drives at same time for safety of data. As with most Thunderbolt devices, these support daisy-chaining with multiple devices, and like most such products on the market currently, their is no cable included (roughly $49 direct from WD, or from Apple).
Physical Dimensions: Height. 6.50 Inches. Depth 6.20 Inches. Width 3.90 Inches. Weight 4.98 Pounds.