Wave Alchemy Revolution 1.1 adds seamless integration in Ableton Live via new Revolution Module Instrument
Wave Alchemy has announced an update to their virtual drum instrument, inspired by classic analog and digital drum machines. Revolution 1.1 now offers seamless integration with Ableton Live and Push 2 via new Revolution Module Instrument.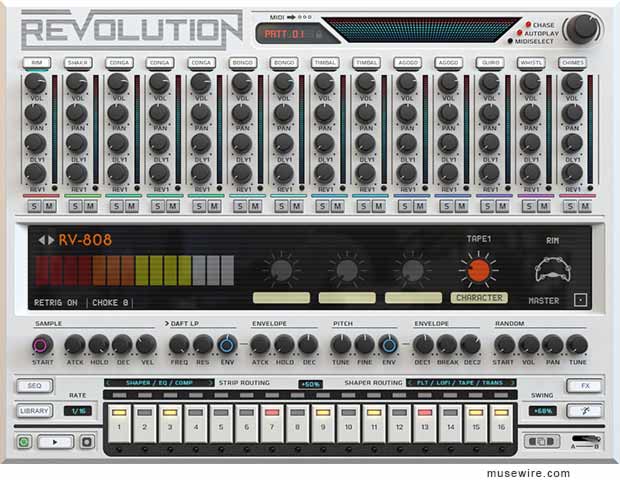 Revolution Module features the ability to select any drum voice or sound from Revolution Drums or Revolution Perc and play it individually. This is ideally suited for workflows that rely on playing individual drum sounds from a drum rack such as Ableton Live. Revolution Module features the ability to learn the MIDI note triggering Revolution Module. Revolution Module features the ability to play the drum voice +/- 2 octaves.
– Sequence directly from Ableton Push and use velocity to modulate Revolution's controls…
– Modify Revolution's main parameters directly from Live or Push
– Browse and load modules directly from the Push controller
– Use Push's step automation to sequence analog tone shaping
– Live record and quantize performances
– MIDI learn note triggering
– Play and sequence drums over a 4 octave range of pitch to create musical percussive rhythms, 808 sub bass-lines or anything in-between.
What is Revolution? Revolution is a deeply produced Drum Machine faithfully delivering 14 of the world's most iconic Drum Machines directly to your DAW, inside a single ground-breaking virtual instrument. For the first time ever, a plugin delivers the true sound of the most influential Drum Machines of our time – 808, 909, 606, 707, 727, 505, CR-78, CR-8000, Linndrum, Drumtraks, Drumulator, OB-DX, SP-12.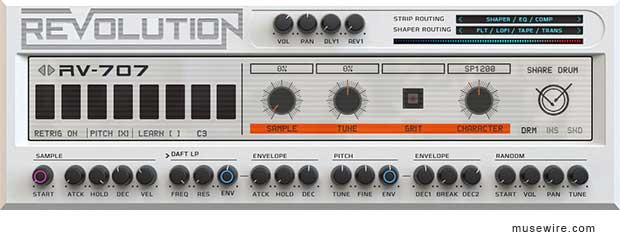 Also, Revolution LE features the ability to play Revolution Drums in the simplest way possible for lower CPU and resource usage.
More information: http://www.wavealchemy.co.uk/revolution/pid179/
VIDEO Overview (YouTube):