W.A. Production launches MultiBender plugin with tempo-synced creative delay and multi-band processing
PRAGUE, CZECH REPUBLIC /Music Industry Newswire/ — W.A. Production, producers of high-end professional samples, instrument and effect plug-ins, DAW templates, and more, recently announced its MultiBender plugin — producing "tempo-synced solution creative delay processing like no other, thanks to delicious-sounding multi-band processing and four simultaneous delay modules making for truly epic effects."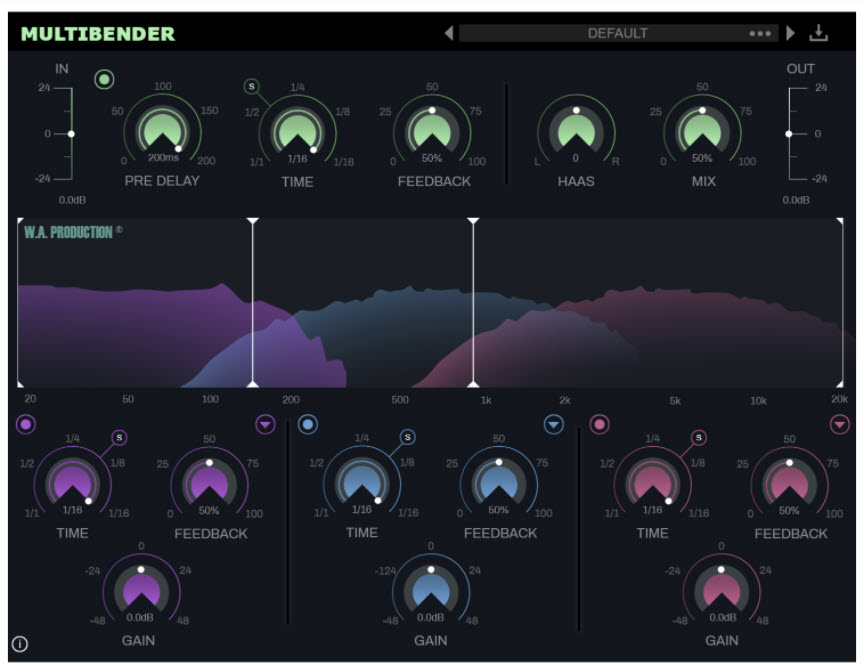 MultiBender's delay processing is split into three separate colour-coded modules linked to the (mostly) standard — PRE DELAY (sets a pre-delay between 0 and 200 ms), TIME (adjustable in bars — S (straight), D (dotted), and T (triplets) can be selected above), FEEDBACK (sets the feedback of the main delay), HAAS (creates a stereo — Haas — effect), and MIX (acts as a common mix control for the whole plugin, allowing for parallel usage).
MultiBender comes complete with an abundance of presets — perfect for finding the perfect shuffle for using with guitars, bass, drums, synths, and vocals. Virtually everything from subtle ping-pong bounces to massive-sounding room delays that literally last for days are all there for the creative taking.
MultiBender is available to purchase for $49.90 USD — as a 64-bit AAX-, AU-, VST-, and VST3-compatible plug-in for macOS (10.11 or later) and 32- or 64-bit AAX-,VST-, and VST3-compatible plug-in for Windows (7 or later) directly from W.A. Production via its dedicated webpage, which also includes an audio preview, here: https://www.waproduction.com/plugins/view/multibender
14-day, fully-functional trial versions of all W.A. Production plug-ins — including MultiBender — are available by signing up for an account for free here: https://www.waproduction.com/users/login
Watch W.A. Production's must-see MultiBender introductory video — go grab a professional pair of headphones or listen through some decent monitors for the full effect — here:
W.A. Production was created by producer/DJ and sound designer Redhead Roman in 2014. Helpfully, his deep-rooted passion for EDM (Electronic Dance Music) and time spent in the music industry ignited a desire to put top-tier audio products into the hands of every electronic music producer at prices that they could actually afford. By building its initial reputation on delivering high-end professional-sounding samples, the six-strong team of today has hurriedly matured into boasting a successful brand that offers instrument and effect plug-ins, DAW (Digital Audio Workstation) templates, informative articles, and exclusive interviews with some of the hottest EDM artists around, alongside e-books and tutorials, as well as online video courses.
###
This version of news is Copr. © 2021 Christopher Simmons – Musewire.com