Vme's Nota Musical Expands to Weekly Show and Welcomes Osvaldo Friger (a.k.a. O.Z.), as Co-Host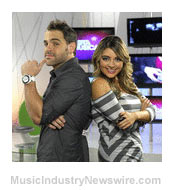 NEW YORK, N.Y. (MuseWire) – Vme is Contigo en la música as its hit music show, Nota Musical expands to a new 30-minute show airing weekly on Wednesday nights at 8:00pm (ET). With the expanded format, long time host, Ceceliz welcomes new co-host, Osvaldo Friger, (better known as O.Z.). Ceceliz and O.Z. (pronounced o-si) bring music aficionadas the latest music news, reviews, interviews and releases from around the world of Latin music.
Each week, Nota Musical welcomes guests including Carlos Baute, Ricky Martin, Diana Reyes, Jon Secada and many others. And, Nota Musical provides a red carpet perspective from the hotest Latin music awards shows and events. For its many fans across Facebook and Twitter, Nota Musical features news updates and several opportunities for fans to win concert passes and meet their idols.
As Nota Musical's new co-host, O.Z. (pronounced o-si), keeps viewers up on the latest moves across the Latin charts, as well as the urban music scene, emerging artists and upcoming concerts/events. No stranger to the arts himself, O.Z. sings in the Puerto Rican band Vitamina-L sharing the stage with Andy Montañez, Víctor Manuel, Ismael Miranda and Papo Lucas and opening for Wisin y Yandel, Héctor el Father, Yomo and others in the urban tropical music scene. Also an avid student of theater and cinema, O.Z. has appeared in numerous films, TV programs and theater productions.
In nearly 40 markets, Vme is available free over-the-air, and on basic digital cable. Vme is also carried nationally via satellite in the basic and Hispanic packages of Dish Network and DirecTV. In some areas, Vme is available on Verizon FiOS and AT&T U-verse. For local channel information go to http://vmetv.com/estaciones .
About Vme:
Vme is Contigo with Hispanic families delivering drama, music, sports, news, current affairs, Latin cinema, food, lifestyle, nature and educational preschool content. The 24-hour Spanish network, partnered with public television stations, is currently available in more than 10 million Hispanic homes. Vme is the first venture of the media production and distribution company, Vme Media Inc. To find out more please visit www.VmeTV.com .
Media Contact Information: For more information, contact Natalie Judd, 203.389.5223, njudd@dex-p.com or Wilson Guzman, 646-747-8821, wguzman@dex-p.com .