Virtual Instrument and Sampler, SynthMaster Updated to v2.9.9 with Enhanced MPE Mode
/MUSEWIRE – Music News/ — KV331 Audio has announced that, "After months of heavy work + internal testing + user testing from our Facebook users group and KVR Audio users, we are proud to announce the release of SynthMaster v2.9.9 (Rev 10287)." Registered users can download this update now inside SynthMaster 2.9.8 by checking for updates.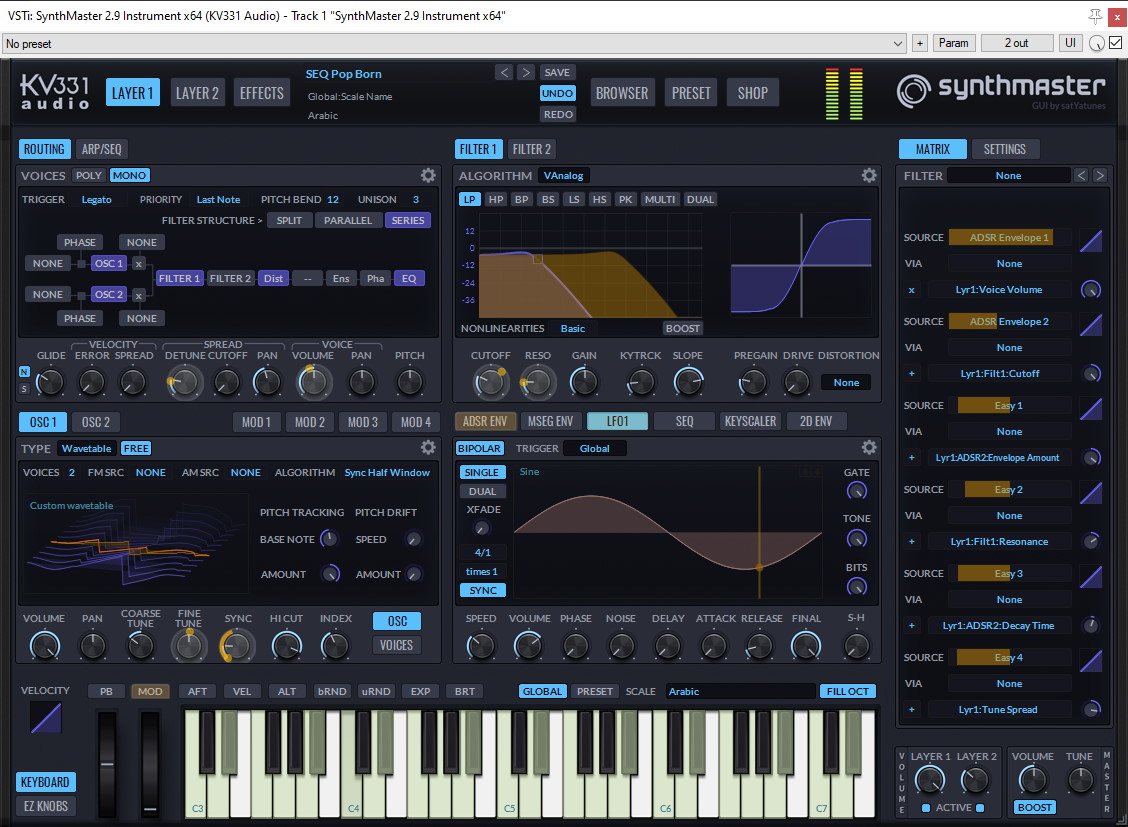 According to the company, "It's almost 2 years since we last updated SynthMaster, and this small version increment from 2.9.8 to 2.9.9 might look insignificant. However, there have been massive changes under the hood since we reengineered our internal framework towards our efforts for SynthMaster 3 development."
We have the following new features in this major update:
MPE Mode: SynthMaster now conforms to MPE standard much better: Each preset now has a MIDI Channel parameter, which can be set globally as well. When MIDI Channel is set to "MPE" mode, MIDI Channel 1 is used as the Global channel as per the standard. Mono presets in SynthMaster behave correctly (they play polyphonic since MPE sends MIDI in multiple channels).
New / Updated Skins with larger layout: Satyatunes created a new Dark skin for SynthMaster, and updated the existing Tranquil Blue skin as well. Extended versions of the skins are provided as well, which include two tabs with pitch/mod wheels, piano keyboard, MIDI Modulation Sources, EZ knobs and XY Pads. We believe that putting those modulations sources right under the synth/fx modules would speed up the sound design workflow.
Realtime Visual Feedback for Modulation Sources and Targets: This one was a heavily requested feature from SynthMaster users. Now users can clearly see how modulation sources and targets are changing when they play a note. The animations are optional, they can be turned on or off.
Resize Skins Easily: Skins can now be resized by dragging the triangle arrows at the bottom right corner of the plugin user interface (as in SM1). Each skin comes with the following sizes: 100%, 120%, 140%, 160%, 180% and 200%.
Better Support for Microtuning: SynthMaster 2.9.9 comes with 300+ scales ranging from 5 note to 12 note, in equal or alternate temperaments. Root note of the scale can be set globally.
MIDI Learn for discrete controls: MIDI learn now works for all controls, including discrete controls and modulation matrix controls.
Dynamic Effect Allocation: Insert effects can now be instantiated multiple times on multiple insert FX slots. As a comparison, prior versions of SynthMaster only allowed fixed number of effects per instance (1 Delay, 1 Chorus and 1 Reverb for instance).
New Modulation Sources: Each layer in SynthMaster now has 4 ADSR envelopes, 4 Multisegment envelopes, 4 LFOs, 4 Sequencers, 4 Keyscalers and 2 2D Envelopes.
* Glide/Step LFOs in prior versions are now loaded as Sequencers.
* For LFOs and Sequencers, triggering can be set to: Global, Single, Poly and Random.
* Sequencers have up to 16 steps with individual initial/final levels and slopes.
* In dual mode, 2 separate sequences can be created and morphed using Crossfade parameter.
Waveform/Sample Import Improvements: SynthMaster now differenciates between waveforms, wavetables or samples in a much better way, and imports them correctly. If it detects samples that are part of a multisample or drumkit, the sfz multisample definiton is created automatically.
A number of bugfixes have also been implemented.
Learn more at: https://www.synthmaster.com/synthmaster.aspx