Vir2 Strikes Again with Mallets Essential Tuned Percussion Instrument
Vir2 Instruments has announced their new high-end sampled instrument line, the VITAL SERIES, and the first release "Vital Series Mallets." Mallets' powerful GUI offers eight instruments on one patch to be edited, played, blended, and recorded together. No sub menus or separate patches. Mallets has all the controls you need at your fingertips.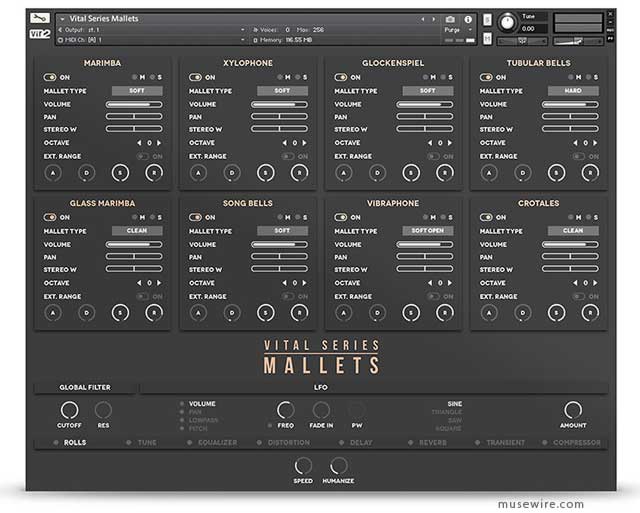 According to the company, the highest attention to detail was given in the recording of Mallets, offering dry, stereo samples with up to 4 velocity layers and 5 round robins per instrument. Each instrument was recorded using various mallet types. This gives composers and producers complete control and customization over their own sound.
The instrument uses the new larger panel layout format of the newest KONTAKT sample engine environment from Native Instruments (see photo above).
Video demo on YouTube:
Each instrument is given its own controls with Mallet Type, Volume, Pan, Stereo Width, Octave Remapping, ADSR, and Extended Range. When engaged, Extended Range remaps the playable range of the instrument by stretching the lowest and highest mapped samples from C0 to C7. Additionally, Octave remapping gives users the ability to adjust the position of each instrument on the keyboard up and down by two octaves.
The Rolls creator allows you to generate and customize your own mallet rolls. Triggering one note will simulate two hands striking that single note, while triggering two notes will simulate the back and forth striking with two hands on the respective notes. Further craft your sound with the seven built-in effects including Tune, Equalizer, Distortion, Delay, Reverb, Transient Master, and Compressor.
Vital Series: Mallets has been designed for seamless integration with the KOMPLETE KONTROL S-Series and Maschine, offering you a unique hands-on experience. Manipulate Mallets' interface using the controls of all NKS compatible hardware.
LEARN MORE: http://www.vir2.com/instruments/vital-series-mallets/