UVI Updates Retro Organ Suite to v1.5 with New Yamaha C10-inspired Virtual Instrument
UVI Updates Retro Organ Suite to v1.5. The new version adds the "Yammy C10," a new combo organ based on a fully-restored and reinvigorated 1970 Yamaha machine, and new rotary speaker effect improvements from the latest generation of the UVI Rotary plugin. The update is free for existing users.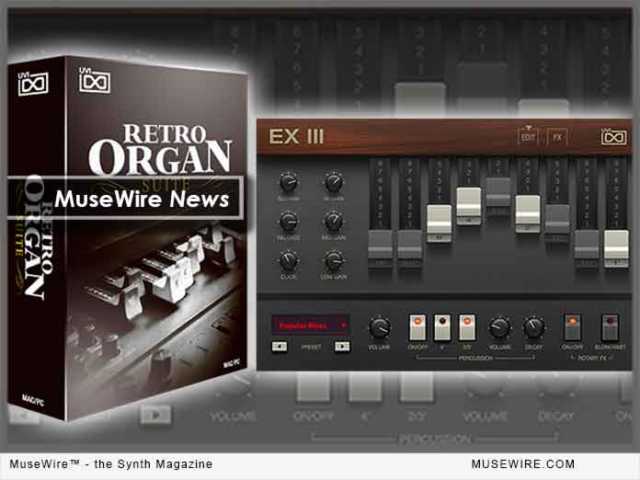 Retro Organ Suite delivers in a very raw and personal way the sounds that define a near 100 year legacy of electronic organ instruments
Explore the essential electric organ collection, now including 7 unique instruments, each with the enhanced Rotary speaker emulation and a comprehensive multi-effect pedal board.
According to the company, "With Retro Organ Suite we aim to both present and preserve the original sound and majesty of this legacy in an uncompromising way, delivering 7 unique instruments that showcase what we feel are the best of best."


Starting with factory-spec restored instruments we captured comprehensive sample sets, making sure to accurately document each instruments tonal range and natural sonic character. Recordings were made through the original speakers, rotary speaker cabinet, with vibrato, percussion, through D.I. boxes and through an assortment of vintage guitar amps.
Retro Organ Suite provides an essential suite of electronic organ instruments that showcase the natural character and tonal range of a diverse selection of instruments including the Hammond B3, Vox Continental, Eminent Grand Theater 2500, Korg CX-3, Philips Philicorda, Philips AG7500, Farfisa Compact Duo, Farfisa Combo Compact, Elka Classic, Hammond M100, and Yamaha YC10, which has been added in version 1.5.
Top-grade microphones were used with well regarded preamps, along with a special selection of processors to provide the greatest degree of clarity and fidelity. This tremendous sample base allows for a huge variety of tonal options in addition to a faithful preservation of typical recording setups used in years past.
The upgrade is free for existing v1 owners, and available to new owners for 40% off for a limited time. Learn more at: https://www.uvi.net/retro-organ-suite.html
Official UVI Retro Organ Suite | Overview Video (YouTube):