UVI releases PLATE – a custom-shop electro-mechanical reverb plug-in with fully-configurable design
UVI's 'Plate' plug-in a custom-shop electro-mechanical reverb with fully-configurable design. A realtime physically-modeled simulation, Plate allows you to control each aspect of the design including metal type, plate size and aspect, input and output position, multi-component decay, modulation, octave-band and lowcut filters, preamp saturation, render quality and more, all through an intuitive UI with interactive visual editors and a realtime analyzer.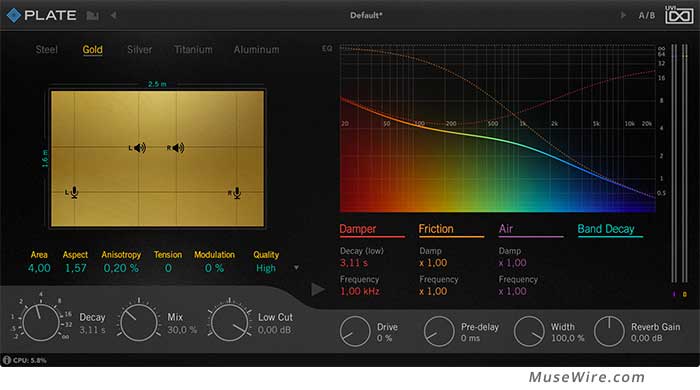 According to UVI, "Extensive research and calibration against physical units allow Plate's fully-parametric model to easily replicate the sounds of classic hardware reverbs like the EMT 140 and EMT240, but Plate goes beyond typical sounds and physical boundaries to let you fundamentally alter the design of these mechanical reverbs and even create your own."
Start with models of your favorite units and quickly change their physical attributes; adjust the type of metal to dramatically alter the decay; adjust the plate size and manually position the i/o to effect the transient shapes from metallic 'chirped' sounds to full and even bodied reverbs; adjust anisotropy to detune the sound; apply tension to alter the frequency response; modify the physical dampener, mechanical friction, air radiation and octave-band decay to perfectly sculpt your reverb; boost your signal with a preamp saturation stage, add predelay, and then easily tame problem frequencies and position your sound with octave-band and lowcut filters.


Adventurous users can dive straight-in and create any number of unique reverb configurations from scratch, yielding exceptional creative potential for sound designers.
Plate's user interface is structured for ease-of-use, providing the control you need when you need it. The default 'Compact' view presents the essentials, suited for browsing presets and making high-level adjustments. Toggling the 'Expanded' mode reveals a greater level of control, including additional mix functions and the spectrum editor, where you can confidently sculpt the various decay parts and filters interactively atop a realtime analyzer.
Designed as both a go-to for classic plate sounds and a powerful new sound design tool, Plate aims to deliver a modern reverb of uncompromising versatility and sound quality.
Plate is compatible with current versions of all major DAWs on both Mac and Windows platforms (VST, AU and AAX). A single license includes 3 activations that can be used on any combination of individual computer systems or iLok keys. A free 15-day trial is available on uvi.net
Pricing:
Plate is available immediately at the introductory price of $79/79€ through November 1st, 2018 (regularly $129 / 129€)
LEARN MORE AT: https://www.uvi.net/en/effects/plate.html
OFFICIAL INTRODUCTION VIDEO (YouTube):