UVI release 'Quadra – Metal and Wood' a creative 4-part instrument and sequence designer focused on resonant wood and metallic sounds
PARIS /Music Industry Newswire/ — UVI have announced their new virtual instrument: 'Quadra – Metal and Wood,' a creative 4-part instrument and sequence designer focused on resonant wood and metallic sounds. Designed to be immediately creative, Quadra series instruments deliver 4 completely customizable instrument layers with mappable keyzones, XY and dynamics morphing.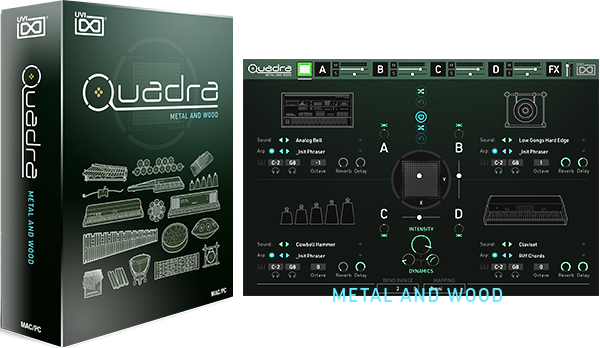 Draw from a huge number of multi-sampled metal and wood sound sources to create dynamic, rhythmic, and evolving sequences with a focused and intuitive workflow, powerful 64-step arpeggiator and phrase sequencer, expressive performance controls, a deep factory library, and more.
According to the company, "Quadra – Metal and Wood is a versatile instrument, capable of a wide range of applications from standard fare instrumentation to evolving, complex, and adaptive progressions and harmonizations that can be morphed and performed in numerous ways to suit productions of any style. Loaded with a huge selection of bells, gongs, keyboards, mallets, musical toys, synthesizers, and resonant wood and metal instruments, users are free to explore and create complex layered voices, adaptive progressions, and dazzling sequences with a focused and inspiring toolset."
SOUND SOURCES: Quadra provides 4 robust instrument layers that can be used together to create striking and evocative performances. Assign each from a selection of 251 multi-sampled sources, including Tubular Bells, Thai and Balinese Gongs, electric pianos and keyboards like the Rhodes, Celesta, Claviset, Dulcitone, Glockenspiel, Mini Celesta, Papageno Bells, Pianet and Sanza Keys, mallet instruments such as the Vibraphone, Marimba and Large Xylophone, musical toy instruments including Music Box, Toy Glockenspiel and Wood Xylophone, synthesizers including Modular, FM, and PCM-based, wood instruments like the Balafon, Resonant Tubes and Blocks, and metal instruments like the Congolese Sanza, Handpan, Mbira, Steel Drum, and more, all chosen to complement each other in timbre and playing style.
Certified for: Digital Performer 8+, Pro Tools 11+, Logic Pro X+, Cubase 7+, Nuendo 6+, Ableton Live 8+, Studio One 2+, Garage Band 6+, Maschine 1+, Tracktion 4+, Vienna Ensemble Pro 5+, Reaper 4+, Sonar X3+, MainStage 3, MuLab 5.5+, FL Studio, Bitwig 1+, Reason 9.5+. FORMATS: Audio Unit, AAX, VST, Standalone.
LEARN MORE AT: https://www.uvi.net/quadra-metal-and-wood
INTRODUCTORY VIDEO (YouTube):
UVI is a developer of software instruments, effects and soundware. We leverage leading-edge synthesis, DSP research and design to provide unique and expressive tools for musicians and audio professionals. Our goal is to help you achieve the highest-quality sound possible with innovative and reliable solutions. You can hear our work around the world at live shows, on hit-records, in blockbuster films and AAA games. We're a small but spirited team with a global footprint, music and sound lovers eager to share our passion. We're honored to be a part of your creative journey and thankful to you for sharing ours.
###
This version of news is Copr. © 2021 Christopher Laird Simmons – Musewire.com