UVI Gets Spacey with Alesis Andromeda inspired MISSION 6 Virtual Synthesizer
MUSEWIRE – Music Industry Newswire — UVI has announced release of "Mission 6," a new virtual synthesizer instrument inspired by the most audacious 16-voice analog synthesizer, the venerable Alesis Andromeda keyboard. The late-great Andromeda had 16 voices with 16-part multitimbrality, both SEM and Ladder-style filters per voice, and an expansive mod matrix and built-in effects.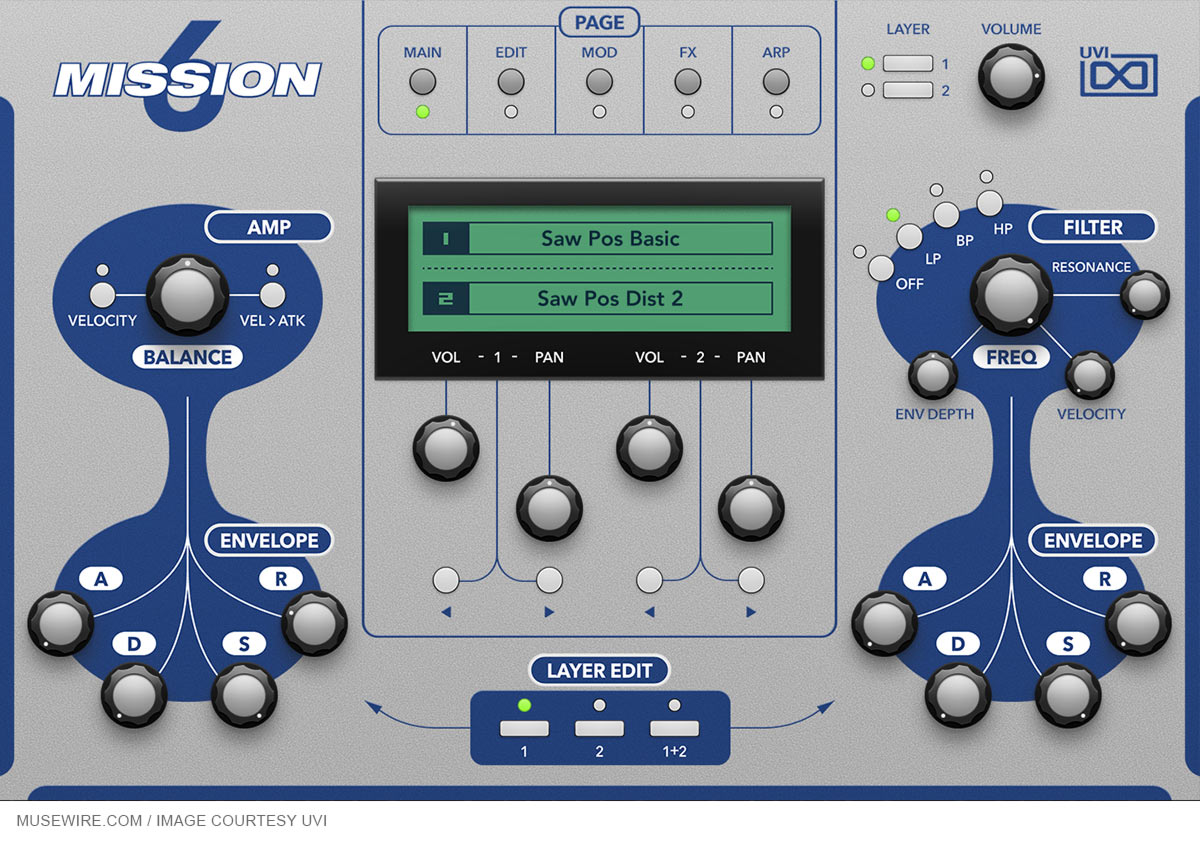 According toe the company, "Delivering a powerful collection of all-new hand-crafted sounds, Mission 6 covers an incredible sonic range capable of morphing between lush analog sounds to gritty FM bursts and beyond, making it both an inspiring and useful sonic tool for music producers of any background."
With a 2-layer architecture and iconic user interface design, Mission 6 gives you deep control as you adjust the factory presets or design your own. Set unique tones per layer and blend them with ADSR amp controls, utilize flexible multi-mode filters, use pitch and voicing controls to create auto-panning and unison sounds, generate motion with the built-in step modulator, LFO, and powerful arpeggiator/ phrasers, then take it to the next level with high-quality effects including EQ, drive, Thorus, ensemble, Phasor, delay, and Sparkverb.
"I had one of these beasts awhile back as original owner," said Christopher Simmons, MuseWire editor. "It had a wonderful sound, and lovely if sometimes confusing interface. I only sold mine to help down payment on new home. What UVI has done is really amazing: this is one of those synths that would be tough to emulate completely virtually, but the UVI approach of sampling waveforms, behaviors and modeling effects, allows you to truly get the feel of the original without worrying about reliability, and to truly tweak and create new sounds from scratch. Brilliant!"
A true powersynth, Mission 6 delivers the authentic sounds of an epic analog synthesizer and gives you a tremendous collection of all-new patches to explore, tweak, and inspire.
UVI Mission 6 offers native 64-bit standalone operation by way of Falcon or the free UVI Workstation, providing comprehensive support for all modern DAWs and simultaneous authorization on up to 3 computers or iLok keys.
Mission 6 can easily find a home in anything from '80s era pop to modern genre, hip-hop, scoring, and more. We've included over 33,000 samples recorded directly from the hardware, packing Mission 6 with 400 presets made from 340+ layers, including categories such as Bass, Keys, Pluck, Strings, Polysynth, Leads, Vocals and more. Each sound in Mission 6 is fully-customizable, and can be used straight-away or as the starting point for a new sound.
UVI Mission 6 is available now with a special intro price of $49/49€ through August 8, 2022 (regularly $79/79€). Also available as part of UVI's SonicPass subscription plans.
Learn more at: https://www.uvi.net/mission-6
VIDEO PROMO TRAILER (YOUTUBE):
###
This original article was created by and is Copr. © Christopher Simmons and first appeared on Musewire.com