UVI announces SubCulture, new Falcon Synth expansion delivering dark subs, stabs, deep bass
UVI has announced release of the SubCulture expansion pack for Falcon with 110 dark and hard-hitting patches made for producers of modern bass, post-EDM, DnB, garage and more. The second collaboration from sound designers Richard Gale and Carlo de Gregorio, SubCulture dives into the underground with a shadowy collection of snarling basses, dark ambiances, rhythmic tempo-synced patches, emotive cinematic textures and more – perfect for anyone looking to add brutal, cutting-edge sound design to their music, film or game scores.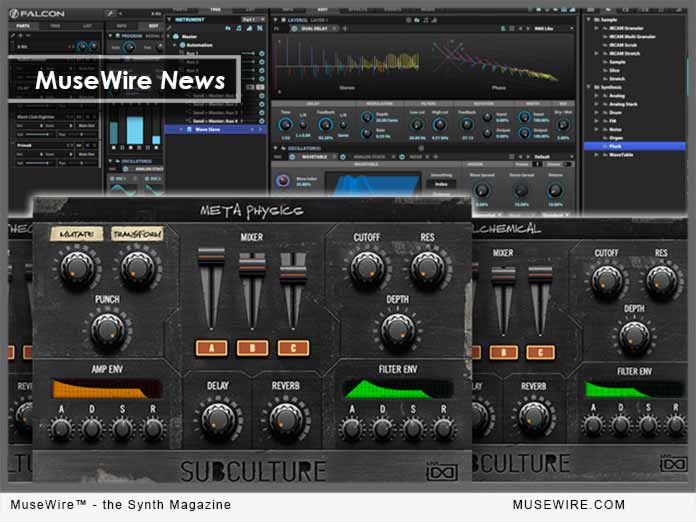 According to UVI, "SubCulture's presets are completely editable, making them equally useful as starting points or destinations. Pre-mapped macros provide clear modulation options and easy automation control tailored specifically to each patch. Sounds can be quickly layered, tweaked and animated providing endless creative potential."
Pricing and Availability: SubCulture is available immediately for $39 / 39€ from uvi.net.
UVI's product page describes it thusly: The versatility and clarity made possible by Falcon is evident throughout this collection, utilizing numerous synthesis techniques including wavetable, multi-granular and scrub, as well as robust use of effects and modulators. Sounds can all be quickly previewed, edited, layered or performed with nearly limitless variation thanks to Falcon's semi-modular architecture.
The SubCulture expansion leverages the advanced synthesis capabilities and software architecture of Falcon, which sports 15 oscillators, over 80 effects and a fast and intuitive interface that adeptly handles both basic tasks and deep instrument design. All presets have been programmed with macros which provide the user with easy access to the key parameters of each patch. These may be controlled via MIDI, OSC, host automation and Lua scripting, allowing for easy customization and expressive performance capabilities.
(Falcon license required. Not compatible with UVI Workstation.)
Learn more about the product at: https://www.uvi.net/subculture.html
VIDEO (YouTube):

SOUNDCLOUD AUDIO EXAMPLES: