UVI announces Devinity, a new expansion for its FALCON Instrument from sound designer and electronic musician Richard Devine
UVI has announced "Devinity," delivering 120 patches showing off the unique style and approach to sound design of Richard Devine: Modular sequences, FX, pads, animated, percussive sequences and more await. Expand Falcon with 120 masterfully-designed presets; tweak and perform patches on-the-fly with macro controls; deep editing capabilities of Falcon allow limitless customization.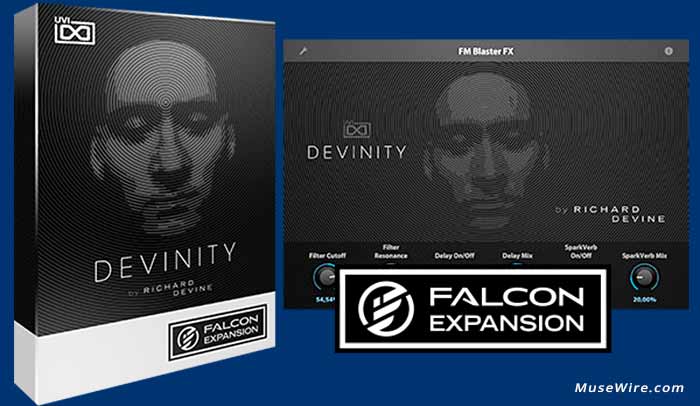 According to Devine, " I was initially drawn to Falcon when it was first released, as it looked like an amazing tool for sound and patch design. I am constantly looking for new innovative tools to use here at the studio and Falcon fit the bill.
"I love how it brings together multiple types of synthesis + advance sampling manipulation all under one interface. The modulation features are what really got my attention in that you could modulate any parameter with a wide variety of options, from multi-stage custom envelopes to an unlimited number of custom waveshape LFOs. Things can get really out of hand quickly."
About FALCON:
Falcon is an advanced and truly unlimited hybrid instrument, bringing together an extensive collection of cutting-edge oscillators, effects, modulators and event processors and delivering them in a workflow-adaptive and highly-scriptable environment. Falcon allows you to create and manipulate sound with unparalleled precision and finesse, from basic sample slicing and synth design to extravagantly modulated multitimbral hybrids. Falcon runs stand-alone or in your DAW as a plugin, is natively surround capable up to 10.2 channels, can take just about any sound you can throw at it for fuel (and some pictures, too) and is fully compatible with all UVI Powered instruments.
Priced at just $39. Falcon license required. Not compatible with UVI Workstation.
Learn more at: https://www.uvi.net/devinity.html
Intro launch trailer – official (YouTube):

This version of news is Copr. © 2018 Christopher Simmons – no fee or other consideration was provided in publication of this news item on MuseWire.com