Truckloads of Soul (Aspects of The Blues)
God can be found inside many things: The sun, moon, and stars; a child's simple wisdom; a lover's kiss. And at one nightclub on one sultry summer evening in Southern California, god was in the fingers of Derek Trucks.
He didn't smile. His movements were laconic. He never uttered a word to the audience. And while no one would ever accuse him of being flashy, it was clear that here was a star. Even between songs, it seemed as if he owned the room. More to the point, he was the new generation's most expressive guitar player to combine rock and blues.
BOOK SERIAL: Ambient Deviant Speedmetal Polka Chapter 25. This is an excerpt from the forthcoming book, "Ambient Deviant Speedmetal Polka: Rock Writing, 1990s to 2010s, Los Angeles" by John Scott G.
Strumming and plucking the strings without a pick, he was able to wring a gorgeous, fat, richly distorted tone from his Gibson SG and he consistently amazed the crowd with inventive runs and innovative slide progressions. The guitar players in attendance, and there were many, often had their eyes wide and shining.
Derek Trucks appears to be very laid back personally but in his playing he comes on as a force to be reckoned with in the field of electric guitar. It's not a question of notes-per-minute; instead, it's a matter of the amount of soul that is contained in every chord change.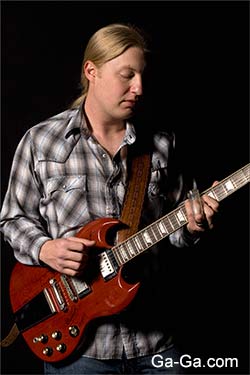 Don't misunderstand, Trucks can play fast whenever he wants; my point is that he doesn't seem to bother playing any notes that aren't necessary, which has the effect of placing his solos into a rarified atmosphere. He doesn't fuss with guitar pedals. He doesn't keep adjusting his amp. He doesn't flail around or call attention to himself. And the results are spectacular.
The experience of seeing Trucks is not a one-man-band type of thing. Yonrico Scott is a drummer who could power a rocket; Todd Smallie is a bassist who could move a freight train off the rails; and Bill McKay is a keyboardist who could stop the earth from spinning. Each of these guys seems powerful enough to lead their own bands but there's no denying the fact that Trucks is the focal point here. No matter how self-effacing he may appear, he is wrapped in an aura of excitement with every note he plays.
~
HAND TO MOUTH
There are books that purport to contain 10,000 guitar chords and Britt Phillips probably played half of them during Hand to Mouth's first set at a dive called Smokin' Johnnie's. While sitting in this pit of a club was an annoyance, I have to admit that it was fun being buried in hearing so much blues pouring out of this hard-charging trio.
Bassist Dewayne Davis and drummer Mike Taylor were not exactly slouching around during the Phillips onslaught, as they do more than keep the beat — these guys spark the rhythmic drive of the songs while creating sound paintings at well beyond the normal speed limit for electric blues bands.
With an uncommon facility for interplay and a fluidity of approach that takes in jazzy touches as well as dirty down-home influences, Hand to Mouth absolutely slays listeners. Their improvisational flights of fancy make this group a special treat — da blooze have not been soaked in this much B-B-Q sauce in years.
~
STONEY CURTIS
The Stoney Curtis Band brought more paying customers to the gig than all the other bands on the bill. In fact, they brought more than all the other bands combined. After just one song, it was easy to know why. Quite simply, they are superb. With marvelous musicianship, tight interplay, and excellent original material, the SCB is a joy to watch.
Working in a power trio format, the band actually sounds larger than when they were a quartet, probably due to the magic that results when a band finds the right component parts — people who genuinely love what they're playing and are able to react instantaneously to each other as they play it. You could feel the dynamics within each song and watch as "ownership" of each tune was passed from guitarist to bassist to drummer and back again. This was a kick for anyone who loves music, as evidenced by those who were dancing wildly in front of the stage.
Newest SCB member Roger Tausz has one of the best tones of any electric bassist I've heard. His was a Very Big Sound yet there wasn't a hint of overkill in anything he played. What seems most important to him is the fluidity of the bass line and how it intersects with the song structure. His work is a demonstration of how a sonic onslaught can still be quite sophisticated. Drummer Charlie "Big Foot" Glover pops, pulsates and pummels the beat. He can be a human polyrhythmic metronome when necessary or he can just take off on flights of percussive layering when the song demands it. Strongest compliment I can give to the bassist and drummer in a raucous and rocking electric blues outfit is this: they are musical.
Out front stands Mr. Curtis L. Feliszak, treating his instrument like an extension of his mind and body. The way he plays the guitar is similar to the way hurricanes handle palm tree branches, the way typhoons tickle rubber rafts, the way earthquakes rearrange brick fireplaces. It's not just the number of notes that is so impressive (although he's right up there with many celebrated speed demons of the fretboard); rather, it's the intelligence behind his selection of chord shapes. He also frequently employs a slight sideways motion with his right hand such that his pick scrapes along the wound strings, giving him a little bit of extra growl in his tone.
By the time the band got to their signature song, "Last Train to Chicago," Curtis had humped his Stratocaster, whomped it, bent it, twisted it, and just generally played the hell out of it. They had performed for an hour in a venue that was now reeling from the tremors and slippery with sweat. They had to quit after that, right? Nope. The shouts, fist-pumps, and foot-stamping from the packed club earned them an encore and the SCB delivered a blistering ten-minute number that hit everyone right between the eyes. It hurt but the pain felt good.
~
CARRIE JAMES
Wait. Something strange is going on here. It shouldn't be possible for a vocalist to sound gritty and pretty at the same time, yet here is Carrie James pulling off that feat. The effect is pleasantly mind-blowing. But there's something else… Until seeing her perform, you might not think it was possible for keyboard sounds to emerge from someone's throat as they're singing, yet James was accomplishing that with apparent ease. And we're not talking some tiny electric keyboard — her voice seems to have channeled a Hammond B-3 complete with rotating speaker.
Some rooms can make your voice sound big and full of delectable overtones, like an echoing stairwell or a tile-covered shower. Carrie James' voice sounds like that in almost any kind of room. Her performances are a combination of lilt and wail, croon and shout, all delivered to your ears with the inexorable rush of a flash flood hitting the desert in the dead of night.
The band is killer. Drummer Rod Boyum creates a groove with taste and style: a backbeat here, a cross-rhythm there, and absolutely pile-driving whenever the song calls for it. Bassist Steven McCormick locks onto the throbbing vibrations, pushing them, pulling them, and punching them so that the room spins.
Often sharing the front-of-band spotlight with James is the extraordinary guitarist Ronnie Lee who stays true to the blues while coloring every solo with some of the finest tone-shimmer you'll ever hear. When I saw that he was achieving all his spectacular sounds with a 15-watt Fender amp and a used DigiTech RP-5, I was astonished. "It's not the gear that defines your sound," he told me between sets. "I backed off most of the settings on the RP-5, leaving just the one tone color I want for each song. But really, it's all about a guitar and an amp you can overdrive." He makes it sound so simple, yet how many people can do it? Of course it is a tad easier to shine when you get to play great songs with a terrific rhythm section and a superlative lead singer.
The Carrie James Band is like lightning bolts combined with double shots of whiskey.
~
BLUE BY NATURE
Where most people have vocal cords made out of human tissue, Blue by Nature singer Karen Lawrence seems to have hers made out of tungsten steel and braided bullwhips. Where most of us have lungs made out of, well, lungs, hers appear to be constructed from bank vault doors. Given all that power, some singers bellow at you but she has too much taste for that; she uses her voice like a surgeon uses a laser.
You want pleading, plaintive vocals? She nails that with ease. You want fiery screams and church pulpit shouts? No problem for this girl. You want moans of pleasure and a wake-up call to the dead? You got it. That she accomplishes all this is terrific; that she does it with grace and style is amazing. On each number, Lawrence is a human avalanche of feeling. Anything that can be inside a human being seems to be pouring out of her voice — anger, ecstasy, heartbreak, joy.
The glory of the band goes beyond Karen Lawrence's vocals because each original song they play has the feel of a new classic. "Cadillac Blues" is a rollin' 'n' tumblin' delight. "Fun and Games" is a clarion call for all blues lovers. "Right the Wrong" is as heartfelt and rocking as anything on any electric blues album you may own. Blue by Nature performs blooze at a high level of musicianship, making each number moving, resolute, lively, deep, dark, and delicious. Most of their material is by Lawrence alone or her and guitarist Fred Hostetler.
Right from the start of a BBN show, the crowd locks onto the groove and bounces along with the beat. Lawrence exudes passion and warmth, sending out waves of emotion that fill the room with a good vibe that acts as an invitation to everyone within the sound of her voice. As a group, the band varies in quality — sometimes they play superbly and sometimes they play even better than that. Andrew Stewart has to be one of the smoothest bass players in the genre. Drummer Dan Potruch had musicians in the crowd saying things like "I wish he was in our band." Brad Ayers is a rollicking lead guitarist, delivering solo after solo just dripping with boogie and barbeque sauce.
Just as Keith Richards drives the Stones from the rhythm guitar position, so it is with Hostetler, adding just the right touch of subtle crunch to every tune. And when he and Ayers both take out their slides, the whole place gets drenched in funky blues tones.
Blue by Nature can turn a crowd into a sea of bobbing heads and swaying hips. After forty-five minutes of non-stop blues-rock, I was pleasantly exhausted. But then she launched into James Brown's "It's a Man's Man's Man's Man's World" and the adrenaline was flowing again. They continue the thrill ride with "All About You" and "Right the Wrong" and the place ultimately erupts with cheers.
After the show, when things calmed down, I went backstage to talk with Lawrence and Hostetler, who spoke about their approach to creating songs. "It comes from the emotion," she said. "The chords, the melody, the words, the whole structure of the tune — everything relates back to the emotions in the song you're making." Hostetler agreed, saying "You have to feel it. Absolutely. We want to touch people, make them shout, stamp their feet, yell. We love that."
It showed.

* * *
Video of Derek Trucks (YouTube):


BOOK SERIAL: Ambient Deviant Speedmetal Polka Chapter 25
Excerpt of book serial "Ambient Deviant Speedmetal Polka: Rock Writing, 1990s to 2010s, Los Angeles" is Copr. © 2014 by John Scott G – all commercial and reprint rights reserved. This version first published on Ga-Ga.com, a publication of Neotrope®. Story cover illustration by Christopher Laird Simmons, based on JSG's Derek Trucks photo.