The Wallis and The ASCAP Foundation Present MUSICAL THEATRE FEST 2023: Two Weeks of Musical Theatre Events
/MUSEWIRE – Music News/ — The Wallis and The ASCAP Foundation Present MUSICAL THEATRE FEST 2023: Two Weeks of Musical Theatre Events. The first ever ASCAP Foundation Musical Theatre Fest gives emerging musical theatre composers the chance to learn from the industry's leading lights. Happening Jul 11, 2023 – Jul 20, 2023. All sessions are FREE to attend, and they're filling up fast – RSVP to secure your spot.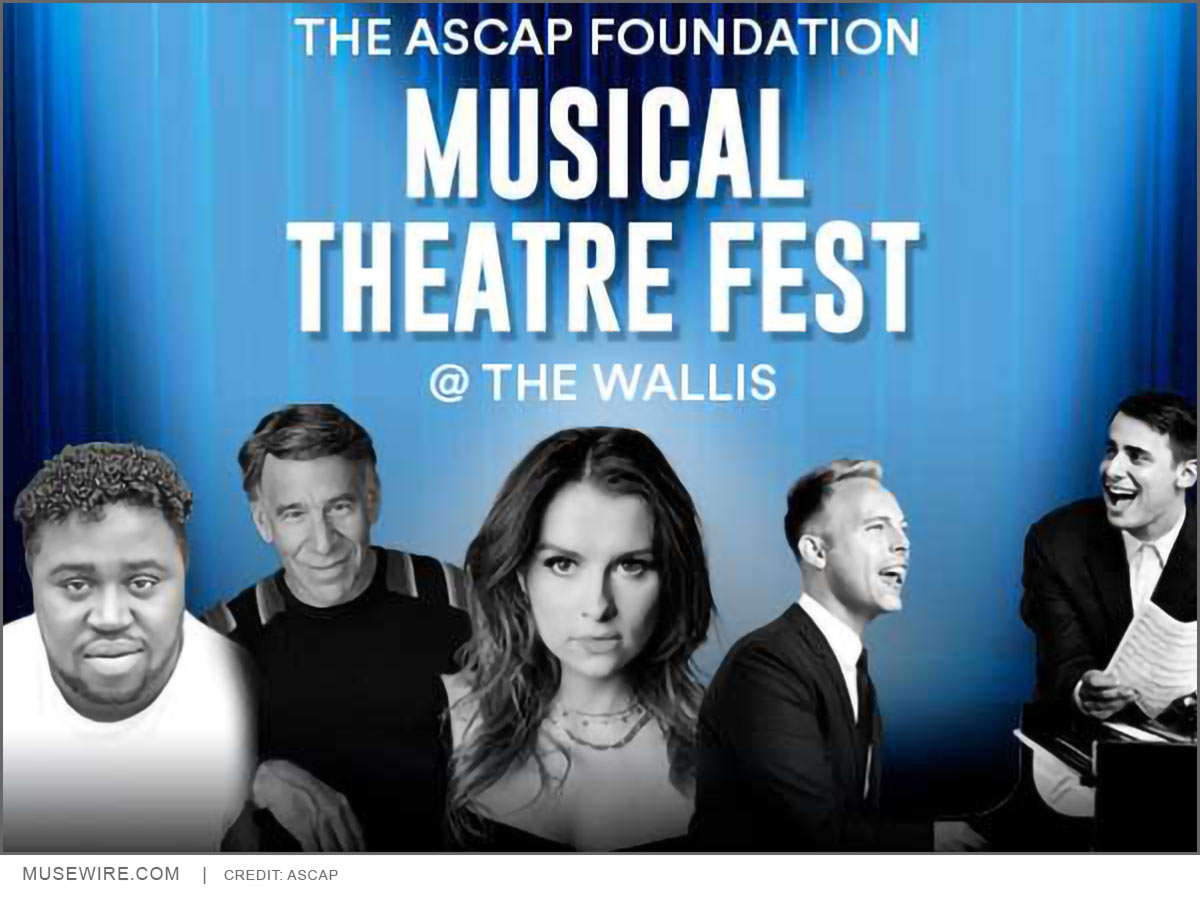 LEARN MORE:
https://thewallis.org/show-details/musical-theatre-fest
WEEK 1: EDUCATIONAL PANELS
With Support from the Gary Geld Musical Theatre Foundation/Gary DaSilva, Trustee
Day 1: Tuesday, July 11
– 11:00 AM: Is Hollywood's Obsession with Musical Theatre Talent Here to Stay?
– 2:00 PM: Using Social Media to Create a New Space for Musical Theatre
---
Day 2: Wednesday, July 12
– 10:00 AM: Music Creators Roundtable
– 1:00 PM: Business As Usual: Best Practices for Getting Your Act Together
– 3:30 PM: From Despicable Me to Schmicago!: In Conversation with Cinco Paul
---
Day 3: Thursday, July 13
– 11:00 AM: Kooman & Dimond: The Life Cycle of a Song Demo
– 2:00 PM: Song Feedback Panel: Words of Wisdom from Major Studio Execs
– 7:30 PM: Waving Through Their Window: An Evening With Justin Paul & Benj Pasek
---
WEEK 2: THE ASCAP FOUNDATION/UNIVERSAL THEATRICAL GROUP (UTG) MUSICAL THEATRE WORKSHOP
Directed by Broadway's Icon Stephen Schwartz
Day 1: Monday, July 17 at 7:30 PM
MAYA
Writers: Cheeyang Ng and Eric Sorrels
---
Day 2: Tuesday, July 18 at 7:30 PM
THE FITZGERALDS OF ST. PAUL
Writer: Christie Baugher
---
Day 3: Wednesday, July 19 at 7:30 PM
MISS HYSTERIA
Writers: Ben Zeadman and Laura Schein
---
Day 4: Thursday, July 20 at 7:30 PM
CALL ME FROM THE GRAVE
Writers: Charles Romano and Harold Hodge Jr.
About The Wallis
Wallis Annenberg Center for the Performing Arts, located in the heart of Beverly Hills, CA, is a dynamic cultural hub and community resource where local, national, and international artists share their artistry with ever-expanding audiences. Distinguished by its eclectic programming that mirrors the diverse landscape of Los Angeles and its location in the entertainment capital of the world, The Wallis has produced and presented more than 400 theater, dance, music, film, cabaret, comedy, performance arts, and family entertainment programs, boasting nominations for 79 Ovation Awards and nine L.A. Drama Critic's Circle Awards as well as six architectural awards. Since its doors opened in October 2013, The Wallis has been committed to robust and distinctive presentations and education programs curated with both creativity and social impact in mind.
Learn more: https://thewallis.org/
###
This version of news first appeared on MuseWire.com – Copr. © 2023.