The Blankies Release Three New Albums
KANSAS CITY, Mo. — Power Arts Company, Inc. release a three album series for the Kindergarten and Pre-K crowd performed by a new cartoon band called The Blankies(TM). The songs not only overcome the "babyish" sound of most children's music, they also address three important uses of music.
The "Learn" album (UPC 634479425264) addresses the need for solid educational content. What's different here is the use of fill-in-the-blank style lyrics that help build listening and recall skills by giving listeners a chance to figure out answers on their own. Songs about days, months, seasons, senses, insects and rhymes use this technique. A Kindergarten teacher in Leawood, Kansas says, "These songs would be attractive to kids who don't 'buy into' the traditional approach to learning."
The "Action" album (UPC 634479425257) promotes physical activity. With tunes like "Robot," "Head, Nose, Belly Button, Toes," "Pick It Up," "Jump, Walk, Spin," and "Pretend You're In the Game," kids can sharpen their coordination and listening skills while exercising. Parents that helped test the songs with their families said they "made for some fun silly dancing" and "grabs the attention of kids right off the bat."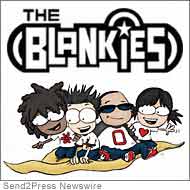 The "Peace" album (UPC 634479425240) offers slower tempo songs that encourage calm and relaxation. Lyrics to songs like "Courtesy," "You Can Do It," "Be Nice," "Best Friends" and "Thank You" promote kindness, positive self-esteem, friendship and global citizenship. "I've listened to this CD at least 50 times for my own personal entertainment," says Bryan Mace, co-producer of The Blankies. "I've also found that the dreamy production quality and the universal messages are a hit with my adult friends, most of whom are 40 years older than the target audience."
All three albums feature the character voices of Cora, Fiora, Zodi and Zip. Each singer has a style and personality of his or her own which adds variety from song to song. The Blankies' music combines an assortment of sounds and styles ranging from Pop, Adult Contemporary, Electronic and R&B with the goal of appealing to adults too.
The web site, www.theblankies.com, provides music samples, games and information about the performers. All songs are available on CD for $10.99 each or as digital downloads. CDs can also be purchased by calling CD Baby at 1-800-BUY-MY-CD.
The Blankies' are produced by Power Arts Company, Inc., an independent music label specializing in educational children's music. The company started in 2004 with another cartoon band called Teacher and the Rockbots(R), which has four albums for the elementary school market. The label is distributed nationally by New Sound, a division of Allegro Music and Rounder Kids.
[tags]independent music label, Power Arts Company, The Blankies CD[/tags]