Houston Music Educator and Composer Melvin Johnson Journeys to New Heights, Shares Family Wisdom in Debut Album: 'Little Red Wagon'
HOUSTON, Texas /MUSEWIRE – New Music/ — On February 17, 2023, Houston, Texas pianist/composer Melvin Johnson will offer a gift to the world with his debut album, "Little Red Wagon," overflowing with musical narratives on family love and the life lessons they provide. Johnson, who once thought of himself as only a live performer, found a unique hunger for recording and production during COVID lockdown.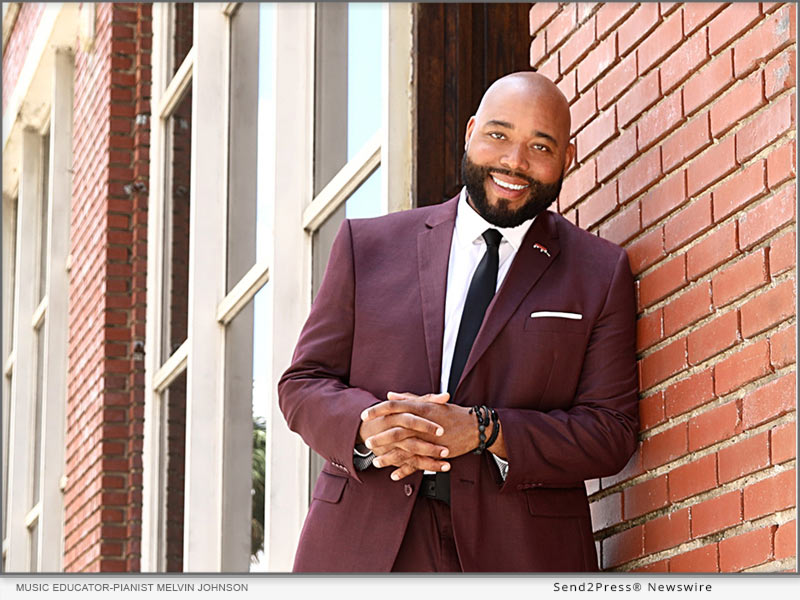 Mixed with exposure in multiple genres and styles, his education and training as a classical pianist forged a fluid and diverse composer and producer whose time has finally come! "Little Red Wagon" is an invitation into the narratives that have created who Melvin is today, immersing you through sound and story — overflowing with origins profound and far-reaching.
"Little Red Wagon" opens with "To Pop: The Explanation," an homage to his adopted father Robert Lloyd Parker.
"I wanted to open verbalizing something to bring the listener into my story. One year I went to an all-state competition, played with phenomenal musicians, and made first chair. I called to tell 'Pop' but, unusually, he did not answer. He'd died in the hospital. This track is me having a final conversation with him," says Johnson.
Recorded with several hand-picked musicians from Houston, including members of his band The Electro-Akoustic, Little Red Wagon is filled top to bottom with autobiographically inspired life gems. The welcoming shifting tempos of "Perspective" are Melvin's reflection on the Bible scripture, 1 Corinthians 13:11 that begins, "When I was a child, I spoke as a child…" There's a sizzling danceable number titled "Black Bacon Funk." The hypnotic waltz "Beyond the Glass" was inspired by a summer excursion Melvin and his wife Tamara took their son Gavin on to local amusement park. Most powerful of all is "Extension," inspired by a moment of panic, when Melvin realized that he had not fully processed the weight of a situation that he experienced as a child, at the hands of his stepfather.
"PERSPECTIVE" LIVE CONCERT PERFORMANCE – PIANIST MELVIN JOHNSON
"LITTLE RED WAGON" RECORDING (DROPBOX) — bit.ly/3XpwTYs
Reflecting on all he has created here, Melvin Johnson concludes, "These first fully arranged instrumentals do not belong in any genre box, be it Jazz, Classical, Choral, Gospel, etc. If anything, what I hear in my heart and spirit is music for film – for mature musical audiences. 'Little Red Wagon' is a road map to the next six collections of original music I'm recording in the future."
"Little Red Wagon" available on all digital platforms February 17, 2023.
TRACK LISTING:
LISTEN/music snippets:
https://on.soundcloud.com/6uWEF
To Pop (The Explanation)
Perspective
So Simple
Beyond the Glass
Black Curtain
Extension
Little Red Wagon
Little Red Wagon (Reprise)
To Moshea (Interlude)
Over and Over (Featuring Moshea Johnson)
Black Bacon Funk
Good Night Gavin
MORE INFORMATION:
For more information on Melvin Johnson please visit: https://melvinjohnsonmusic.com/
Facebook: https://www.facebook.com/Melvinjohnsonmusic?mibextid=LQQJ4d
Instagram: https://www.instagram.com/melvinjohnsonmusic/?igshid=YmMyMTA2M2Y%3D
TikTok: https://www.tiktok.com/@melvinjohnsonmusic?_t=8XlcoEVhKtm&_r=1
YouTube: https://www.youtube.com/@melvinjohnsonmusic163