Synth Memories: Bob Moog Foundation Summer 2017 Raffle Proffers Moog Memorymoog to Aid Charity
Today, the Bob Moog Foundation announced its Summer 2017 Raffle for a vintage Memorymoog Plus Synthesizer. Proceeds from the raffle will benefit the non-profit Foundation's educational and historic preservation initiatives. The vintage Memorymoog Plus synthesizer is described as a very unusual and powerful polyphonic synthesizer with six voices for each of the three oscillators, MIDI, and a sequencer. Tickets to enter the raffle, which runs Aug. 8 to Sept. 6, 2017, are $25 each, 5 for $100 or 10 for $200.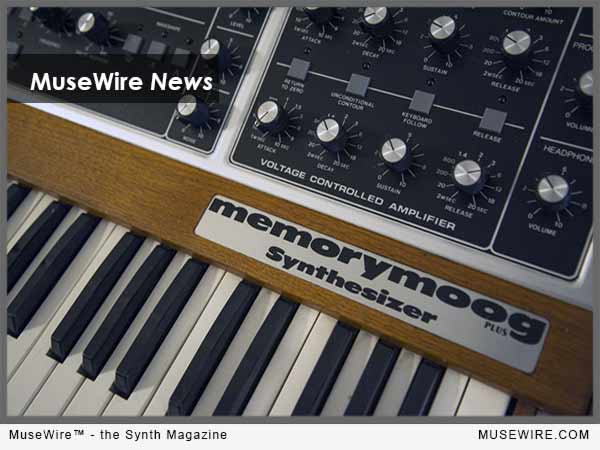 The raffle, which is open internationally, closes at 11:59 p.m. on September 8, 2017 or when all 4,000 tickets are sold, whichever comes first. Be sure to review the Rules and Regulation prior to entering (found on the BMF website).
According to the Foundation, the Memorymoog Plus being offered, serial number 2641, was built at Moog Music's Buffalo, N.Y. factory in 1984 and has an estimated value of $10,000. It is in excellent technical condition. The synthesizer was generously donated to the Bob Moog Foundation by supporter Lee Keeley, and has been meticulously serviced by vintage synth specialist Wes Taggart, a lauded technician for Memorymoog restoration.
To learn more, read rules, and enter raffle, please visit: http://moogfoundation.org/announcing-2017-summer-raffle-vintage-memorymoog-plus-synthesizer/.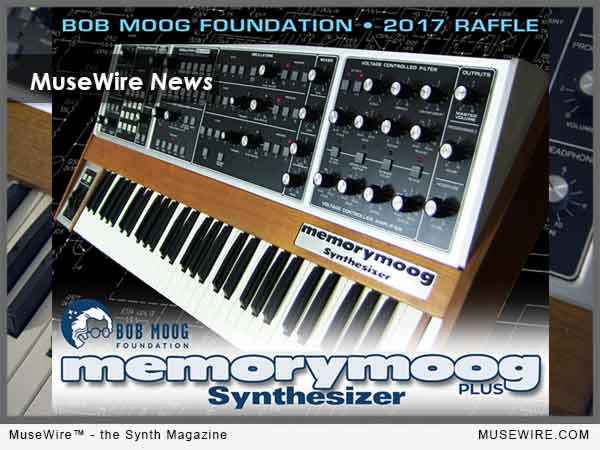 Memorymoog specifications include:
Three voltage controlled oscillators with mixable waveforms
Polyphonic, with six articulated voices per oscillator
Auto tune function tunes oscillators in less than five seconds
VCO syncing
Unison mode for a robust 18 oscillator monophonic bass and lead
Six 24dB-per-octave Moog ladder filters
Dual concentric vernieresque tuning pots feeding true discrete Moog ladder filters into overdrive
Ultra fast envelope generators (ADSR, not ADS as on the Minimoog)
Sample and hold
Extensive modulation section with numerous routings
Alpha numeric readout that gives controls old and new values side by side when editing existing patches so they can be returned
100 patch memory driven by a 0-9 a-d keypad with a massive LED patch number readout
Interfacing including the ability to drive a monosynth from the highest note played from either CV/Gate or CV/S-Trig
Arpeggiator features nine different modes, including a mode where all voices are triggered simultaneously
The Memorymoog Plus model includes:
MIDI interface
Basic polyphonic and monophonic sequencer, the latter of which controls an externally interfaced monophonic synthesizer (via rear panel CV/gate/trigger jacks)
More stable oscillator control
About the Bob Moog Foundation
Bob Moog's innovations in music synthesis revolutionized almost every genre of music. The Bob Moog Foundation, a small 501(c)(3) non-profit organization, carries his pioneering legacy forward to future generations. Our mission, to ignite creativity at the intersection of music, science, history and innovation, is accomplished through three programs.
We provide hands-on opportunities for children and adults to explore the science of sound through Dr. Bob's SoundSchool and the preservation of Bob Moog's archives and musical inventions, which will converge in a future interactive museum, or Moogseum, online and in Asheville, N.C.
Learn more about the Bob Moog Foundation: http://moogfoundation.org/

This version of news is Copr. © 2017 MuseWire.com – Christopher Simmons.