Super Iconic: Syntronik from IK Multimedia Captures 38 Classic Synths in One Virtual Instrument
IK Multimedia has announced a new "super synth" to the virtual instrument world, for both newcomers and those of us who look back with nostalgia on classic synths we've owned and let go, or wish we'd owned. IK's new SYNTRONIK for Mac/PC includes 17 instruments with over 2,000 preset sounds "covering a wide selection from 38 of the most iconic to ultra-rare and painstakingly multi-sampled vintage synthesizers."
While it's one package, technically there are 17 unique instruments you can use individually to play, perform and control as a specific synth, to maintain the vibe of using the real thing.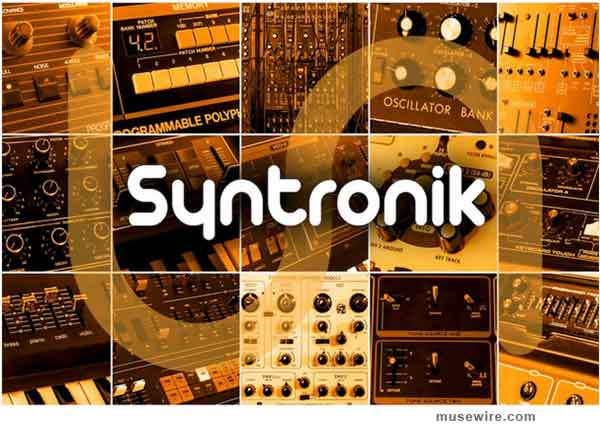 With Syntronik, you'll have access to the authentic sounds of 38 instruments like Minimoog Model D, Moog Voyager, Sequential Circuits Prophet-10, ARP 2600, Oberheim OB-Xa, Yamaha CS-80, Yamaha SY99, Roland Juno-60, Roland Jupiter-8, PPG Wave 2.3, Moog Taurus, Roland TB-303 Bassline, and many other "legendary" synths.
According to the company, "Only the best synthesizer models have been sourced from private collections and carefully selected to create this dream collection of instruments. Each synthesizer was meticulously multi-sampled using the most advanced techniques developed by IK and after more than 70,000 samples and 50GB later, Syntronik is ready to set a new standard in the world of virtual instruments."
While the "synths" are sample-based and not virtual emulations of circuits from ground up, IK includes technology from its vast repertoire of modeling technologies to provide advanced filtering options for enhanced control and making new sounds from the included source material and presets. IK refers to this hybrid tech as "circuit-modeled filters for absolute authenticity, with DRIFT™ Technology."
When it comes to accurately reproducing the real sound of vintage synthesizers, sampling their oscillators is the only way to ensure truly authentic results. Much more than simple detuning or even multiple-source modulation, DRIFT technology emulates the way real analog circuits behave over time, creating subtle oscillator variations. Combined with 4 types of circuit-modeled filters along with digital and formant filters, this hybrid architecture allows for pristine reproduction of the most critical section of every synthesizer. Plus, every filter can be mixed or matched at will, like using a Moog filter with Oberheim oscillators, "to produce sounds beyond imagination."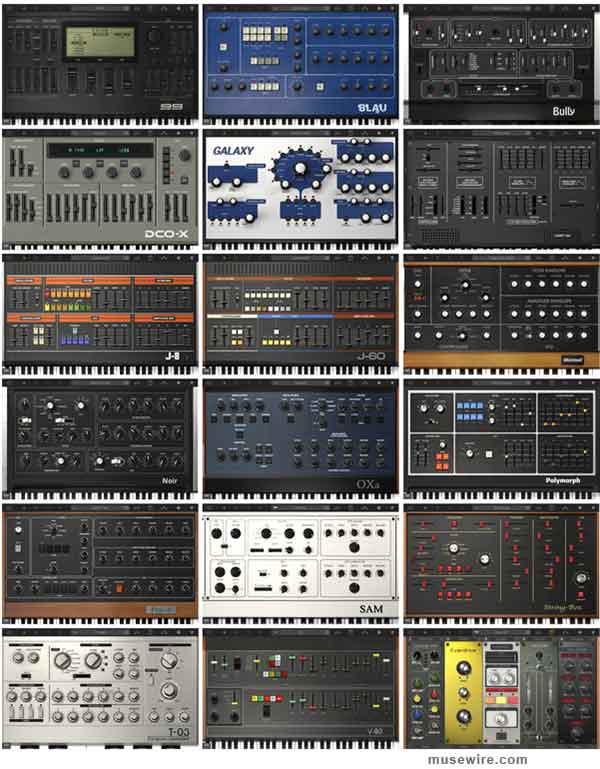 Syntronik's streamlined interface allows for quick layering and combining of up to 4 different synthesizer parts, quick mapping and playing sounds simultaneously as well as creating advanced splits for maximum flexibility and performance. Each layer has a note and chord arpeggiator to build complex rhythmic textures and sequences with ease.
Syntronik includes 38 mind-blowing effects which are derived from our best-selling T-RackS mix and mastering suite and AmpliTube guitar workstation plus new effects like the new Ensemble Chorus and vintage analog Channel Strip. 5 effects can be simultaneously inserted on every instrument via an attractive "lunchbox-style" interface that allows for immediate visualization and editing of every parameter from a single screen.
All in all, it's a pretty impressive package for classic synth fans, at a really good price for what you actually get.
Available July 2017, with introductory pricing. US $149; with $99 cross grade from certain other IK products. (See website for more info.)
MORE INFORMATION: http://www.ikmultimedia.com/products/syntronik/index.php
VIDEO (YouTube): "Syntronik – The Legendary Synth Powerhouse – Trailer"