Super Audio Cart PC virtual synth brings chiptune funtime with waves from 80s and 90s PCs
Impact Soundworks announces "Super Audio Cart PC" retro PC sampled instrument for KONTAKT, with NKS support. The most complete set of retro computer samples ever produced. Building on the success of Super Audio Cart this NEW instrument features EIGHT legendary sound sets from 80s and 90s hardware. Includes standalone SNESVerb plugin for FREE.
From the digital FM synthesis of the AdLib soundcard and MSX computer, to the wonderfully lo-fi multisamples of the Amiga, to the grungy pulse-driven synthesis of the Atari's POKEY, Super Audio Cart PC faithfully reproduces a wide range of tones.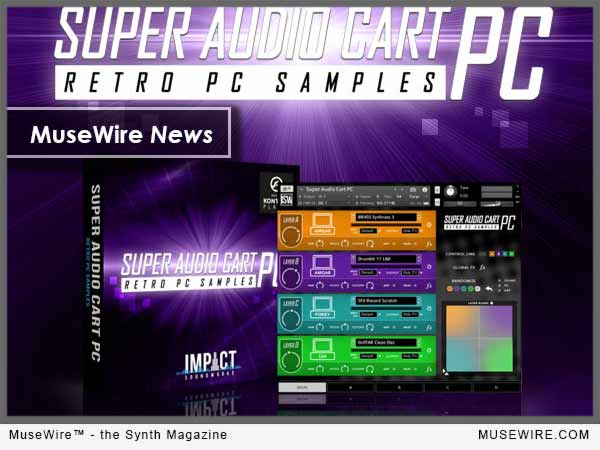 According to the company announcement, "Get inspired by thousands of vintage waveforms recorded through real hardware such as the Amiga, Atari ST, and SoundBlaster card, and use our super powerful 4-layer synth engine to create all-new sounds from blazing leads and grainy pads to deep basses and tension sequences."
Among the diverse chips sampled for the instrument is Microsoft's MSX:
As the starting point of many successful Eastern video game franchises, such as Metal Gear and Bomberman, Microsoft's MSX was very popular in Japan as well as Europe, but never gained much traction in North America. Saying that, the sound chip in the MSX is the AY-3-8910, a three-voice PSG (Programmable Sound Generator) developed in 1978 by General Instrument that produced square wave tones. It is commonly used in various arcade games, gaming consoles, and a plethora of home computers, including the MSX. The PSG generates base frequencies of up to 125 kHz, enabling high resolution and pitch accuracy not found on many sound chips of the era.
The MSX could accommodate additional sound chips via expansion cartridges, such as the MSX-Audio (Y8950) and MSX-Music (YM2413) chips, offering traditional FM synthesis timbres. These were also sampled for the SUPER AUDIO CART PC project.
A custom collaboration between Komani and Yamaha, the SCC (Sound Creative Chip) is a wavetable sound chip with 128 bytes of wave samples. It was used to expand the capabilities of the MSX, which only generated square waves, as the wave samples in the SCC could be used to build much more complex waveforms than anything the PSG could accomplish.
Command and Control:
SUPER AUDIO CART PC faithfully reproduces a wide range of tones, and all such sounds can be used 'dry' to create authentic chiptune music or layered in Impact Soundworks' powerful four-part synth engine for endless tweaking, inspiration, and sound design! Do what you will with them, though the company kindly created a bank of 150-plus modern and reimagined sounds to help jumpstart creativity, as well as including five custom FX (EQ, COMPRESSOR, BITCRUSHER, SCREAM, and DELAY) racks — one for each layer, and one for the global insert bus — and even throw the standalone SNESVerb (AU/VST) plug-in into the fully NKS (NATIVE KONTROL STANDARD) supporting musical mix… for free!
PRICING:
Super Audio Cart PC is available now for $99 for new customers. A crossgrade version is available for only $79 if you already own Super Audio Cart. If you want both libraries at once, add both to your cart for an extra bundle discount.
Note that SUPER AUDIO CART PC requires the full version of Native Instruments KONTAKT or KONTAKT PLAYER (5.5.2 or higher).
Learn more at: https://impactsoundworks.com/product/super-audio-cart-pc
DEMO VIDEO (YouTube):

And there's more!
FREE Instrument – Super Audio Boy:
Impact Soundworks also announced a freebie to keep you coming back for more and checking out all their snazzy products: You can "re-discover the classic sounds of the legendary Game Boy video game system with our FREE Super Audio Boy instrument."
Built on our critically-acclaimed Super Audio Cart engine, this freebie packs over a dozen authentic multisampled waveforms in a fully-featured synth engine complete with advanced filters, envelopes, FX racks, and modulation matrix.
Learn more: https://impactsoundworks.com/product/super-audio-boy/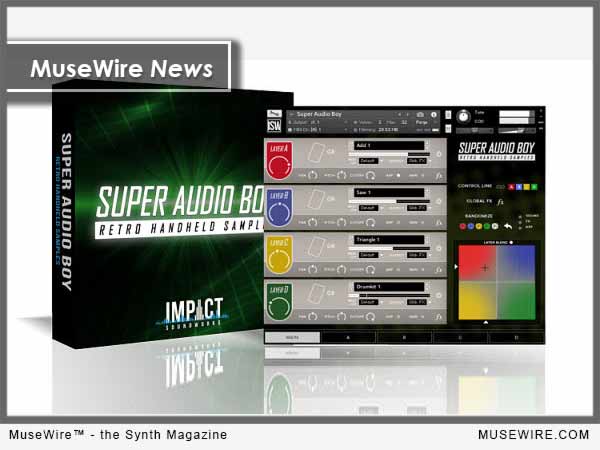 About Impact Soundworks:
Impact Soundworks creates audio software designed with composers in mind: sample libraries, virtual instruments, and plug-ins. As passionate about creating music tools as its customers are about making music, the company was founded in 2008 by composers Andrew Aversa and Will Roget, II at a time when there were several large virtual instrument companies already around, but few developers creating affordable, flexible, and focused libraries featuring more unusual and unique sounds. Shrewdly, the dynamic duo noticed much in the way of in-depth orchestral offerings, but more unusual instruments were not being sampled with much detail at all.
As such, the company's first two releases were Impact Steel, a collection of found metal objects played as percussion, and Sitar Nation, a set of instruments from North India. It has since been collectively working hard to address the needs of modern composers, successfully striking the balance between depth and ease of use. Ultimately, Impact Soundworks is proud to call tens of thousands of musicians around the world its customers, intelligently investing time to study suggestions and review requests. After all, that is how a number of its best-loved libraries started… from the smallest seed!

This version of news is Copr. © 2017 by Christopher Simmons – all rights reserved. Published on MuseWire.com. No fee or other consideration was paid or provided in publication of this information.