Stretching Madness, a Band That Delivers Hard Rock for the Front Row, Releases Their New EP, 'Escape Plan'
SEATTLE, Wash. (MuseWire) — Protectomatic Music and Entertainment (PME) proudly announces the release of Escape Plan, the new extended play album by Stretching Madness. The first single off of Escape Plan, entitled "Lies in My Head," is also being released. In conjunction with the new single and album, PME and Stretching Madness will be launching a new website for the band at www.stretchingmadness.com.
"Escape Plan" is a hard rock extended play album from Texas' Stretching Madness. Stretching Madness delivers a pure and driving sound that reflects a familiarity with the sounds of classic, modern, progressive, and popular rock. The band draws from a wide range of influences across the rock spectrum including Led Zeppelin, A Perfect Circle, Disturbed, and Guns n' Roses.
The band's versatility, ability, and creativity delivers a pure, hard, driving rock sound on record, and on stage. Loaded with dynamics, energy, and emotion, Stretching Madness truly is hard rock for the front row.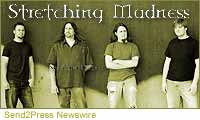 Formed in June of 2000 by founding members, Don May and Brandon Fowler, the band got their start in the drum room of Stone Wall Studio, writing music with one simple purpose…to rock. They set out on a mission to bring back rock music to the fore-front and put the "guitar" back in guitar rock.
The band lineup:
Don May – lead vocals, rhythm guitar
Brandon Fowler – lead guitar, vocals
Clark Lewing – drums, percussion
Kevin Jones – bass, vocals
Twenty-five percent of all profits from this recording are being donated to The Pamela Moseley Carpenter Children's Foundation.
"Escape Plan" was produced by Loren Weisman and engineered by Scott Ross. It is a Freedom Solutions Recording Plan (FSRP) album, meaning it was created through a process that saves the artist money by taking budgeting and planning to the next step. The plan, developed by Loren Weisman, relies on artist willingness to invest more time into their project from start to finish. It also keeps the artist in control of their music. Lastly, the plan proposes giving a percentage of profits to a charity the artist believes in.
Escape Plan is being released with two other FSRP recordings from Seattle artists Das Vibenbass and Jeremiah. More information available at http://www.protectomatic.com.
[tags]Stretching Madness, Escape Plan, Lies in My Head, hard rock, Protectomatic Music, FSRP recordings from Texas artists[/tags]