Spitfire Audio takes flight with ORCHESTRAL SWARM, a creative collaboration with Bleeding Fingers
Spitfire Audio has announced their latest orchestral instrument library, ORCHESTRAL SWARM, the direct result of a creative collaboration with Bleeding Fingers, a next-generation composer collective who wanted to create a new Swarm library in pursuit of composing a perfect soundtrack to the oceanic goings-on featured on the groundbreaking BBC "Blue Planet II" natural history television series.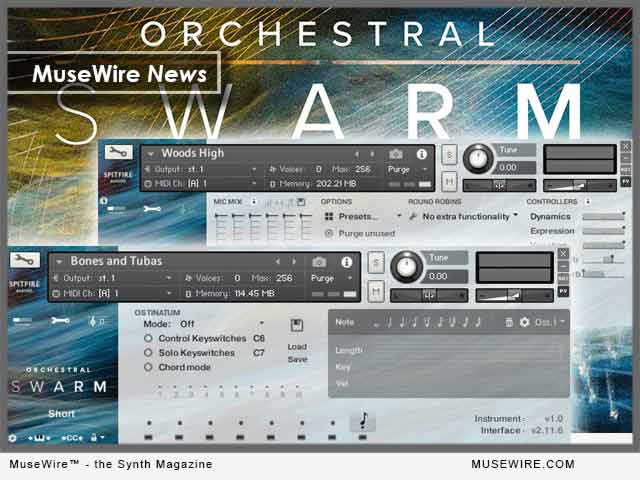 According to Spitfire, ORCHESTRAL SWARM is a new standard in orchestral sample library innovation, which will significantly expand your existing orchestral palette to include a huge variety of totally unique textures.
As an alternative to just using straightforward long notes, this library draws upon "the pointillistic effect of having multiple players perform short notes at random intervals to create an undulating swell of sound that can be performed in real time for inspiring results." Taking our Swarm approach, but adapted for the orchestra, it gives access to even greater detail by utilizing the huge variety of articulations and playing styles of orchestral instruments and will give your compositions a liquid dynamic that dances alongside the picture.
If you tire of static sounding longs, or have fallen out of love with shorts ostinatos, this new textural approach to orchestral sampling will add life to your arrangements. Join the pioneers of modern concert music and scoring to explore a new league of orchestral compositions.
For more in-depth information, including several superb-sounding audio demos, please visit the dedicated ORCHESTRAL SWARM webpage here: https://www.spitfireaudio.com/shop/a-z/orchestral-swarm/
Note that ORCHESTRAL SWARM needs Native Instruments' free KONTAKT PLAYER (5.6.8) — included in the purchase — to run as a fully NKS (NATIVE KONTROL STANDARD) supporting plug-in instrument for Mac (OS X 10.10, 10.11 or macOS 10.12 — latest update) or Windows (7, 8, or 10 — latest Service Pack, 32/64-bit), while Spitfire Audio's free Download Manager application allows anyone to buy now and download anytime.
ORCHESTRAL SWARM can be purchased and digitally downloaded (as 50.1 GB of uncompressed .WAV files, featuring 25,565 samples) for a time-limited introductory promo price of £159.00 GBP (inc. VAT)/$199.00 USD/€199.00 EUR (inc. VAT) until November 16, 2017 — rising thereafter to an MSRP of £199.00 GBP (inc. VAT)/$249.00 USD/€249.00 EUR (inc. VAT).
WALK-THROUGH VIDEO (YouTube):
Paul takes us through Orchestral Swarm 'The Tidal Orchestra'. Recorded at British Grove Studios, London, created exclusively in collaboration with Bleeding Fingers, and is featured in Blue Planet 2 and Hans Zimmer/Radiohead's collaboration "(ocean) bloom".

Spitfire Audio is a British music technology company producing high-quality virtual instruments and sample libraries.The company collaborates with the world's best composers, producers, engineers, and studios to create detailed and realistic recordings of instruments and sounds for use in computer-based music production. Prominent collaborators include Hans Zimmer, Air Studios, Eric Whitacre, and many more.

This version of news is Copr. © 2017 by Christopher Simmons – all rights reserved. Published on MuseWire.com. No fee or other consideration was paid or provided in publication of this information.