Spitfire Audio Scares Up New Bernard Herrmann Composer Toolkit with Classic Sounds for Orchestration
Spitfire Audio has announced a new virtual orchestra sound sample library that brings to life the classic and iconic vibe of composer Bernard Herrmann, known for "Psycho," "Vertigo," and many other classic films. This is Spitfire's first dry scoring stage ensemble library and the company worked closely with the Herrmann estate to examine his most famous scores and understand what makes his work so special.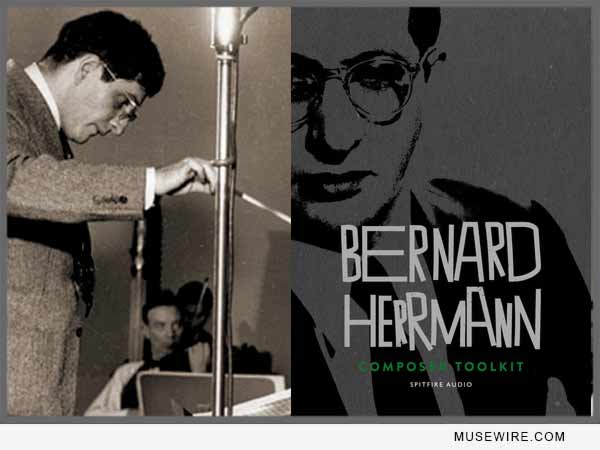 I have to admit, I've gotten a bit jaded by the various orchestra library of the month announcements from a couple dozen foundries all trying to bring something new in high sample count performance and instrument libraries — but this one got me excited, simply by mention of one of my favorite film scoring heroes, Herrmann.
According to Spitfire Audio's announcement this week: "We've worked exclusively with Bernard Herrmann's estate to curate and assemble a unique set of studio orchestra ensembles, informed directly by the composer's legendary orchestration aesthetic. Recorded at Studio 1 Air Lyndhurst by Simon Rhodes, we've captured players performing as Herrmann would have had them – boisterous, lively and upfront, with patches featuring selected groups, unusual instrumental combis, chords, effects and much more. Fire-up this versatile Toolkit for lively and distinctive scoring."
They go on to say, "This isn't an 'old style' library. We set about curating a unique series of recording sessions in order to develop a modern library that captures the levels of vitality that you'd expect from a Herrmann score, but that works across genres/projects. This toolkit packs an almighty punch; it offers a studio orchestra, combinations such as trumpet and xylophone, trombones and timpani, low strings and horns, harp and vibraphone, plus an ondes Martenot, synths, percussion, timpani and much more."
Bernard Herrmann is one of the great modern composers. His work for TV and film is nothing short of iconic, and is truly synonymous with mid-20th Century cinema. Collaborating with Orson Welles on "Citizen Kane," Martin Scorsese on "Taxi Driver," and in long-term partnership with Alfred Hitchcock for scores such as "Vertigo," "Psycho," "The Birds," "Marnie" and beyond, the sheer magnitude of critical works produced is breathtaking. Not only did his work cause significant impact on culture at the time, but more recently those works have been used to invigorate contemporary scores, for example the use of the "Twisted Nerve" theme in Quentin Tarantino's "Kill Bill" – an eerie whistle which is now instantly recognizable worldwide.
In addition to classic instrumental patches, included in the "advanced" folder are over 30 synth patches inspired by Herrmann's use of sythesisers in combination with orchestral material. These can be controlled using our Mercury Synth GUI. It is an ingenious user interface that allows you to have instant fun without having to roll up your sleeves and go under the Kontakt hood. All of the controls are assignable to your control surface giving you the immediate ability to make our sounds your own.
Introductory pricing during launch, then $499/US. Available in download version or hard disk by post.
LEARN MORE AT: http://www.spitfireaudio.com/shop/a-z/bernard-herrmann-composer-toolkit/
INTRO VIDEO (YouTube):