Spitfire Audio launches FINK – SIGNATURES an acoustic guitar toolkit
LONDON, U.K. /MUSEWIRE – Music Industry Newswire/ — Spitfire Audio has announced the launch of "FINK – SIGNATURES," an acoustic guitar toolkit sample libarary presented in Spitfire Audio's award-winning, dedicated plugin — compatible with any DAW. The library is based on performances and playing by Fin Greenall, aka "FINK," who started as a DJ and producer before developing his signature guitar-based folk and blues inspired sound.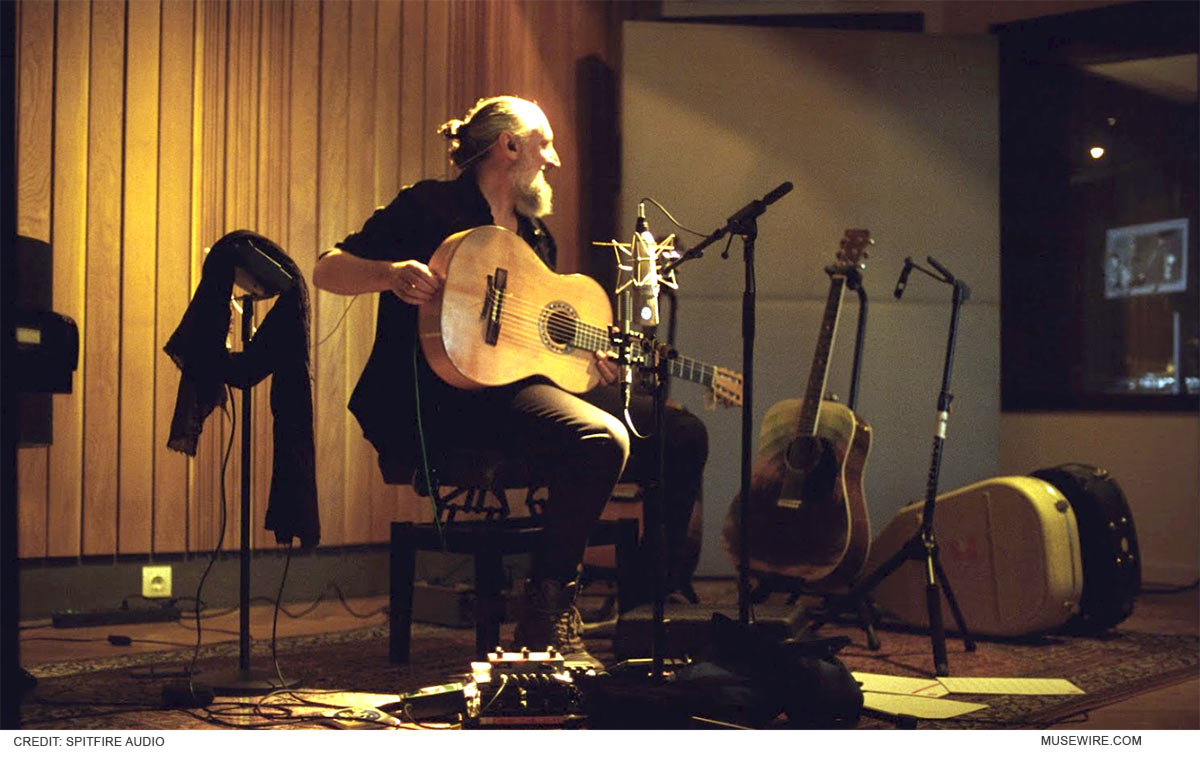 According to the company, "Signatures is a definitive acoustic guitar toolkit, full of character and sonic depth. At the heart of this sample library are three distinctive acoustic guitars, beautifully captured in microscopic detail and offering a range of classic and signature playing styles, from delicate to punchy, including pulled, plucked, muted and thumbed one-shots, pristine harmonics, strumming patterns, and more."
These emotive sounds are complemented by a range of guitar-based percussive tempo-synced loops and hits, soothing vocals, and versatile pads. Made in collaboration with award-winning producer, composer and songwriter Fin Greenall, aka Fink, this toolkit has been carefully curated to inspire both composers and songwriters, guitarists and non-guitarists alike — an instantly playable collection that lends itself to a range of compositions, from intimate indie scores to acoustic pop tracks, and beyond.
OVERVIEW
Signatures features a range of core and extended techniques from the heart and mind of Fink, captured on three of his favourite 'signature' acoustic guitars, each with its own distinctive tone. From the affectionately-named 'Brady', a 2004 Mal Brady Bouchier nylon with a rich, mellow sound, to 'Festy', a 2010 Martin D28 steel-string acoustic with a pop sound, his workhorse festival and touring guitar, and 'Orwell', a gentle 1984 Martin D35 steel-string acoustic, which features most prominently on his recent records. Fink's signature techniques within each guitar section include tempo-synced arpeggios in DADGAD, pulled, plucked, muted and thumbed one-shot notes, three variations of harmonics, two-finger chords, ready-made strumming patterns and more. All guitars are presented in Spitfire Audio's easy-to-use plugin, with fluid playability and a wide range of effects parameters to tailor each sound to your own vision.
The product is available for $49 from Spitfire Audio.
Learn more: https://www.spitfireaudio.com/shop/a-z/fink-signatures/
KEY FEATURES
54 presets, split into 6 sections:
Brady (11)
Festy (13)
Orwell (14)
Percussion (7) Tempo-synced, percussive loops performed on the Brady, Festy, and Orwell. Also features a selection of percussive hits on different guitar cases and foot-stomps captured in the studio
Voices (6) Fink singing a mixture of longs and swelling aahs, mmms, and oohs
Pads (3) An electric piano pad, harmonic pad (guitar harmonics fed through the Spitfire Audio granular machine), and sustained strings pad
9 controls:
Expression
Dynamics
Attack
Release
Reverb
Start Point
Chorus
Delay
String Squeak FX
Presented in Spitfire Audio's award-winning, dedicated plugin — compatible with any DAW
Dynamics slider allows you to fade from a close mic mix into a re-amped signal, using Fink's signature vintage amp
Start Point cuts further into the note to create pad-like sounds
String Squeak FX controls the volume of the string 'squeak' noise that plays on note release
Recorded at the renowned Jazzanova Recording Studios in Berlin with cutting-edge and vintage equipment
Distils instantly playable guitar performances born out of years of dedicated practice – from a seasoned professional with a distinctive style
9.5GB
ABOUT FINK
Fin Greenall started as a DJ and producer before developing his signature guitar-based folk and blues inspired sound. Growing up in Bristol's thriving '90s music scene, Greenall signed to legendary label Kickin' Records and subsequently with Ninja Tune, releasing the critically acclaimed record Fresh Produce, and DJing worldwide. A renowned guitarist, producer, songwriter and artist, Fink has been an in-demand collaborator for various established artists, including writing and recording Amy Winehouse's earliest demos, as heard on her posthumous record, Lioness. Fink's Sort of Revolution also featured a collaboration with John Legend on the track Maker, with Fink having co-written two tracks on Legend's album Evolver, leading to three prestigious BMI awards.
Fink has penned seven critically-acclaimed studio albums, leading to numerous film and advertisement placements, as well as extensive world tours. His record Perfect Darkness (2011) included Yesterday Was Hard On All Of Us, with a live version of the track featuring in the Oscar-nominated film, Selma. Warm Shadow was later prominently featured in The Walking Dead, with Justin Vernon & Colin Stetson teaming up to remix the track, resulting in a collaboration with Colin Stetson on blues side project Sunday Night Blues Club, Vol. 1. The studio album Hard Believer included the hit Looking Too Closely, which has over 30 licences to TV and film and over 100 million streams. 2017 marked the beginning of Fink's collaboration with renowned producer Flood, culminating in the release of both his blues side project and studio albums Resurgam (2017) and Bloom Innocent (2019). After putting out his acoustic best-of record It Isn't Until It Is, 2022 sees Fink's first foray into film scoring with production work on a major gaming soundtrack.
INTRO WALK THROUGH VIDEO
###
This version of news is Copr. © 2022 by Christopher Laird Simmons and first appeared on Musewire.com