Spitfire Audio launches 10th anniversary 'Audio Annual issue 1' a printed volume celebrating each year that it has been in business
Spitfire Audio, a British music technology company, well known for its industry leading scoring libraries, has launched its first ever Audio Annual, a 246-page visual magazine, designed to celebrate each year that it has been in business.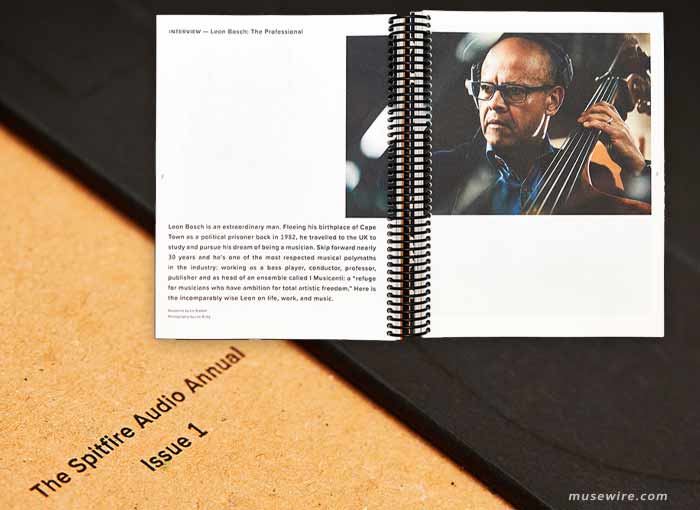 The annual celebrates 10 years of Spitfire creating sample libraries and virtual instruments through collaborations with the likes of Hans Zimmer, Olafur Arnalds, and the London Contemporary Orchestra. The "Audio Annual issue 1" features behind the scenes photography, interviews with the musicians involved, as well as original illustrations from Isabel + Helen and Jan Buchczik.
The first in a series of audio annuals, it covers landmark collaborations with legends including the Bernard Herrmann Estate, Hans Zimmer, Ólafur Arnalds and London Contemporary Orchestra and provides insights through musically themed essays written by Pascal Wyse, which use a custom typeface inspired by the sampling process to which Spitfire owes its reputation.
According to Co-Founder Christian Henson: "There have been many surprises on this odyssey that is Spitfire Audio, an idea born in a pub in Soho with my business partner Paul over a decade ago. But one of the biggest is that what started as a mere idea; two guys wanting better sounding strings, has grown into an entire family — over 50 extraordinary people doing extraordinary things."
He adds, "All enabled by our extended family, comprised of thousands of like-minded talented people around the world who have given us trust, belief and vital feedback. So, as with any proud family, we thought it only appropriate to create a family album — an annual — as a memento of an incredible year that we have all shared together."
SPECS: AVAILABLE WORLDWIDE (PRICES INCLUDE DELIVERY)
£25 (UK) / €35 (EUROPE) / $45 (REST OF WORLD)
246 PAGES
2,018 COPIES
LIMITED EDITION
Learn more at: https://www.spitfireaudio.com/theannual
VIDEO (YouTube):
:: AN INTRODUCTION BY SPITFIRE CO-FOUNDERS, CHRISTIAN & PAUL ::