Spitfire Audio bangs the drums again with ABBEY ROAD ORCHESTRA: LOW PERCUSSION
LONDON /MUSEWIRE – Music Industry Newswire/ — Spitfire Audio has announced availability of ABBEY ROAD ORCHESTRA: LOW PERCUSSION, part of the company's brand-new flagship Professional Composer Series and which they describe as "the most detailed sample library that we have ever created." Featuring cinematic percussion performed by British world-class percussionist Joby Burgess ("Black Panther," and "Mission: Impossible") in Abbey Road Studios' world-famous Studio One.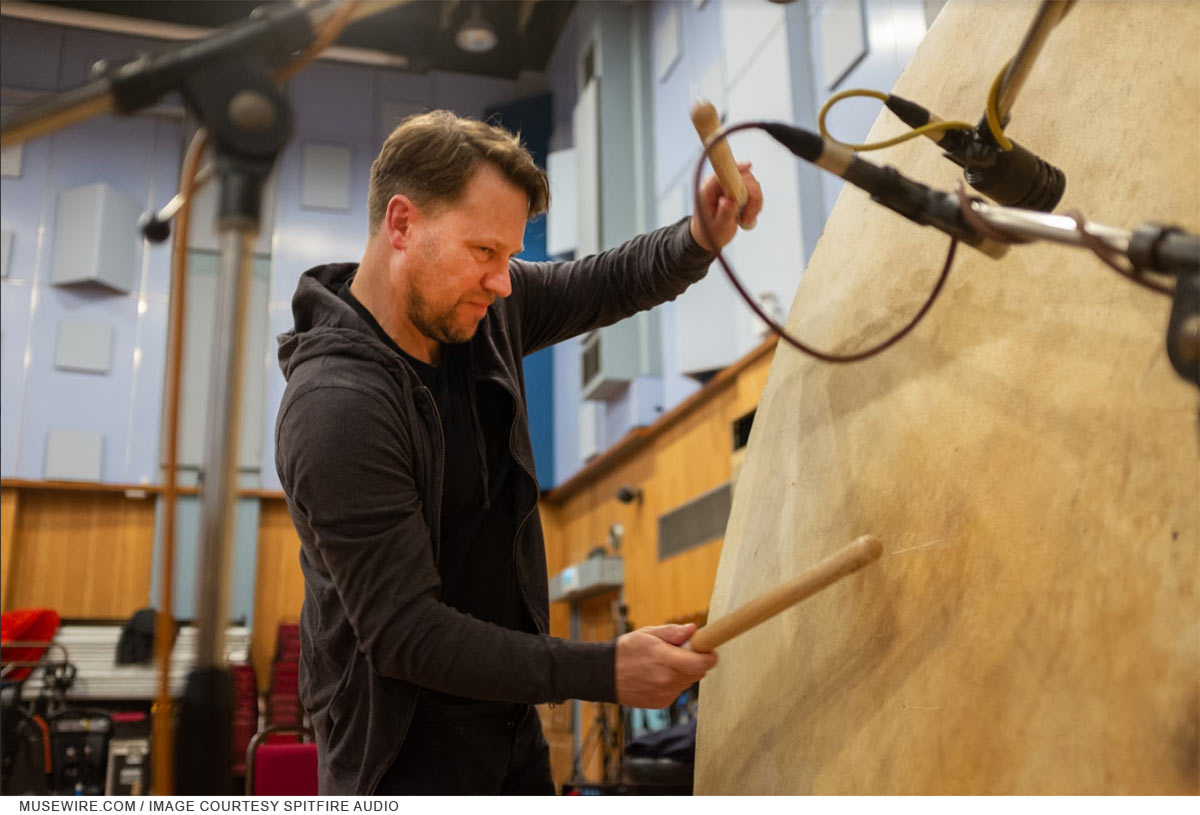 Lay the groundwork for your compositions with unrivalled realism with this collection of truly thunderous orchestral and indigenous drums that are beautifully captured in the legendary acoustic of Abbey Road Studio One. Distinguished by its extremely responsive and highly tactile nature, Low Percussion explores the timbral and textural range of 20 drums from across the orchestral repertoire and further, with up to seven beater options per drum, performing hits, rolls, swirls and sweeps sampled in incredible detail. All performed by virtuoso percussionist Joby Burgess.
"The opportunity to perfect every strike and roll in the glorious acoustic of Studio One was not missed and we took time to make the best microphone choices and hone their positions," said Simon Rhodes, Senior Engineer, Abbey Road Studios.
The new library features:
Priceless instruments – Diverse drums spanning a huge tonal palette
— 20 Drums, from orchestral staples to traditional folk instruments (including a 60" Giant Taiko)
— Up to 7 beaters per drum
— Multiple techniques and striking positions per drum
Next-level control – Shape percussion for your composition
— 16 signal options
— Up to 12 round robins
— New Discrete Right/Left hand mapping feature
— New 'Soft Takeover' option for dynamics
— Ultra expressive feel
The 100.5 GB download-sized ABBEY ROAD ORCHESTRA: LOW PERCUSSION library is available as an AAX-, AU-, VST2-, and VST3-compatible, NKS (NATIVE KONTROL STANDARD®)-ready plug-in that loads directly into a DAW (Digital Audio Workstation) for a time-limited promo price of £299.00 GBP (inc. VAT)/$349.00 USD/€349.00 EUR (inc. VAT) until December 1, 2022 — returning thereafter to its RRP (Recommended Retail Price) of £399.00 GBP (inc. VAT)/$449.00 USD/€449.00 EUR (inc. VAT) — from here: https://www.spitfireaudio.com/abbey-road-orchestra-low-percussion
INTRO VIDEO:
###
This version of news item appeared first on Musewire.com and is Copr. © 2022 by Christopher Simmons.