Spitfire Audio announces ORIGINALS CINEMATIC FROZEN STRINGS ideal for scoring icy Scandinavian style film and TV drama
LONDON /MUSEWIRE – Music Industry Newswire/ — Innovative sound instrument company, Spitfire Audio, has put out a new library of 'chill' instruments for their Originals Series, as CINEMATIC FROZEN STRINGS. Recorded using "Super Close" and additional mic techniques to provide detailed and precise "next-level detail and definition."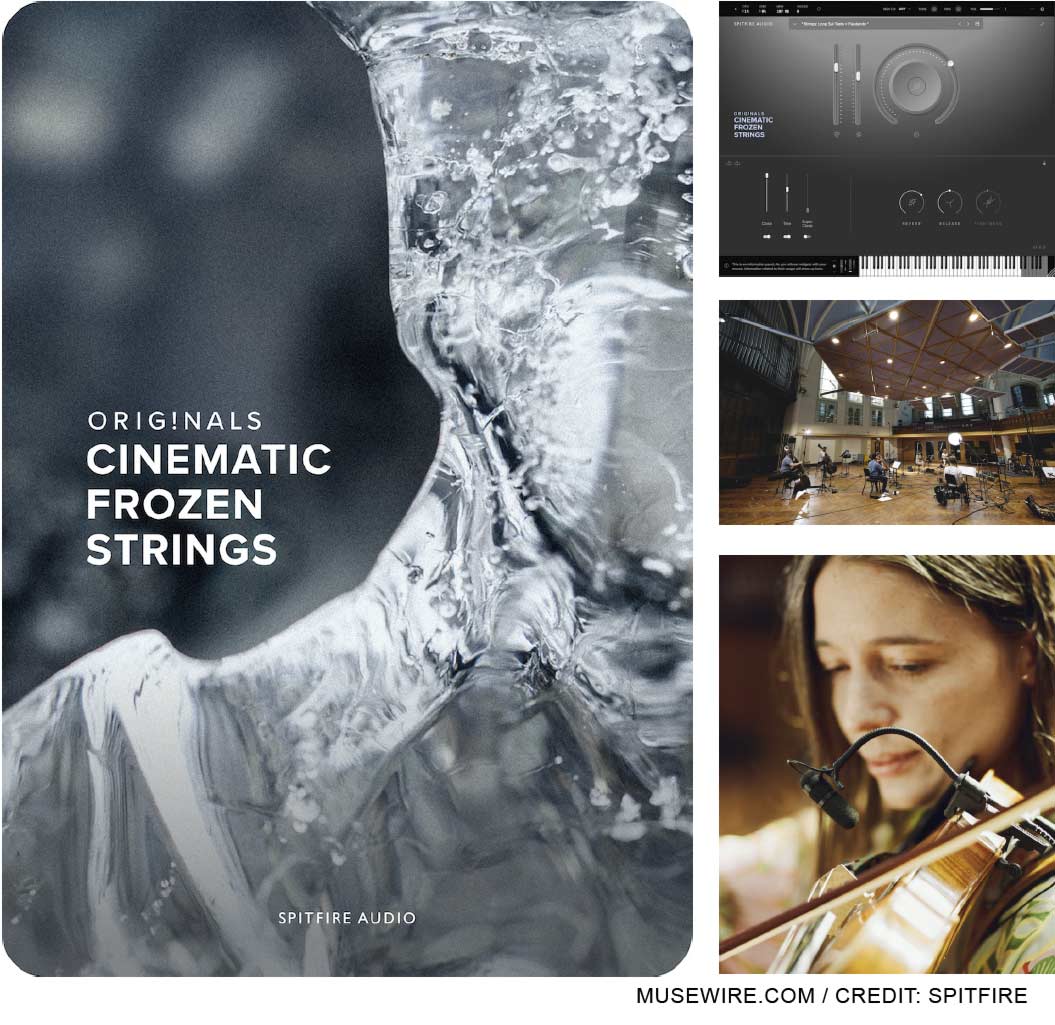 According to the company, ORIGINALS CINEMATIC FROZEN STRINGS offers next-level detail and definition through a bespoke "Super Close" signal, recorded using clip-on microphones on the bridge of each instrument involved. There are three recorded signals — namely, Close, created using valve spot microphones (including rare, vintage AKG C12s, Gefell UM75s, and Neumann U67s) summed together for an upfront image of the string ensemble; Tree, a Decca Tree microphone arrangement, allowing for a spacious sound while capturing the natural resonance of the revered room that is Lyndhurst Hall at London's legendary AIR Studios: and the aforesaid aptly-named Super Close, featuring DPA clip-on microphones, making for that extremely detailed and precise sound.
There are 12 presets with which users of ORIGINALS CINEMATIC FROZEN STRINGS can creatively play with wonderful and wondrous — not necessarily woeful-sounding — results, reminiscent of the wintry environs that inspired them: Long Flautando CS (con sord); Long Super Sul Tasto; Long Col Legno Tratt; Long Sul Tasto > Sul Pont (transitioning from one technique to the other in a circular movement between the two articulations at different speeds with players out of sync); Long Sul Tasto > Flautando; Long No Rosin; Tremolo CS Sul Pont; Harmonic Tremolo; Short Brushed Spiccato CS; Short Mandolin Pluck; Short Col Legno; and Short Brushed Sul Tasto.
Duly designed for both aspiring and established media composers writing intimate scores or wanting to add more detail and experimental techniques to larger ensembles, ORIGINALS CINEMATIC FROZEN STRINGS is suited to those who use Spitfire Audio's aforesaid ALBION TUNDRA, ALBION NEO.
Dan Keen, in-house composer at Spitfire Audio, adds: "CINEMATIC FROZEN STRINGS is available now as part of our ORIGINALS series, and you can buy it for 29 Pounds, Dollars, or Euros. I have to say, this is one of my favorite libraries, and it's definitely going to go into my template. This is a very small ensemble — eight players — recorded antiphonally in the same arrangement as ALBION TUNDRA, so if you've got that library, these are going to work really well together."
ORIGINALS CINEMATIC FROZEN STRINGS is available as an AAX-, AU-, VST2-, and VST3-compatible plug-in supporting Native Instruments' NKS (NATIVE KONTROL STANDARD®) for Mac (OS X 10.10 or later) and Windows (7, 8, and 10 — latest Service Pack) that loads directly into any compatible DAW for an RRP (Recommended Retail Price) of only £29.00 GBP (inc. VAT)/$29.00 USD/€29.00 EUR (inc. VAT) — from here: https://www.spitfireaudio.com/originals/#cinematic-frozen-strings
VIDEO:
Watch Spitfire Audio's premiere of ORIGINALS CINEMATIC FROZEN STRINGS — including its inspiring introductory video and an accommodating walkthrough with Spitfire Audio in-house composer Dan Keen — here:
###
This version of news first appeared on MuseWire.com and is Copr. © 2022 Christopher Simmons.