Soundfly teams with LA Pianist and Producer Elijah Fox for new course, taking students through his process of writing, improvising, and producing hip-hop infused jazz
BROOKLYN, N.Y. /MUSEWIRE/ — Pianist and producer Elijah Fox welcomes musicians into his exciting new course with online music education hub Soundfly. In it Elijah explores his singular approach to writing, improvising, and producing the "Impressionist" music for which he's become widely known; a style that has hypnotized fans around the world, been championed by collaborators like Yussef Dayes, Tom Misch, and Kiefer, and become the foundation for Drake & 21 Savage's hit "Major Distribution."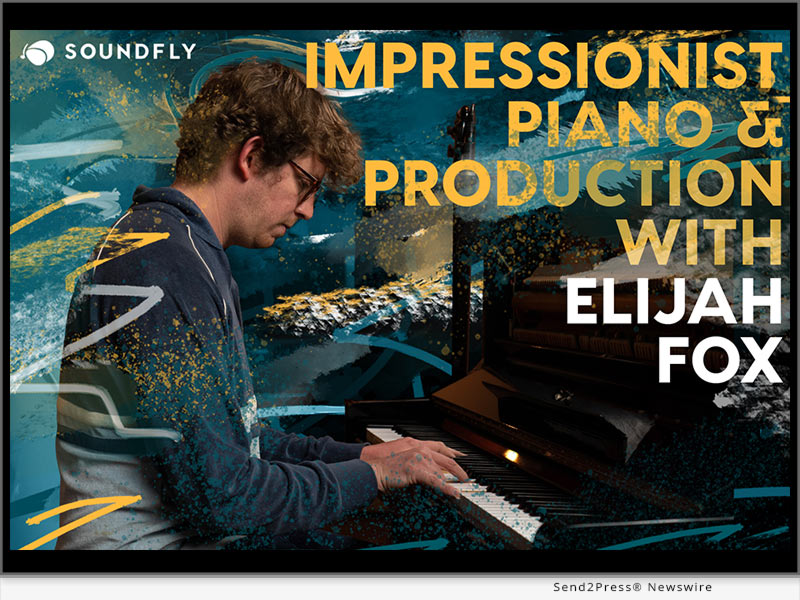 "Elijah Fox: Impressionist Piano & Production" is available now in Soundfly's growing curriculum of creative music courses and peer learning programs.
Watching Elijah Fox's Instagram feed, you're likely to see something new everyday. From silky R&B tracks and spacey synth jams to old-timey piano covers and soulful improvisations, Elijah's talent spans genres and styles, yet all of his music is imbued with a single unifying element: Impressionism. For Elijah, that means striving to make every moment evoke powerful emotional reactions in his listener, while remaining open to pensive wandering.
Throughout this course, Elijah takes students through his process of composing, improvising, and producing this deeply touching music, as well his modular approach to practicing which ensures a constant flow of new ideas and patterns. Elijah also shares his philosophies and perspectives on modern harmony, orchestration, and beat making. Students will up their skills on the piano and build new loops and tracks inspired by Elijah's guidance.
A multi-instrumentalist, composer, and producer based in Los Angeles, Elijah Fox studied piano at the prestigious Oberlin Conservatory. Inspired by jazz greats like Art Tatum, Ahmad Jamal, and Erroll Garner, his modern sound blends elements of jazz, R&B, and psychedelic soul, and his samples span genres like lo-fi hip-hop, neo-soul, and trap. He's worked with ScHoolboy Q, Masego, Tom Misch, Yussef Days, Denzel Curry, Kiefer, among many others, and his original music under the alias Søren Søstrom has amassed over 16 million streams on Spotify.
To the future students, Elijah declares: "I've gained so much joy from playing the piano – and I hope to inspire you to find some of that as well."
"Elijah Fox: Impressionist Piano & Production" features 70 lessons, over 40 videos, and 22 challenges to keep students on their toes creatively and hold them accountable to achieving their learning goals. Accented with gorgeous graphic design, downloadable MIDI, audio, and musical scores, and an elevated user experience, this course comes loaded with Elijah's 21st century harmonic concepts, practice prompts, and production activities. Plus, students get access to Soundfly's lively Discord community for peer support.
Learn more:
https://soundfly.com/courses/elijah-fox-impressionist-piano-production
About Soundfly:
Soundfly offers creative courses for curious musicians looking to spark their creativity, expand their skill set, and discover new sounds. Students can subscribe to Soundfly's library of in-depth courses taught by some of the most exciting musicians and artists working today. Or they can take their music learning to the next level with Soundfly's custom mentorship program, which offers one-on-one coaching with an expert to achieve a personal goal. Learn more: https://soundfly.com/.
MULTIMEDIA:
Trailer Video: