Sonivox Stratum Virtual Synth Combines Supersaw with 4 OP FM Technology
In case you missed the recent launch, Stratum, a virtual instrument by Sonivox, is a rock-solid layering of a classic Supersaw synthesizer and a 4 operator FM synthesizer. Originally made famous by the Roland JP-8000, the Supersaw waveform has made a strong comeback in the trance and hardcore genres due to its edgy sound, particularly in synth leads and synth basses.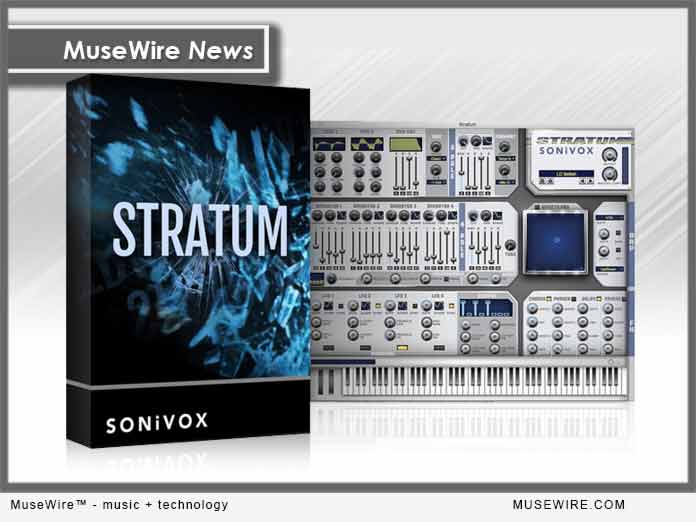 Stratum takes this a step further by combining this classic waveform with a 4-operator FM synth, a noise generator and sub oscillator to produce a virtual instrument perfect for modern synthwave, vaporwave and retro electro productions like those found in the recent hit series "Stranger Things" and the movie "Synchronicity OST".
Features:
* Supersaw FM Synthesizer with Noise and Sub Oscillators
* Individual arpeggiators for the Supersaw and FM synths
* Dynamic Filters including Low-Pass Filters with Resonance, Vocal Formant and Tube Distortion
* Unique XY Effects pad for additional bit crushing, dirty phasing, wah-wah and non-linear delay effects
* Simple but powerful Modulation Matrix featuring 4 LFOs and an 8-step sequencer
* Built in Reverb, Delay, Phaser, and Chorus effects.
Stratum also features two low-pass filters, a vocal formant filter, and a tube distortion circuit to further enhance your sounds, all controllable by a simple modulation matrix featuring 4 LFO's with modwheel control and an 8-step sequencer called the Stepper. For those who need to punish their sounds even further, Stratum includes a unique XY Pad which can mix in a Bit Crusher, Dirty Phaser, Wah Wah, and a Non-Linear Delay.
Arpeggiator enthusiasts will be happy to see not one, but TWO arpeggiators, one for the Supersaw synth and one for the FM synth. And too add the final polish to your sounds and tracks, Stratum includes built in Chorus, Phaser, Delay and Reverb effects.
Introductory pricing for the STRATUM TRANSWAVE SYNTH is $99.
LEARN MORE AT: https://sonivoxmi.com/products/details/stratum-transwave-synth
OFFICIAL INTRODUCTION VIDEO (YouTube):