Softube Releases Tube Delay for MODULAR the software Eurorack synth for everyone
Softube has released "Tube Delay" for MODULAR the software Eurorack synth for everyone. Modular synthesis is all about options; defining options by building a system one way or another, and exploring the sonic possibilities those options afford you.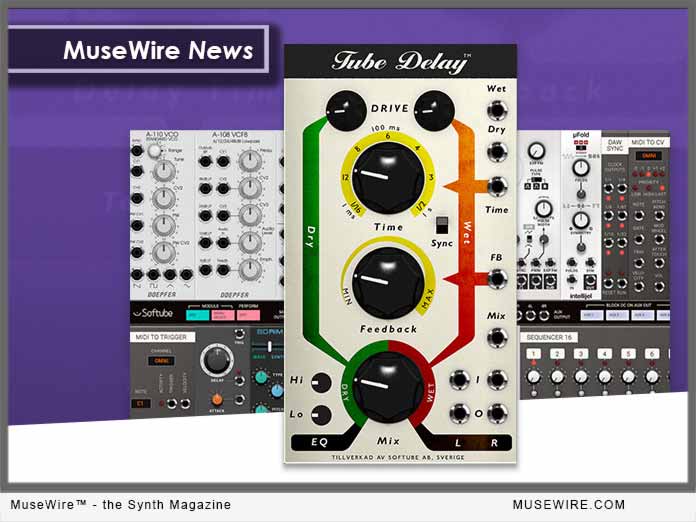 According to the company, "A tasty echo effect that can go from clean to rude by over-driving its three modeled tube stages. Create anything from realistic room echoes to rockabilly style slap backs—or take it all the way into dub reggae echo madness."
Tube Delay, great for gritty slapback or swirly echoes, and newly ported to work seamlessly in the Softube Modular system, is an exciting option to be sure.
A slightly dark and distorted delay has a way of giving a great sense of space and size to a mix without really drawing attention to itself. So that's where our Tube Delay gets in the picture.
The controls are quite self explanatory, but it's the sound that sets Tube Delay apart from any other delay you have tried. The drive knobs add a wonderfully dirty distorsion and the tone controls are just sweet. There's actually three different tube stages in this model, each adding to the total sound. The tone controls are passive and add further to the distortion. Turn up the feedback while running, and you'll have the authentic dub echo madness! We of course added the possibility of tempo syncing the delay to your song.
In short:
1-1000 ms delay
Sync tempo to host
Vintage style passive EQ
Gritty feedback feature
Tube preamp simulaton
Tube Delay: For use with VST, VST3, Audio Units, AAX Native, AAX DSP and Modular. $89 US; with intro pricing for limited time.
Learn more at: https://www.softube.com/index.php?id=td
Official Video (YouTube):