SKYLIFE announces the upcoming release of new SampleRobot 4 Sampling Suite
BERLIN, Germany (MuseWire) – SKYLIFE MUSIC has announced the upcoming release of new SampleRobot 4 Sampling Suite. According to the company: "With the Sampling Suite everybody who is into sampling will get a complete software package to master all sampling challenges elegant and fast. Therefore the Sampling Suite offers a comprehensive and sophisticated set of tools for instrument mapping and export, auto sampling, MIDI remote control, format conversion, batch and auto loop processing, sample playback and synthesis. It was never easier to build sample-based instruments on a professional top-quality level. And you can play them instantly."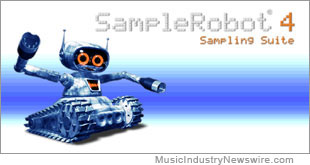 SampleRobot 4 will be available in different feature variations:
SampleRobot 4 Sampling Suite is the new top-of-the-line full feature product for professional sample library developers and semiprofessional sampling enthusiasts.
SampleRobot 4 Pro replaces SampleRobot 3 and is appropriate for music producers and sound designers who are in search for sampling software with focus on sample mapping, auto sampling, MIDI remote control, batch and auto loop processing.
SampleRobot 4 Multi-X offers a lot of new features of SampleRobot 4 Pro as a reasonably priced alternative. Multi-X stands for multi export. All multi-sample export formats of the Sampling Suite are supported. This product replaces the previous SampleRobot Essentials series.
SampleRobot 4 Single-X is a completely new and for all musicians and producers affordable basic version of the well-known sampling software. SampleRobot Single-X supports only one multi-sample export format which can be freely selected by the user.
Pricing is expected to be in line with prior versions with US SRP of the pro version being approx. $399, however pricing has not yet been announced by Skylife for the new versions. SampleRobot is a Windows compatible application (no OS X version announced).
Learn more at: http://samplerobot.com/index.php .
Editor's Note: MusicIndustryNewswire.com editor Christopher Simmons is a registered owner/user of SampleRobot and will be doing a review for MIN upon release of the new version.