ScottWorks 2018: Inaugural Raymond Scott Festival in L.A. Celebrates Achievements of 1960s Electronic Music Pioneer
The 2018 ScottWorks festival on Sept. 8 will include a daytime symposium on topics that range from Raymond Scott's 1930s jazz compositions to his 1960s electronic music inventions. There will be presentations, panels, gallery displays, and interactive exhibits during the day, followed by a concert at night featuring live performances to celebrate Scott's multi-dimensional music.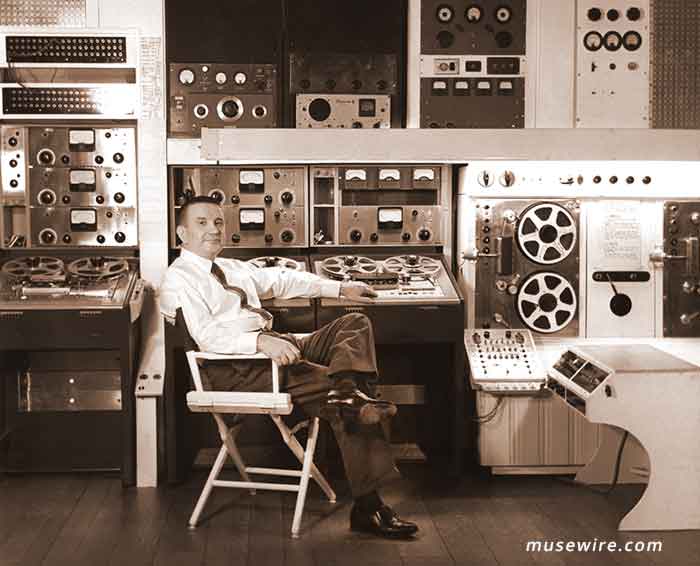 ScottWorks is presented by Reckless Night Music, Raymond Scott's family, to coincide with what would have been his 110th birthday.
Musician, inventor, and visionary Raymond Scott (1908-1994) will be feted on September 8 at the Colony Theatre in Burbank, Calif. As influential today as he ever has been, Scott's musical and technological achievements have become more widely known over the past 20 years.
Producers Stan Warnow and Deborah Scott Studebaker are committed to honoring their father's impact on music, culture and technology. According to Studebaker, "Raymond Scott was an innovator across many genres—he loved the work, but he was uncomfortable in the spotlight. ScottWorks is a chance for us to illuminate our father's creative legacy and recognize his place in modern history."
Raymond Scott, born in Brooklyn as Harry Warnow, changed his name to "Raymond Scott" because it had "good rhythm." He led a six-man jazz "Quintette" (he liked the crispness of the word) which became immensely popular in the late 1930s. Tired of the clichés of that era's prevailing swing music, Scott envisioned compositions which were less predictable—with tempo and time signature changes—but with jazz overtones.
Scott may be best known for his music, which is featured in cartoons, but he actually never wrote a note of cartoon music. His compositions, which were painstakingly crafted for the record-buying public, have over the years been incorporated into Looney Tunes and Merry Melodies, Ren and Stimpy, The Simpsons, Animaniacs and other popular animated productions.
While his music is instantly recognizable to anyone who has watched these cartoons, his inventions have had an equally galvanizing effect— producing sounds in the 1960s that foreshadowed today's electronic ambient and techno musical genres.
According to the late Robert Moog, "Raymond Scott was definitely in the forefront of developing electronic music technology and in the forefront of using it commercially as a musician."
Scott's sequencer-based Electronium, begun in 1959 and refined through the early 1970s, used programmed intelligence as a composition-performance tool for intuitive collaboration between man and machine.
In 1969, the Electronium caught the ear of Motown founder Berry Gordy, who visited Scott at his Long Island home to hear a demo and meet its creator. Gordy later placed an order for an Electronium, which he hoped would serve as an "idea generator" for Motown artists and producers. In 1972 Scott moved to L.A. after being named Motown's Director of Electronic Research and Development. He would work for Motown for five years.
Tickets for the one-day symposium are available at Brown Paper Tickets: https://scottworks.brownpapertickets.com/.
For further information visit http://www.raymondscott.net/rsfestival/.
Listen to Raymond Scott on SoundCloud:
Symposium Participants:
Brian Kehew: Musician, historian, co-author of Recording the Beatles
Byron Werner: the man who rediscovered Raymond Scott, leading to the early '90s revival
Darren Davison: Engineer with extensive technical knowledge of the Electronium from his five-year restoration project
Dave Brown: 34 years at Tektronix working in Computer Graphics and Video & Networking. Now retired, has time for his hobbies–including a working version of the Raymond Scott Circle Machine that he's bringing to the festival!  Also volunteers at Tektronix Museum.
Dr. Les Deutsch: NASA scientist, jazz musician, arranger of Scott compositions
Hal Willner: Grammy-winning producer of albums by Lou Reed, Laurie Anderson, Lucinda Williams, and others; SNL sketch music adaptations, Executive Producer of the Raymond Scott CD Reckless Nights and Turkish Twilights
Herb Deutsch: Co-inventor of the Moog synthesizer, 1964; Professor Emeritus of Music, Hofstra University; Raymond Scott colleague
Hoby Cook: Scott Motown colleague and the only musician other than Scott to play and compose on the Motown Electronium
Irwin Chusid: Raymond Scott historian/album producer, WFMU DJ, administrator for catalogs of Raymond Scott and Sun Ra
Jack Hertz: Artist/programmer/synthesist; producer of the Biography: Raymond Scott compilation; curator of the Encyclotronic electronic music archive
Jeff Winner: Raymond Scott historian/album & concert producer
Jeremy Cohen: Leader of three-time Grammy-nominated Quartet San Francisco, who have recorded string quartet versions of Scott tunes
Jeroen van der Schaaf: Managing Director, Basta Music
Jerry Beck: writer, animation producer, Cal Arts college professor and author of more than 15 books on animation history. Founder of Animation Research and a former studio exec with Nickelodeon Movies and Disney.
Skip Heller: Guitarist, singer, composer, producer, music journalist, historian; arranged Scott's "Powerhouse" for the Bernie Mac Show
Tom Rhea: Berklee College Electronic Music professor (ret.); Sr. Advisor, Electronic Music Education And Preservation Project; worked with Scott on electronic instrument marketing
Please understand that the artists and/or lineup for the Event may not be final and is subject to change..