Roland announces JUPITER 50 Music Peformance Keyboard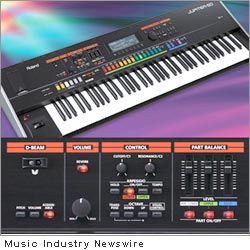 LOS ANGELES, Calif. (MuseWire) – With its unprecedented fusion of synthesis and acoustic instruments, the new-generation Roland JUPITER has changed the way we play, react to, and feel a keyboard. By combining the supreme expression of the JUPITER-80 with the travel friendliness of the JUNO series, the new JUPITER-50 brings SuperNATURAL sound and pro performance to every stage and studio.
The JUPITER-50 houses over 1500 SuperNATURAL synthesizer tones found in the flagship JUPITER-80, plus all of its SuperNATURAL acoustic sounds (with Behavior Modeling) and many of its Live Sets. In fact, you can conveniently import the JUPITER-80's Live Sets into the JUPITER-50 via USB flash memory. To achieve the same supreme sound quality as the JUPITER-80, the JUPITER-50 employs the identical analog audio components as its big brother, including the high-resolution D/A converter.
The JUPITER-50 is packed with over 1,500 SuperNATURAL synthesizer tones, plus over 70 SuperNATURAL acoustic instruments, each with its own dedicated sound engine. Choose, stack and edit any combination of four tones to create custom Live Sets.
Tipping the scales at just 11 kg (24 lbs. 5 oz.), the JUPITER-50 is one of the lightest professional instruments in its class, while still offering a top-quality 76-note weighted keyboard. With its powerhouse features, sounds, and travel-friendly design, the JUPITER-50 is a dream for gigging musicians on the go.
The JUPITER-50's built-in audio recorder/player lets you capture musical sketches and full performances instantly to USB memory. By pre-loading a USB stick with WAV, AIFF, and/or MP3 files, you can use them as live backing tracks onstage and control them from the JUPITER-50. You can even simultaneously record your performances on the keyboard along with audio file playback from USB.
MORE INFORMATION: