Rob Papen rebuilds and expands signature virtual soft synth with Predator2 reboot
Rob Papen Soundware has announced "Predator2," the successor to Predator, "the natural-born, killer-sounding soft synth" that has inspired so many composers and artists. Predator2's pliable GUI (Graphical User Interface) has once again been given the trademark Rob Papen treatment, designed so that (almost) all of the main controls are always visible onscreen, making it both inspirational and intuitive in use.
As an award-winning product, Predator has been making its musical mark as a meaty mainstay of Rob Papen's lengthening lineup of world-class soft synths since its introduction back in 2009. Time and patience can be an issue for some users, so this time Rob Papen has helpfully included an EASY PAGE to cater to those not needing simultaneous access to so many controls. There they can quickly find the most important parameters to tweak a sound or even use the handy preset VARIATIONS function, which is an intelligent randomiser. Really feeling the need for speed? No need to look any further!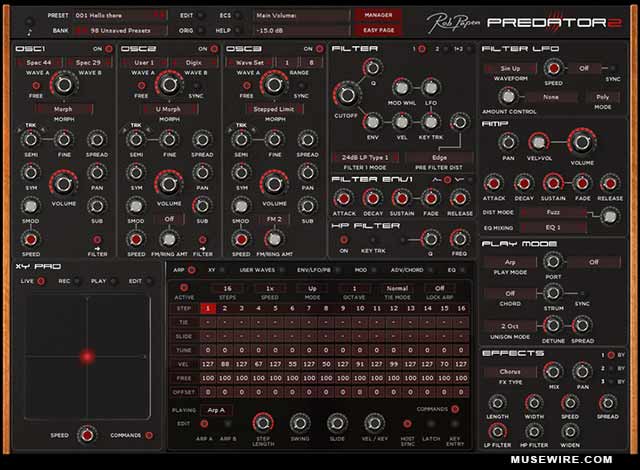 Improvements in Predator2 are much more than simply skin deep. First and foremost, each of the three oscillators are now dual-equipped affairs with WAVE A and WAVE B including a variety of mixed and morphed waves between them. There are now no fewer than eight editable USER WAVES which can be combined into wave-sets that are traversable in different ways. Each of those USER WAVES is editable with up to 256 different partials and advanced controls to edit and shape the wavetables. With many wavetables and wave-sets included in Predator2, the all-important building blocks of its inspirational sound abilities are already streets ahead of its popular predecessor.
All oscillators and filters are now fully stereo and the flexible FILTER section is bolstered by a much-expanded second filter (FILTER 2) section with full controls and envelopes, plus a third high-pass filter (HP FILTER) section for further fine-tuning. To say that Predator2 sounds 'phat' is surely something of an understatement, says the company.
UNISON MODE has also been improved with up to six unison sub-voices for each full voice, allowing unison to work with any PLAY MODE. Meanwhile, more movement comes courtesy of an all-new XY PRO section with recordable paths that can be used to modulate all Predator2 controls.
More notable improvements and additions, a dual arpeggiator (ARP A and ARP B) with Join mode means that users can create up to 32-step arpeggios — alternatively, they can try the all-new Sequencer Arp mode for yet more musical inspiration; increased envelopes, LFOs (Low Frequency Oscillators) — up from two (in Predator) to four (in Predator2), and modulation steps — up from eight (in Predator) to 20 (in Predator2) with an ADVANCED (modulation) MODE allowing users to step limits and LOWER THR and UPPER THR amounts also add to the excitement of inspirational sound design, as does ADV/CHORD (advanced chord) editing and dual three-band EQ with LP (lowpass) and HP (high-pass) filter that can be PRE-FX or POST-FX.
VIDEO (YouTube) — product reveal and demo:
https://youtu.be/XKbEYO2drA0
PRICING AND AVAILABILITY:
Predator2 can be purchased in a boxed edition — as an AAX (32-/64-bit), AU (32-/64-bit), VST (32-/64-bit) compatible audio software plug-in for Mac OS X (10.6 or higher) and Windows (Vista, 7, 8, and 10) — from authorised Rob Papen dealers worldwide or as a download directly from Rob Papen for €149.00 EUR/$149.00 USD from here: http://www.robpapen.com/predator2-buy.html (Customers who have purchased Predator between March through to — and including — May 5, 2016 are eligible to upgrade to Predator2 for free, otherwise owners can upgrade to Predator2 for €49.00 EUR/$49.00 USD.)
Note that eXplorer4, the latest incarnation of Rob Papen's all-encompassing software bundle, includes Predator2, upping the total product count to 15; competitively priced at €499.00 EUR/$499.00 USD, this represents a significant saving of over 50% when compared to separately purchasing each and every Rob Papen virtual instrument and effects plug-in included!