ResonanceCircuits launches latest one-off bespoke drone synth, the GEIGER LAB
ResonanceCircuits has launched its latest one-off bespoke drone synth, the GEIGER LAB, for January 2018. Described as a "bespoke sound generator capable of producing dense, rich dronescapes, haunting evolves, ghostly atmospheric echoes and swelling atmospheres." The Geiger Lab can also be used for ambient, tranquil sound creation and ethereal backdrops.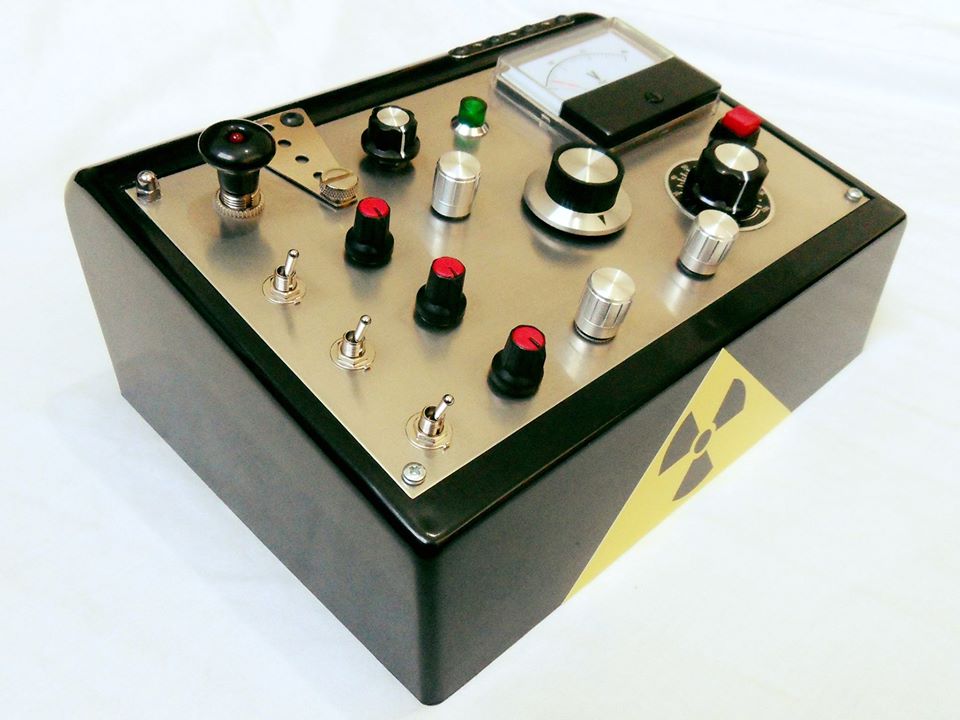 The madman "Rob," er, genius at RC creates several one-off inventions each year (I own two, actually), and then creates cool demo videos posted to YouTube, very lovely photos on Facebook, and auctions them off on eBay. RC also does "custom order" creations, for those who want something original, or utilizing elements of his many past creations.
Although each device is a one-off, not to be repeated, he often makes alternate takes on the same idea, smaller versions of big boxes, and bigger versions of small boxes. Some have nice wood cases, almost like being built in a cigar box, and others look like antique Russian skunkworks designed to unleash some kind of audio torment into the ether.
Think steam-punk, meets drone synth, meets alien theremin, meets ultimate scary or dreamy soundtrack box (depending on model and features). Truly works of art, and a great lineup of creations to admire even if you never own one.
His one-off items on eBay sell for typically anywhere from $200 to $1,000* (US$), and shipped quickly and securely from the U.K. (*Price varies based on complexity, auction sale amount, etc.; range is just an example obviously.)
FEATURES OF THE 'GEIGER LAB' – 2018:
CONTROLS
pull activated power switch
'on' indicator lamp
3 independent squarewave oscillators each with:
on/off toggle switch
frequency rate control
(oscillator 3 has been set up to operate at a higher frequency range than oscillators 1+2)
bandpass filter control
echo rate control
moving coil analogue meter – provides a visual of 'filter' position
space feedback control – deep saturation and aggressive overtones
expansion/density control – sound thickening and swelling modulation
blip push button – inject short bursts of noise/bleeps
oscillator trim control – use to adjust the amount of signal fed into the echo circuit – can be used to allow only the delayed sound to be output
mater output level control
1/4″ jack output
powered by 9v DC input (negative centre polarity): any standard (pedal style), universal AC/DC multi-adapter will be suitable.
or via 1 x 9v battery (battery adapter supplied)
Black gloss ABS sloped case with aluminium control panel
Case Dimensions:
(H)11.5 X (W)22 X (D)18.5 cm
Supplied with control layout document.
VIDEO (YouTube):
FOLLOW ON:
Twitter@RCircuits
Facebook.com/ResonanceCircuits
resonancecircuits.wordpress.com
This original article is Copr. © 2018 by Christopher Simmons – all rights reserved. First published on musewire.com. PHOTO CREDIT: © 2018 ResonanceCircuits.